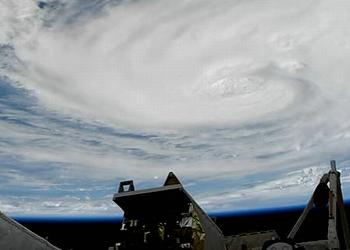 AUSTIN, Texas, August 24, 2017 (ENS) – Widespread evacuations have been ordered along the Texas Gulf Coast ahead of Hurricane Harvey, the first major hurricane, Category 3 or stronger, to strike the United States in nearly 12 years. Workers are being evacuated off oil rigs in the Gulf ahead of the storm.
Hurricane Harvey is forecast to make landfall late Friday night or early Saturday as a major hurricane, with life-threatening storm surge, rainfall, flooding and wind hazards.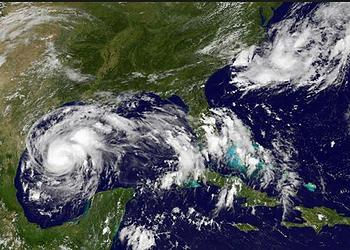 Rapidly strengthening, with winds currently measured at 105 mph, Harvey is expected to dump torrential rains onto the central Texas coast as well as many inland locations.
Harvey is then likely to stall near or just inland of the mid-Texas coast through the weekend, according to the National Hurricane Center, NHC. Localized multi-day rainfall could amount to as much as 35 inches, weather forecasters say.
Forecasters warn of torrential rainfall for eastern Texas and parts of southern and western Louisiana.
Hurricane Harvey is now about 265 nautical miles southeast of Corpus Christi, Texas and about 255 nm south-southeast of Port Oconnor, Texas. A U.S. Air Force Reserve Hurricane Hunter aircraft tracked the storm moving toward the north-northwest at 10 mph (17 kph). Maximum sustained wind speed is 75 knots with gusts to 90 knots.
Officials in Calhoun, Victoria, Jackson, San Patricio and Refugio counties north of Corpus Christi issued evacuation orders on Thursday, along with the cities of Portland, Rockport, Port Aransas, Aransas Pass, Ingleside and Robstown. All residents of Brazoria County living on the Gulf side of the Intracoastal Canal also have been ordered to evacuate.
Corpus Christi is under a Hurricane Warning. Corpus Christi Mayor Joe McComb said in a news conference today that the city is urging residents to evacuate, but he stopped short of ordering mandatory evacuations. "We could mandate it, but people need to make a decision of their own," the mayor said.
"I'm not going to risk our police and fire people going to try and drag somebody out of the house if they don't want to go," said McComb. "Because our fire and police, they're fathers and mothers, brothers, sisters, uncles. They've got relatives and they've got family, and we don't want to put them in harm's way because someone just wanted to stay."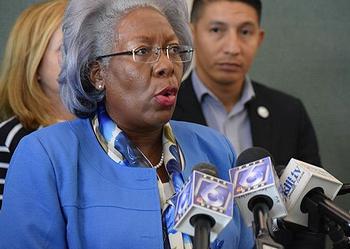 Most flights in and out of Corpus Christi International Airport were halted Thursday night.
The U.S. Navy has closed Naval Air Station Corpus Christi until further notice and has ordered the evacuation of all non-essential active-duty military personnel.
Texas A&M University-Corpus Christi closed its campus by noon Thursday and ordered everyone to evacuate.
The National Hurricane Center upgraded the remnants of Tropical Storm Harvey to a tropical depression on Wednesday at 11 am EDT (1500 UTC). Harvey became better organized and was revived after moving from Mexico's Yucatan Peninsula out into the Bay of Campeche.
The warm waters of the Gulf of Mexico and favorable vertical wind shear promoted the regeneration of the tropical cyclone, hurricane forecasters say. They warn that as Harvey intensifies its rainfall capacity can also increase.
Many satellites are gathering data as the hurricane gathers strength.
The heavy rainfall that the GPM core satellite observed continued to build, and on Aug. 24, the NHC noted that rainfall totals are expected to be "tremendous." GPM is a joint mission between the U.S. National Aeronautics and Space Administration, NASA and the Japan Aerospace Exploration Agency, JAXA.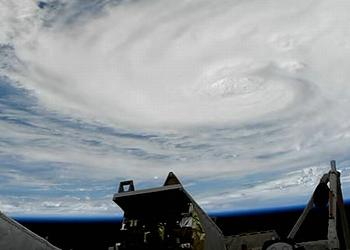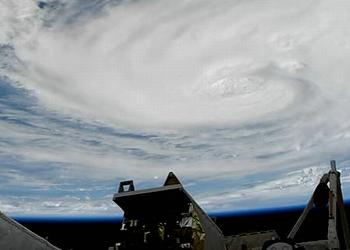 "Harvey is expected to produce total rain accumulations of 12 to 20 inches and isolated maximum amounts of 30 inches over the middle and upper Texas coast through next Wednesday," according to the National Hurricane Center.
"During the same time period Harvey is expected to produce total rain accumulations of five to 12 inches in far south Texas and the Texas Hill Country to central Louisiana, with accumulations of less than five inches extending into other parts of Texas and the lower Mississippi Valley," says the NHC.
President Donald Trump called Texas Governor Greg Abbott today to offer federal support for Texas as Hurricane Harvey approaches. The president pledged all available resources from the federal government to assist in preparation, as well as rescue and recovery efforts.
In anticipation of Harvey making landfall in the Gulf Coast region, Governor Abbott Wednesday preemptively declared a State of Disaster for 30 Texas counties. He also ordered the State Operations Center to elevate its readiness level to "escalated response conditions."
Abbott encouraged Texans in the storm's path "to make their own emergency preparations, heed warnings from local officials, and avoid high water areas."
Abbott today activated about 700 members of the Texas National Guard. Military helicopters are on standby in Austin and San Antonio to handle search and rescue operations and emergency evacuations.
"Texans believe in taking action and always being prepared in the event of an emergency," said Governor Abbott. "That is why I am taking every precaution. Preemptively declaring a state of disaster will allow Texas to quickly deploy resources for the emergency response effort in anticipation of the storm's hazardous conditions."
Earlier today, Governor Abbott spoke with Acting Department of Homeland Security Secretary Elaine Duke and Federal Emergency Management Agency Director Brock Long to discuss hurricane preparedness and the importance of heeding local evacuation warnings.
Today, many warnings and watches are in effect, according to the National Weather Service. A Storm Surge Warning is in effect from Port Mansfield to San Luis Pass Texas. A Storm Surge Watch is in effect from south of Port Mansfield Texas to the mouth of the Rio Grande River and from north of San Luis Pass to High Island, Texas.
A Hurricane Warning is in effect from Port Mansfield to Matagorda, Texas. A Tropical Storm Warning is in effect from north of Matagorda to High Island, Texas and south of Port Mansfield, Texas to the Mouth of the Rio Grande.
A Hurricane Watch is in effect from south of Port Mansfield, Texas to the Mouth of the Rio Grande. A Tropical Storm Watch is in effect from south of the mouth of the Rio Grande to Boca de Catan, Mexico.
The Houston Independent School District announced today that all district schools and administrative offices will be closed on Monday, August 28. The closure will affect more than 200,000 students. Classes are set to resume on Tuesday, August 29.
Copyright Environment News Service (ENS) 2017. All rights reserved.