Year of the Tiger a Double or Nothing Gamble for Wild Tigers
WASHINGTON, DC, February 12, 2010 (ENS) – The lunar new year begins on Sunday, February 14, the second new moon after the winter solstice. As it is every 12 years in the system of Asian astrology, this year is designated as the Year of the Tiger, and conservation groups are using this special year to raise public awareness that the existence of wild tigers is in jeopardy.
"Tigers are being persecuted across their range – poisoned, trapped, snared, shot and squeezed out of their homes," said Mike Baltzer, leader of WWF's Tiger Initiative. On a teleconference Wednesday from his base in Malaysia, Baltzer told reporters, "Some countries are facing the reality that they might lose their wild tigers in next century."
Only an estimated 3,200 tigers remain in the wild, down from 100,000 just 100 years ago, and they face increasing threats including habitat loss, illegal trade and climate change. Still, Baltzer said, "But there is hope for them in this Year of the Tiger."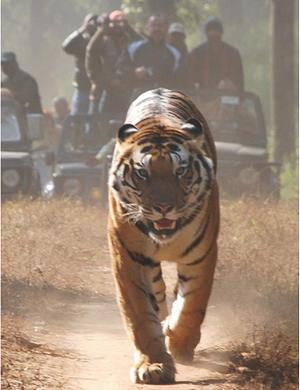 Wild tiger pursued by tourists in India's Kanha National Park (Photo by Kamaljeet Hora)
The hope comes from activities in advance of a planned summit meeting in Russia in September that will set forth an ambitious agenda for saving wild tigers.
All 13 tiger range countries committed to the goal of doubling tiger numbers in the wild by 2022 at a first Asian ministerial conference on tiger conservation in Hua Hin, Thailand in January.
Ministers from Bangladesh, Bhutan, Cambodia, China, India, Indonesia, Laos, Malaysia, Myanmar, Nepal, Russia, Thailand and Vietnam said they will work together to protect wild tigers.
In a declaration January 29, the ministers pledged to, "Protect wild tigers and their prey base from poaching, and critical tiger habitats from encroachment, through smart patrolling, trans-boundary coordination, and elimination of international trade of tigers, tiger parts, and derivatives through effective laws and their enforcement, at national and international levels, if necessary, with support of specialized international agencies…"
The ministers promised to make "critical tiger habitats and existing tiger source populations as true sanctuaries for tigers, inviolate from economic development" and to "conduct focused outreach to target audiences to reduce demand for tiger parts and enhance demand for live tigers living in the wild."
Baltzer said, "There has never been such a committed, ambitious, high-level commitment from governments to double wild tiger numbers. They have set the bar high and we hope for the sake of both the tiger and people that they reach it. Tigers are a charismatic species and a flagship for Asia's biological diversity, culture and economy."
From the WWF-US headquarters in Washington, Sybille Klenzendorf, director of WWF-US Species Conservation Program, told reporters that the conservation group has chosen 13 priority landscapes for tiger protection.
Conserving each landscape will cost about $1 million per year, she said, so WWF estimates about $13 million per year will be needed to save these priority locations.
"As we include remaining tiger habitats this will go up," Klenzendorf said. "The true cost will be known in next few months, but it will be a step up from the resouces we have now."
Of the nine subspecies of modern tiger, three are extinct – the Balinese, the Javan and the Caspian tigers – and the remaining six subspecies are classified as endangered or critically endangered.
"We know that wild tigers need protection, prey and secure habitat, but these alone will not save the big cats," said Amanda Nickson, director of the Species Programme at WWF International. "What is also needed is sustained political will from the highest level of government in the tiger range states and this Year of the Tiger, and at the summit, these countries will have the chance to commit to making tiger conservation work."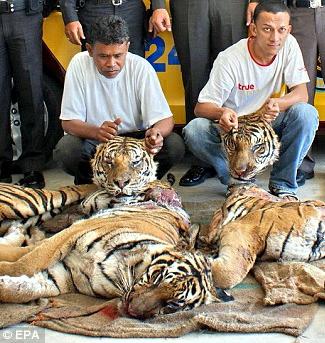 Tiger carcasses confiscated from illegal traders in Hua Hin, Thailand (Photo by Tiger Voice)
Tigers originally came from China, but China has only 50 wild tigers left, experts estimate.
The demand for tiger bones and other parts for use in traditional Chinese medicine and tiger skins for wall hangings, rugs, and garment trim, and meat for gourmet dishes has in the past driven poachers to kill tigers for this lucrative trade.
An adult male tiger's parts, including its penis and paws, can have a collective retail value ranging from US$10,000 to $70,000, according to a 2008 report by the World Bank and Smithsonian's National Zoological Park.
But Lixin Huang, president of the American College of Traditional Chinese Medicine, from San Francisco, told reporters on a teleconference Wednesday that since the last Year of the Tiger in 1998 when her organization began to work with WWF to conserve tigers, there has been a reduction in demand for tiger parts, at least in the United States.
"We have worked to educate Chinese community to realize that tigers are endangered," she said. "Traditional Chinese medicine does not need tiger bones to do medicine or to save lives."
"What we're dealing with is an old belief that tiger bone wine will help their bones, help their health," said Huang. "The Year of Tiger is a tremendous opportunity to reach the public."
During a five city survey in 2008, said Huang, 500 interviews revealed that people have very little knowledge that tigers are endangered.
Huang said her organization with take advantage of the Shanghai International Expo from May 1 through October 31 as an opportunity for public education about tiger conservation. In October, she will present this information to the 7th World Congress of Chinese Medicine to be held in The Hague, The Netherlands.
In China, the government is behind tiger conservation.
The State Forestry Administration of China issued a Directive in January calling for increased protection of wild tigers through natural habitat management, stronger law enforcement action against illegal trade in tiger parts and products, stricter regulation of captive breeding regulations and enhanced public awareness campaigns.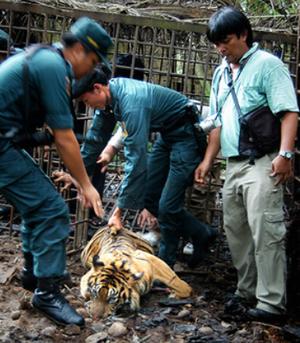 Indonesian wildlife officials rescue two Sumatran tigers kept illegally in a palm oil plantation in North Sumatra. (Photo by Eva Collado Molleda)
"TRAFFIC welcomes the measures proposed by the State Forestry Administration ahead of the Year of the Tiger, which is make or break time for wild Tigers," said Professor Xu Hongfa, head of TRAFFIC's China team.
TRAFFIC, the wildlife trade monitoring network of WWF and the International Union for the Conservation of Nature, IUCN, works in close co-operation with the Secretariat of the Convention on International Trade in Endangered Species, CITES.
Once every three years, CITES holds a meeting of governments that are Parties to the Convention. Set for March 13 to 25, the next CITES meeting in Doha, Qatar could be an opportunity for tiger conservation. Delegates will consider the adoption of urgent measures to tackle illegal trade in tigers, rhinos and other species that are on the brink of extinction.
"2010 is a key year for biological diversity. It is the year when the world was supposed to have reversed the rate of loss of our biodiversity—this has not happened. The international community must re-engage and renew its efforts to meet this goal. CITES is an important part of this response," said Achim Steiner, UN under-secretary general and executive director of the United Nations Environment Programme, which administers the CITES Secretariat.
WWF is hoping to raise greater public awareness of tiger conservation with a new interactive map that shows the current top 10 trouble spots for tigers.
Wild tigers live in 40 percent less habitat since the last Year of the Tiger in 1998, and they occupy just seven percent of their historic range. But conservationists say they thrive in the wild when they have strong protection from poaching and habitat loss and enough prey to eat.
Additional threats to wild tigers highlighted on the map include:
Pulp, paper, palm oil and rubber companies are devastating the forests of Indonesia and Malaysia with critical tiger populations.
Hundreds of new or proposed dams and roads in the Mekong region will fragment tiger habitat.
Illegal trafficking in tiger bones, skins and meat feeds continued demand in East, Southeast Asia and elsewhere.
More tigers are kept in captivity in the U.S. state of Texas than are left in the wild. There are few regulations to keep these tigers from ending up on the black market, and the existing regulations need stronger enforcement.
Poaching of tigers and their prey, along with a major increase in logging is taking a heavy toll on Amur, or Siberian, tigers.
Tigers and humans are increasingly coming into conflict in India as tiger habitats shrink.
Climate change could reduce tiger habitat in Bangladesh's Sundarbans mangroves by 96 percent.
There is hope for wild tigers, says Mark Rayan Darmaraj, a senior field biologist with WWF Malaysia. New camera trap photos of a tigress and one of her cubs obtained from a selectively logged-over forest in Malaysia show that tigers may be able to persist in such altered habitats. "This is really encouraging to see a mother with her cub," said Darmaraj. "Such rare photographic evidence of breeding success magnifies the importance of this habitat for tiger conservation in Malaysia."
Copyright Environment News Service (ENS) 2010. All rights reserved.