Asian Carp Invade Lake Michigan
CHICAGO, Illinois, February 11, 2010 (ENS) – For the first time, genetic material from invasive Asian carp has been detected within Lake Michigan, scientists with the University of Notre Dame's Department of Biological Sciences reported Wednesday. Researchers said samples taken last fall showed carp DNA in the Calumet Harbor on the southwest shore of Lake Michigan near the Illinois-Indiana border.
Samples also showed silver carp DNA in the North Shore Channel near the Wilmette pump station and in the main channel of the Chicago Sanitary and Ship Canal, a man-made waterway that provides a direct hydraulic connection between Lake Michigan and the Mississippi River Basin.
The fear is that the large, voracious fish could consume all the food in the Great Lakes ecosystem, potentially causing the lakes' lucrative fishing industry to collapse.
"The Cal-Sag has numerous and repeated detections for bighead and silver carp reaching into the Grand Calumet River," the scientists reported. Short for Calumet-Saganashkee Channel, the Cal-Sag is a 16 mile-long navigation canal in southern Cook County, Illinois that serves as a channel between the Little Calumet River and the Chicago Sanitary and Ship Canal.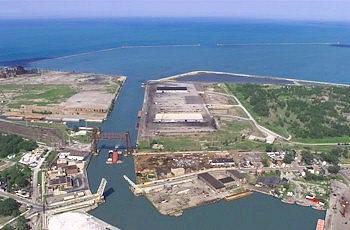 Calumet Harbor (Photo courtesy U.S. Army Corps of Engineers)
The two invasive species, bighead carp and silver carp, can grow over four feet long and 100 pounds and quickly take over habitat upon arrival. In the Illinois River, they now make up 90 percent of the life forms present on some stretches of the river.
On Monday, federal officials announced a strategy to combat the spread of Asian carp into the Great Lakes that outlines 25 short and long-term actions and $78.5 million in investments.
The draft Asian Carp Control Strategy Framework brings together federal, state, and local actions, and introducing a multi-tiered defense of the Great Lakes to prevent Asian carp from developing self-sustaining populations while longer term biological controls are being developed.
The strategy involves top officials from the U.S. Army Corps of Engineers, the Environmental Protection Agency, the Department of the Interior, the U.S. Coast Guard and the White House, who all said they would cooperate to keep Asian carp out of Lake Michigan.
Introducing the new strategy, Nancy Sutley, who chairs the White House Council on Environmental Quality, said, "As with many great ecosystems across the country, invasive species have harmed the Great Lakes, and an invasion of Asian carp threatens to be particularly ecologically and economically damaging."
"Today, we have an opportunity to work together to prevent environmental and economic damage before it happens, she said. "This Framework utilizes the best available science and its multi-tiered strategy will ensure coordination and the most effective response."
In the near term, the Framework focuses on keeping carp from establishing populations in the Great Lakes. It calls for reduced openings of Chicago's navigational locks to prevent carp movement.
"We are providing immediate financial, technical and research assistance for Asian carp control efforts in South Chicago waterways, and will continue to do everything we can to keep carp out of Lake Michigan," said Tom Strickland, assistant secretary for fish and wildlife and parks on Monday.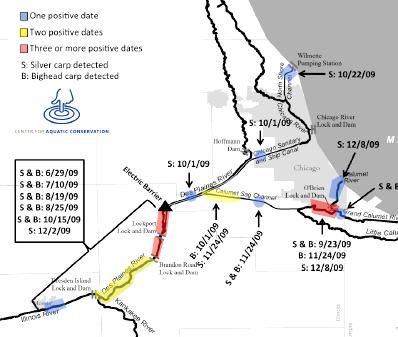 On this map "S" stands for silver carp and "B" stands for bighead carp. The dates indicate when samples were collected. (Map courtesy U. Notre Dame)
Federal agencies will deploy enlarged field crews for physical and sonar observation, electro-shocking and netting operations within the waterway.
Turnaround times on eDNA verification will be expedited and testing capacity will be doubled to 120 samples per week.
In March, a $13.2 million contract will be awarded for construction of barriers between the Chicago Sanitary and Ship Canal and Des Plaines River, which will prevent fish passage around the electric barrier in the event of flooding where the two water bodies mix.
A $10.5 million contract will also be awarded for construction and operation of a third electric barrier.
The Framework expedites a U.S. Army Corps of Engineers' study of the feasibility and impacts of permanent lock closure, the effectiveness of lock closings to block carp movement, the risks and costs associated with closure, and a discussion of alternatives.
The Framework identifies a variety of longer term Asian carp management techniques for the duration of 2010 and beyond. This includes $3 million in funds for commercial market enhancements and $5 million for additional chemical treatments in the case of barrier failure.
It also puts forth over $1.5 million in new research funding. Several research efforts will receive significant funding in the coming months to help inform decision makers of additional tools that might be available for Asian carp management, including development of biological controls like Asian carp-specific poisons, methods to disrupt spawning and egg viability, sonic barriers, and assessment of food sources and potential habitats.
The Framework identifies educational and enforcement tools to prevent Asian carp from being sold or purposefully transferred, and an investigation of Asian carp transfer in ballast and bilge water.
The Framework will be updated as new partners and new action options are identified to help stop the spread of Asian carp.
Agencies could consider the option offered by Orion Briney, ones of the few full-time commercial fisherman on the Illinois River. He says the only reasonable hope for eradicating the Asian carp is commercial fishing. Pulling hundreds of carp from the Illinois River daily, Briney sells them to a dealer who supplies markets in Asia where these fish are a popular food.
On January 19, the U.S. Supreme Court denied a request by the state of Michigan for a preliminary injunction that would have forced the emergency closure of Chicago-area locks to keep the invading fish out of the Great Lakes.
In November 2009, University of Notre Dame DNA testing showed that Asian carp had evaded the two-part electric barrier intended to prevent the fish from gaining access to Lake Michigan, and eventually the Great Lakes ecosystem, through the Chicago Sanitary and Ship Canal.
Copyright Environment News Service (ENS) 2010. All rights reserved.
© 2010 – 2012, . Environment News Service (ENS) © 2021 All Rights Reserved.