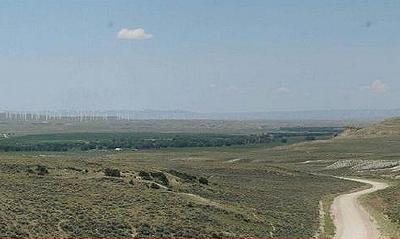 WASHINGTON, DC, October 11, 2012 (ENS) – Clearing the way for the largest wind farm in the United States, Interior Secretary Ken Salazar Tuesday approved the Chokecherry and Sierra Madre site in Wyoming as suitable for wind energy development.
A maximum of 3,000-megawatts of power will be generated by as many as 1,000 wind turbines on two sites in Carbon County south of Rawlins, Wyoming, enough to power nearly one million homes. Land ownership in the windswept area is a checkerboard of public, private, and state lands.
The  project is sited about 50 percent on federal land and and 50 percent on private land within the boundaries of a 320,000-acre ranch owned and operated by The Overland Trail Cattle Company LLC.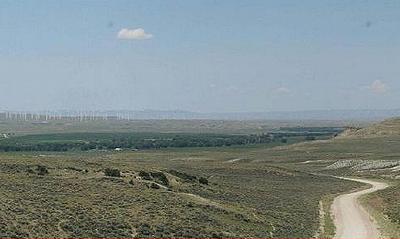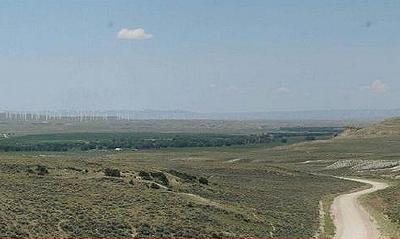 Signing the Record of Decision, Salazar said approval means the Interior Department has reached the goal set by President Barack Obama of authorizing 10,000 megawatts of renewable power on public lands.
"When President Obama took office, he made expanding production of American-made energy a priority, including making our nation a world leader in harnessing renewable energy," said Salazar. "Wyoming has some of the best wind energy resources in the world, and there's no doubt that this project has the potential to be a landmark example for the nation."
"President Obama challenged us in his [2012] State of the Union address to authorize 10,000 megawatts of renewable energy on our public lands by the end of the year – enough to meet the needs of more than three million homes – and today we are making good on that promise," Salazar said.
Since 2009, the Interior Department has authorized 33 renewable energy projects, including 18 utility-scale solar facilities, seven wind farms and eight geothermal plants, with associated transmission corridors and infrastructure that will enable the projects to connect to established power grids.
When built, these projects will provide more than 10,000 megawatts of power, or enough electricity to power more than 3.5 million homes, and will support an estimated 13,000 construction and operations jobs, according to project developers.
Salazar said, "These achievements build on the historic expansion of renewable energy under President Obama, with energy from sources like wind and solar doubling since the President took office."
The decision authorizes the Bureau of Land Management to proceed with site-specific environmental analysis for the Sierra Madre Wind Farm, the Chokecherry Wind Farm, the internal haul road, the internal 230 kilovolt transmission line, the rail distribution facility, and substations to connect the generated power to the electric grid.
The 2,000-3,000 megawatt wind farm was proposed in 2008 by the Power Company of Wyoming LLC on parts of the Overland Trail Ranch. The site encompasses land with the nation's highest-ranking wind resources, along with what project developers call "ample acreage to implement advanced conservation measures to avoid, minimize and mitigate potential impacts to wildlife and other ecological resources."
"This is a unique site ideally suited for larger-scale, lower-impact, least-cost renewable energy development that fully aligns with federal land use goals and federal energy goals," said Bill Miller, president and CEO of Power Company of Wyoming, a wholly owned affiliate of the Anschutz Corporation, a privately held company based in Denver.
"The Record of Decision milestone moves us closer to having bulk supplies of clean, cost-effective electricity available to serve nearly one million U.S. homes – and in a timeframe well ahead of the RPS targets set by California and other Western states," Miller said.
The Bureau of Land Management's Final Environmental Impact Statement for the CCSM Wind Energy Project was released in July after four years of data-gathering and analysis. The document outlines the potential effects on a wide range of resources, as well as how Power Company of Wyoming overhauled its original wind development areas to respond to and address environmental issues. The project's long-term surface disturbance will be less than 2,000 acres.
In a Fact Sheet issued Tuesday with the Record of Decision, the BLM said, "The project avoids critical sage-grouse habitat identified as Sage-Grouse Core Areas."
But Wyoming environmentalists still warn that the wind farm is sited in key sage grouse nesting habitats and important golden eagle nesting and feeding areas.
"This project should have been sited on the High Plains to the east of the Laramie Range, where it would have had minimal impacts on rare and sensitive wildlife," said Erik Molvar, wildlife biologist with the Biodiversity Conservation Alliance. "Instead, it was sited on prime sage grouse habitats, and the projected impacts on golden eagles are 46 to 64 fatalities each year according to BLM estimates, which for a bird with a low reproductive rate will cause far-reaching problems."
Barbara Parsons, a member of the South Central Sage-grouse Working Group, objects to the way the land for the wind farm was designated.
"In 2008 much of the project area, especially Miller Hill, was designated as Sage Grouse Core Area. But then the Anschutz Corporation came in, bullying and cajoling and twisting arms, and got the Core Area changed to exclude the lands where they wanted to build wind turbines," she said. "But that doesn't change the reality for the sage grouse, big game and other wildlife that live out there – when the wind turbines move in, they will be pushed out."
"Choosing this site for green energy was a terrible mistake," said Parsons. "When one thousand concrete pads and the connecting roads are built, this prime wildlife habitat will be permanently erased from the landscape."
The Biodiversity Conservation Alliance expects the giant wind farm to have "major impacts" on the Overland Historic Trail and Continental Divide National Scenic Trail. Molvar said, "Just because an energy project uses clean renewables doesn't necessarily make it green or a good idea."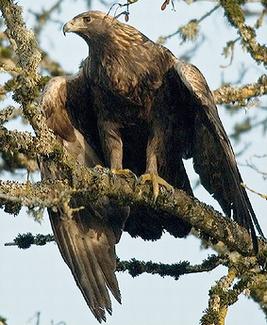 "Climate change is an important problem that we need to solve, but we also have a global biodiversity crisis, and we don't need to make it worse by pursuing wind energy projects like this one that are sited in sensitive habitats for rare and declining wildlife species," said Molvar.
But Power Company of Wyoming chief Miller says that during construction individual wind turbines will be precisely placed to avoid impacting birds in a process he calls "micrositing."
"We have collected more scientific data in a broader area and to a finer degree than anyone else has ever done," Miller said Tuesday. "We know where turbines should and should not go. Our plan to microsite all turbines will assure potential impacts on wildlife are far lower than outlined in the general project-wide EIS, while also materially increasing the country's clean energy supplies."
The Bureau of Land Management now will complete environmental reviews for both the Sierra Madre and Chokecherry portions of the project. BLM and the U.S. Fish and Wildlife Service will recommend further eagle mitigation strategies after analyses conducted to fulfill the requirements of the National Environmental Policy Act. The analyses will incorporate additional requirements developed through the Eagle Conservation Plans and Avian Protection Plans, in addition to mitigation measures identified in the site-specific NEPA documents, the BLM said.
Carbon County has approved a conditional use permit for the project, and the power company is applying for the necessary permit from the Wyoming Industrial Siting Division.
Up to 300-400 construction jobs are anticipated in the first two construction years, with up to 1,200 jobs in subsequent seasons as the wind turbines are installed.
Once fully operational, the project will create some 114 direct operations jobs, making it one of Carbon County's largest private employers, and will generate hundreds of millions of dollars in state and local tax revenue.
Click here for the Record of Decision, including the amendment to the Rawlins Resource Management Plan.