World Wetlands Day 2010 Links to Climate Change, Biodiversity
GLAND, Switzerland, February 2, 2010 (ENS) – Today, World Wetlands Day is being celebrated with the full recognition of Africa's Lake Chad as a wetland of international importance, fulfilling a commitment made 10 years ago by the four nations that share the continent's fourth largest lake.
The declaration today by the Cameroon Republic that its portion of Africa's fourth largest lake is a wetland of international importance under the Ramsar Convention on Wetlands follows similar declarations by Niger and Chad in 2001 and Nigeria in 2008.
"Lake Chad's inscription as only the 13th trans-boundary formally recognized wetland is highly significant as 11 of the areas so far declared are in Europe," said Denis Landenbergue, WWF International's wetlands conservation manager.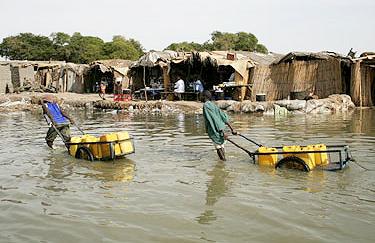 People fetching drinking water from Lake Chad. (Photo courtesy UN)
WWF, which partnered with the Lake Chad Basin Commission, the Ramsar Convention and the Global Environment Facility on projects in Lake Chad and with the governments on achieving the declaration, said the challenge now is to "turn the promise of protection for Lake Chad into a reality for the millions that depend on it."
Climate change, the demand for irrigation water upstream, and poor management decisions have reduced the size of Lake Chad by 90 percent over the past 40 years, according to the Ramsar Secretariat.
Lake Chad is the remnant of a vast lake known as Mega-Chad which 22,000 years ago drained a greener Sahara. Now the focal point of life in arid Sahelian Africa, the new internationally protected wetland is vital to endangered otters, gazelles and elephants as well as hippopotamuses, Nile crocodiles and many bird species.
Home to over 20 million people who depend on the lake for their fishing, hunting, farming and grazing, the entire Lake Chad basin is threatened by climate change, desertification and unsustainable management of water resources and fisheries, illustrating the theme of World Wetlands Day 2010 – Wetlands, Biodiversity and Climate Change.
Across the Sahara Desert, in another World Wetlands Day highlight, Algeria designated five new Wetlands of International Importance vital to the migrating birds on the northern side of the desert that stop at Lake Chad on the southern side.
The theme links to the UN designation of 2010 as the International Year of Biodiversity and to the increasingly important issue of water scarcity on a warming planet.
Anada Tiega, secretary general of the Ramsar Secretariat said today, "This year's theme, Wetlands, Biodiversity and Climate Change, with the slogan "Caring for wetlands: an answer to climate change," captures the sense of urgency we all feel about the need to address the potentially disastrous consequences of global climate change as quickly as possible, particularly in the wake of the Copenhagen meeting of the UNFCCC back in December."
"We are trying to emphasize, not only that wetlands must be a key part of any progress in global climate change issues, but also that the problems of climate change must be a addressed in a holistic, multi-sectoral, ecosystem-based manner," said Tiega. "Piecemeal solutions to individual problems may have the unforeseen consquences of impacting negatively upon other sectors and worsening our overall problems still further."
In South Africa, government officials launched the International Year of Biodiversity Monday and today in Tshwane, Gauteng designated the country's 20th Wetland of International Importance.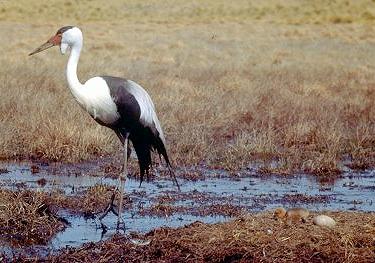 Wattled cranes like this crane and her chick inhabit South Africa's Ntsikeni Wetland of International Importance. (Photo courtesy International Crane Foundation)
Ntsikeni Nature Reserve, a 9,200 hectare site is one of the largest high altitude wetlands in South Africa and has undergone the least ecological change due to its status as a nature reserve. It is one of the most important habitats in Africa for the wattled crane, Bugeranus carunculatus.
Deputy Minister of Water and Envirnmental Affairs Rejoice Mabudafhasi said, "It is estimated that up to 60 percent of the wetlands in South Africa have been damaged or destroyed due to human impact. The continued loss of wetlands due to urban development is also of grave concern to our country. Development is taking place without sustainable urban planning for flood attenutation and storm water management.
Mabudafhasi said activities in South African wetlands are taking place without water-use licenses and environmental authorization. "Our department is concerned with the many coal mining appliciations in areas with unique wetlands," she said.
In Canada, more than 24 United Nations water experts opened a three-day meeting today in Hamilton, Ontario to plan fresh strategy for a coordinated approach to the global water crisis that they warn increasingly threatens both human health and international security.
Known as UN-Water, the group will formalize international ceremonies to mark World Water Day 2010, which falls on March 22, and help set direction and UN agency contributions for the next triennial World Water Development Report in 2012.
Chaired by newly elected Chairman Zafar Adeel, director of the UN University's Hamilton-based Institute for Water, Environment & Health, UN-Water was created to coordinate the work of 26 UN water-related agencies, and to interact with 17 partner groups such as WWF and the International Union for the Conservation of Nature.
"The global importance of water issues cannot be overstated. Virtually all climate change impacts are expressed through water in one form or another, including more severe storms and extreme floods, and rapidly disappearing glaciers, often called Earth's water towers," says Dr. Adeel, adding that the UN's Intergovernmental Panel on Climate Change predicts worsening impacts in immediate decades to come.
"My goal as the UN-Water Chair is to demonstrate the significance of water issues in global policy debates, including the ongoing financial crisis as well as food security, climate change, international peace and stability," he said. "Water is central to each of those debates but typically isn't seen as such."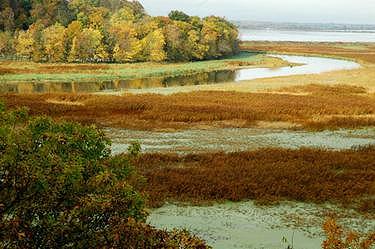 Mouth of the Trempealeau River in the newly designated Upper Mississippi Floodplain Wetlands (Photo by Sandra Lines courtesy Ramsar)
In January, the government of the United States listed its 26th Wetland of International Importance, the 22,357 hectare Upper Mississippi River Floodplain Wetlands. The natural floodplain backwaters of the Upper Mississippi River were enlarged and enhanced by construction of locks and dams in the 1930s to improve commercial and recreational navigation.
Today the site, which threads through four northern Midwestern states – Minnesota, Wisconsin, Iowa and Illinois – is the most important corridor of fish and wildlife habitat remaining in the central United States. It supports over 100 native fish species and the nationally endangered Higgins' Eye Pearly Mussel. The site is at the core of the Mississippi Flyway, through which 40 percent of North America's waterfowl migrate, and includes the Upper Mississippi River National Wildlife and Fish Refuge and the Trempealeau National Wildlife Refuge.
In Washington, DC, the National Peace Corps Association is commemorating World Wetlands Day by hosting an online discussion and seeking innovative ideas on the role Africa's wetlands play in sustainable development and agriculture on the continent.
The discussion is being held on the Africa Rural Connect website, NPCA's online initiative which encourages the remixing of ideas to spur collaboration and develop ways to help solve rural Africa's greatest challenges. Click here to participate in the World Wetlands Day online discussion for Africa.
"People's stereotype of Africa is that it's a dry and dusty continent," said Molly Mattessich, who served as a Peace Corps volunteer in Mali. She is now general manager of online initiatives for the National Peace Corps Association and heads the Africa Rural Connect initiative. "Actually there are many countries that are green and lush and this type of terrain plays a major role in supporting entire ecosystems which include agriculture and critical food sources for rural populations."
In Europe, the European Space Agency's GlobWetland II project, launched last month, will contribute to the setting up of a Global Wetlands Observing System (G-WOS) in accordance with Ramsar's 2009-2015 strategic plan.
GlobWetland II was based on the findings and achievements of its precursor GlobWetland I, which ran from 2003 to 2008 also in collaboration with the Ramsar Convention.
"Earth observation is playing an increasingly important role in the inventory, assessment, monitoring and management of wetlands," said Nick Davidson, deputy secretary general of the Ramsar Convention.
GlobWetland II aims to develop a G-WOS pilot information system to produce a number of wetland-related geo-information maps and indicators over 200 wetland sites and surrounding areas for different points in time. The geographical regions covered will be the coastal catchment areas of the southern and eastern part of the Mediterranean basin, extending from Morocco to Turkey.
The coastal catchment basins of these countries are of particular interest for biodiversity because several endemic species are listed as critically endangered or extirpated, where a species no longer exists in a certain area, by the International Union for Conservation of Nature.
At the end of the two-year development period, the GlobWetland II information system will be installed at a number of partner organizations and supporting agencies to help them fulfil their reporting obligation to Ramsar and to manage better their wetlands.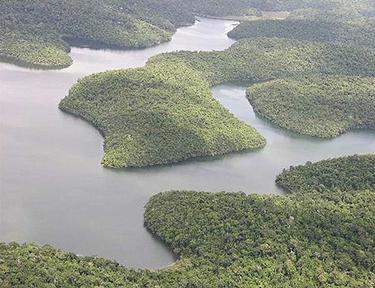 Rio Doce Wetland of International Importance in Brazil (Photo by Maria Carolina Hazin courtesy Ramsar)
In South America, the government of Brazil has designated Rio Doce State Park (Parque Estadual do Rio Doce) as its 10th Wetland of International Importance. Located in the southeastern region of Brazil, the rainforest lake system is the largest fragment of the endangered Atlantic Rainforest in Minas Gerais state. In addition to permanent and seasonal rivers, there are 42 natural lakes that represent six percent of the park surface.
The site hosts 10 different vegetation communities, 325 species of birds, and at least 77 mammals. The endemic and threatened Brazilian rosewood, Dalbergia nigra, can be found here, as well as other threatened species, such as jaguar, Panthera onca, Harpy eagle, Harpia harpyja, and North Muriqui, Brachyteles hypoxanthus, the largest primate of South America.
One of the main threats is the introduction of exotic, invasive fish species that have led to changes in the fish community. Nevertheless, the site has a management plan that is being implemented. The site is a fully protected area and is one of the core areas of the UNESCO Atlantic Forest Biosphere Reserve.
In Argentina, Grace de Haro from the Asociacion Arbol de Pie in the city of San Carlos de Bariloche, Rio Negro province says an effort is underway to protect "los mallines," the wetlands of western Patagonia.
The mallines are typical Patagonian environments, highly productive grazing lands for cattle and sheep and, therefore, of great economic interest in the region. They are located along the entire west-east environmental gradient of the Andean cordillera from rainforests to arid steppes and semi-arid environments, including the Bariloche area in the foothills of the Andes, surrounded by lakes and mountains.
Municipal legislation passed in 2006 is aimed at protecting some of these wetland sites under the Ramsar Convention. De Haro quotes the legislation, "The Municipality protects and regulates the rational use of wetlands (mallines the local name) within the city, favoring their maintenance and natural state."
Argentina has 19 Ramsar Wetlands of International Importance, the latest designated in 2009. De Haro says as the population begins to realize how important wetlands are for life, this number could easily double in the near future.
"Decisions are not easy especially when there are linked to financial interests," de Haro says. "This is why when the importance of valuable and fragile sites like wetlands and native forests is known and appreciated because they improve our quality of life then we have enough information that will helps us tip the scale in favor of their protection."
World Wetlands Day celebrates the adoption of the Ramsar Convention on Wetlands on February 2, 1971 in the Iranian city of Ramsar to provide the framework for national action and international cooperation for the conservation and wise use of wetlands.
Today, the convention's 159 member governments are obliged to report on the state of the wetlands for which they are responsible. There are 1,886 wetlands designated as Wetlands of International Importance, a total area of 185,156,612 hectares (714 893 square miles).
Copyright Environment News Service (ENS) 2010. All rights reserved.
Environment News Service (ENS) © 2010 – 2012 All Rights Reserved.