South's Top 10 Endangered Areas Vulnerable to Global Warming, Development
CHARLOTTESVILLE, Virginia, February 1, 2010 – The Southeast leads the country in contributing to rising levels of the greenhouse gas carbon dioxide and the region could suffer most from global warming, especially in low-lying coastal areas, reveals this year's list of the Top 10 Endangered Areas in the South compiled by the Southern Environmental Law Center.
For a second year, the nonprofit law firm has chosen the 10 most endangered areas from hundreds that are impacted by SELC's law and policy work throughout the six states of Virginia, Tennessee, North Carolina, South Carolina, Georgia, and Alabama.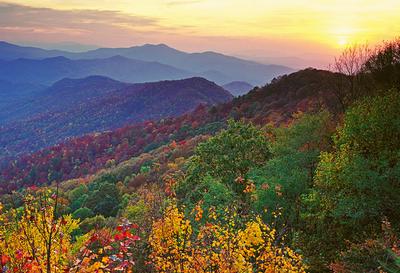 Highway proposals threaten Tennessee's Ocoee Region, one of the South's scenic gems. (Photo © Nye Simmons courtesy SELC)
"The major environmental threats we face in this country are playing out in the Southeast," said Jeff Gleason, SELC's deputy director. "Our region is contributing disproportionately to global warming, and in fact, our six southeastern states, if viewed as a single country, would be the world's seventh largest source of heat-trapping carbon dioxide emissions."
"Common themes on this year's list include uncontrolled growth, flawed energy policy, and lax environmental enforcement, particularly as it relates to our heavy reliance on coal to produce electricity," Gleason said.
Southeastern waterways and wetlands are experiencing some of the most negative impacts from these trends, he said.
"As ice melts and sea levels rise, it's the South's low-lying coastal zone that will be the hardest hit," he said.
The SELC has targeted 10 special places that are facing immediate, potentially irreversible threats today. Gleason said, "We hope that our Top 10 list will serve as a wake-up call – a powerful reminder of what we stand to lose."
The SELC's Top 10 Endangered Areas in the South for 2010
Right Whale Calving Waters, Georgia: The last North Atlantic right whales left on Earth are threatened by a U.S. Navy plan for a 500 square-mile anti-submarine undersea training range. Only between 300 and 400 whales of this species remain.
Blackwater Streams, Washington County, Georgia: Air and water are threatened by a proposed coal-burning power plant that would increase mercury pollution in two rivers and increase global warming emissions.
Chesapeake Bay, Virginia: The largest estuary in the United States is getting hit from all sides: air, land and water. A proposed coal-fired power plant in nearby Surry County would be the largest such plant in Virginia. It threatens to add even more mercury and nitrogen pollution to polluted Chesapeake Bay.
Roanoke River Basin, Virginia: Drinking water supplies are threatened by uranium mining, and the possibility that Virginia's Piedmont countryside could open up to more large-scale mining projects.
Southern Appalachian Mountains, Virginia/Tennessee: Weak laws on mountaintop removal coal mining threaten headwaters streams, wildlife, communities, and scenic beauty.
Black Warrior River, Alabama: Two more proposed strip mines to extract coal would dump polluted wastewater into the river, threatening drinking water supplies and aquatic life. There are some 95 active coal mines already located in the Black Warrior River watershed.
Cape Fear Wetlands, North Carolina: 1,000 acres of wetlands are threatened by a proposed Titan cement plant, which would send toxic mercury into the polluted Cape Fear River.
Catawba-Wateree Basin, North Carolina/South Carolina: Threats include a low-flow scheme for hydroelectric dams that would restrict the flow of water essential to a healthy river system, and the lack of a coherent plan to protect the ecological integrity of the river from over allocation of water.
Freshwater Wetlands, South Carolina: The U.S. Army Corps of Engineers wrongly determined that the Pine Hill tract northwest of Charleston Falls outside the scope of Clean Water Act protection. A recent U.S. Supreme Court ruling leaves it to individual districts of the Army Corps of Engineers to determine, on a case-by-case basis, whether a wetland or stream comes under the Clean Water Act. At this site near Charleston, the Corps has determined that nearly 500 acres of freshwater wetlands – an area the size of 375 football fields – are not protected by federal law and can be filled without a permit and without mitigation. Thousands more wetland acres across the state are in danger of pollution or destruction.
Ocoee Region, Tennessee: Corridor K, a string of four-lane highways to link Chattanooga and Asheville are unnecessary. The roadways would devastate wildlife habitat and bring traffic and polluted runoff to national forests, recreation and wilderness areas. One proposal would move a 20-mile stretch of U.S. 64 from its current path through the Ocoee Gorge and reroute it as a four-lane highway through the Cherokee National Forest. On the North Carolina end of the corridor, plans call for expanding a 10-mile section of U.S. 74 through the Nantahala National Forest, which would require cutting nearly 3,000 feet of tunnel under the Snowbird Mountains.
Two areas on SELC's 2009 Top 10 Endangered Areas list have been removed after protective legal work by the organization – the Great Pee Dee River in South Carolina and Weeks Bay in Alabama.
The Great Pee Dee River in South Carolina was saved when energy company Santee Cooper suspended its plans for the 1,320-megawatt facility, a coal-fired plant that would have emitted more than 10 million tons of carbon dioxide each year, as well as mercury pollution and other harmful emissions. SELC and its partners had battled this plant for many years.
By a unanimous vote in May 2009, the Town Council of Magnolia Springs adopted a runoff control ordinance SELC helped draft that is one of the strongest of its kind in Alabama, helping Weeks Bay. The new law promotes low-impact development design and requires effective measures to control erosion during and after construction activity, protecting the Magnolia River. The Magnolia is one of two rivers that form Weeks Bay, a biologically rich estuary that has been designated an Outstanding Natural Resource Water.
Copyright Environment News Service (ENS) 2010. All rights reserved.
© 2010 – 2012, Jim Crabtree. All rights reserved.