World Water Forum Refreshes Goal of Clean Water for All
MARSEILLE, France, March 16, 2012 (ENS) – Ministers and heads of delegations from 130 countries at the World Water Forum have issued a declaration urging the upcoming UN Rio+20 Summit on Sustainable Development to speed action that provides the poor with access to clean water and sanitation and fixes worsening problems of water scarcity and pollution.
The ministerial declaration focuses on the acceleration of the implementation of human right obligations relating to access to safe drinking water and sanitation for everyone's well-being and health, in particular for the most vulnerable, and improving wastewater management.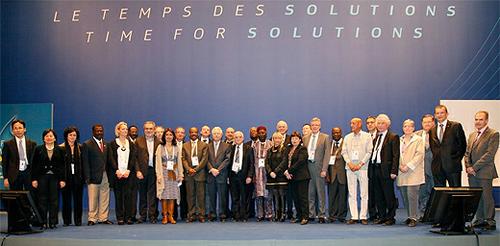 High-level participants in the 6th World Water Forum (Photo courtesy World Water Forum)
The declaration emphasizes the "interlinkages between water, energy and food security," calling for "full policy coherence and well-functioning water-related ecosystems" as a basis for sustainable growth and job creation.
The declaration urges "the incorporation of water in all its economic, social and environmental dimensions in a framework of governance, financing and cooperation," taking into account the progress achieved towards the Millennium Development Goals by 2015 and beyond.
The tri-annual World Water Forum is largest water event in the world. Over 25,000 participants took part this week in some 250 sessions and panels and about 100 grassroots and citizenship events.
The 6th World Water Forum, "Time for Solutions" is organized jointly by the World Water Council, the French State, and the City of Marseille with the support of local and regional authorities.
The World Water Forum has developed 12 priorities and three conditions for success that organizers say are essential to accomplishing these goals. Regional priorities and targets for Africa, Americas, Asia Pacific, Europe and two cross continental regions have also been set.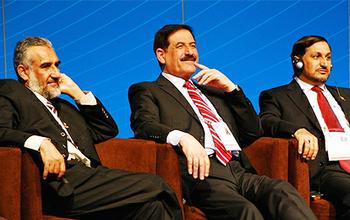 Arab leaders discusss desalination of water at World Water Froum: From left: Eng. Zaher bin Khalid Al-Sulaimani, Director General of Projects for the Public Authority for Electricity and Water-Oman, Dr. Abid Thyab Al Ajeeli, Arab Parliament, and H.E. Ahmed bin Abdullah bin Mohammed Al Shehhi, Minister of Regional Municipalities and Water Resources, Oman (Photo courtesy World Water Forum)
The priorities include access to clean water for all, harmonizing water and energy, contributing to food security by optimal usage of water, responding to climate changes and adjusting pressure of human footprints on water resources.
The conditions for success are: good governance, financing water for all and creating enabling environments.
The International Union for the Conservation of Nature, IUCN, said today that the World Water Forum has placed nature at the heart of its strategies for improving global water resources, changing the way the world looks at protecting this most valuable liquid asset.
"The message to Rio must be loud and clear that the time is right for investing in nature if we are to have any chance of building a sustainable economic future," said IUCN Director General, Julia Marton-Lefevre.
IUCN's Water Programme Director Mark Smith said, "The Forum clearly recognized that water-related biodiversity and ecosystem services are an integral part of water management infrastructure, as they provide substantive economic, social and environmental returns on investment at all levels."
Investing in sustainable water management should be a priority for all decision makers, according to a new publication by IUCN and the Asian Development Bank.
"Water Wealth," launched at the World Water Forum, draws on 45 case studies showing new solutions to water challenges applied in Asia and the Pacific from strengthening the resilience of river basins through sustainable management of the natural infrastructure responsible for storing and regulating water, such as forests, soils and wetlands.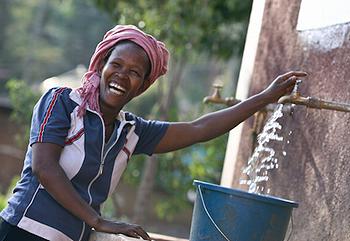 Addis Ababa resident fills a pail with drinking water. (Photo by AMREF UK)
Bai-Mas Taal, executive secretary of the African Ministers' Council on Water, said African nations are committed to achieving clean water and sanitation across the continent.
Currently, Taal said, 340 million Africans do not have access to clean water and 500 million do not have access to decent sanitation. He says African nations are working hard to change that.
African heads of state and ministers have endorsed a position paper for the water forum in which they commit themselves to mobilize the required resources and all necessary efforts to achieve the Millenium Development Goal for water supply and sanitation in Africa.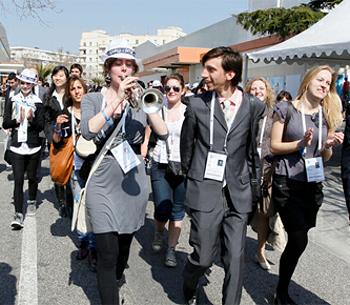 Youth march for clean water outside the 6th World Water Forum, March 14, 2012 (Photo courtesy World Water Forum)
Taal said Africa's message was heard loud and clear at the World Water Forum. "Africa came here and Africa has made its voice heard. And Africa has come out with solutions that we take back to the continent and implement so that water will be available to our people."
Demonstrators also made their voices heard in Marseille. Young people marched to dramatize the urgency of providing them with expertise to better manage water. They will create a global network of youth in order to continue the work begun in Marseille. Groups involved include Network Projection associations, Youth Diplomacy, Water Youth Movement, Water and Youth, and Agua y Juventud WYPW (World Youth Parliament for Water).
In celebration of the International Day of Action for Rivers on March 14, activists created a living river and inflated a large dam in central Marseille to protest the corporate greenwashing of dams. More than 100 protestors from China, Turkey, Brazil, Vietnam and France, among other locations, called attention to how dams are destroying the world's freshwater biodiversity and causing irreversible losses to the world's cultures.
The demonstrators object to the Hydropower Sustainability Assessment Protocol, a voluntary, non-binding scorecard that they say allows dam builders to "greenwash" the social and environmental performance of each other's projects.
The International Hydropower Association, a London-based organization of the world's most active dam builders that prepared the HSAP in cooperation with other institutions, wants the Hydropower Sustainability Assessment Protocol to replace the recommendations of the World Commission on Dams in international policy agreements.
"HSAP is more about protecting the right to build large dams than protecting the rights of the millions of people who depend on rivers for their daily needs," says the nonprofit International Rivers Network. "HSAP does nothing to require developers to follow high social and environmental standards."
The World Water Forum leads up to this year's World Water Day, hosted by the Food and Agriculture Organization of the United Nations at its Headquarters in Rome, on March 22. At the official ceremony, speakers will give their perspectives of this year's theme, Water and Food Security.
Copyright Environment News Service (ENS) 2012. All rights reserved.