E-Waste in West Africa: a Million Tonnes a Year
GENEVA, Switzerland, March 15, 2012 (ENS) – Electronic waste is piling up in West Africa at the rate of up to a million metric tonnes a year. In five West African countries – Benin, Côte d'Ivoire, Ghana, Liberia, and Nigeria – between 650,000 and one million tonnes of domestic e-waste are generated each year, concludes a report prepared by the Secretariat of the Basel Convention.
Attempting to stem the rising tide of obsolete electronics, two UN agencies Monday signed a new agreement that attempts to diminish the damage caused by electronic waste.
By facilitating the collection and recycling of precious and hazardous materials that electronic waste contains, the agencies hope to counter an expected a surge in e-waste, especially mobile phone waste in developing countries.
Yet only 13 percent of the world's electronic waste is recycled, often without safety procedures in place, according to the UN International Telecommunication Union, ITU, the UN specialized agency for information and communication technologies.
The ITU allocates global radio spectrum and satellite orbits, develops the technical standards that allow interconnection of networks and technologies, and strives to improve access to information and communications technology for underserved communities worldwide.
The agreement was signed in Geneva on Monday between the ITU and the Secretariat of the Basel Convention on the Control of Transboundary Movements of Hazardous Wastes and their Disposal.
This treaty took effect in 1992 and now has 178 member countries. It aims to protect human health and the environment from the harm resulting from the generation, management, transboundary movements and disposal of hazardous and other wastes.
"The collaboration with the Secretariat of the Basel Convention will allow the global community to address this ever-increasing problem through a holistic approach, involving the recycling industry as well as environmental policy makers," said ITU Secretary-General Hamadoun Touré.
"The ICT sector is already making significant progress in improving its environmental performance and reducing e-waste through improved best practices and standards," Touré said.
Electronic waste contains toxic materials that can cause widespread damage to the environment and human health – heavy metals such as mercury and lead, and endocrine-disrupting substances such as brominated flame retardants.
Electrical and electronic equipment also contains materials of strategic value such as indium and palladium and precious metals such as gold, copper and silver that can be recovered and recycled.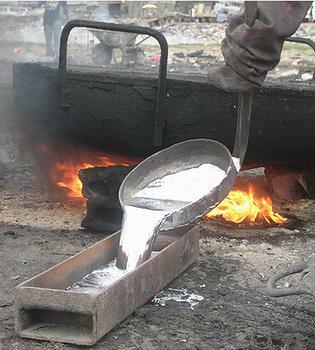 Recycling of electronic components in Accra, Ghana. A source of wealth, it is also a hazard to health and the environment., March 5, 2010. (Photo by Galileo gallery)
Reclaiming rare metals from e-waste is particularly important because China has roughly 95 percent of the world's supply and last year curtailed production and export just as demand for electronic devices is soaring.
Through the agreement, the Union and the Secretariat will exchange information and best practices and will work on joint projects and programs to set standards and raise awareness among countries about electronic waste management.
"ICT equipment has to be dealt with in view of its entire life-cycle, and this includes the time when the equipment comes to its end-of-life and becomes e-waste," said Jim Willis, executive secretary of the Basel Convention.
He said collaboration between the Union and the Secretariat will further shared objectives in support of sustainable development that includes environmentally sound management of waste.
West Africa faces a rising tide of waste electronic and electrical equipment, or WEEE, 85 percent of which is generated by domestic consumption of new and used electrical and electronic equipment, the Secretariat warned in a report issued in December.
In the five countries studied for the report – Benin, Côte d'Ivoire, Ghana, Liberia, and Nigeria – between 650,000 and one million tonnes of domestic e-waste are generated each year.
The report, "Where are WEEE in Africa?" shows that in addition, a stream of used equipment arrives from industrialized countries, much of it unsuitable for re-use, adding to the e-waste mountain.
Hazardous substances are released during various dismantling and disposal operations and are particularly severe during the burning of cables to liberate copper and of plastics to reduce waste volumes.
Open burning of cables is a major source of dioxin emissions, a persistent organic pollutant that travels over long-distances and bio-accumulates in organisms up through the global food chain.
Solutions are in the works. The ITU has come up with a universal power adapter and charger solution for mobile terminals and other ICT devices that reduces the production of many competing types of electronics, cutting the amount of e-waste.
Also, the ITU has written a recommendation on the procedures to be employed when recycling rare metals from electronic equipment.
The ITU is now designing e-waste management strategies for environmental protection; publishing and disseminating best practices; and helping countries with the drafting, adoption and implementation of policies, laws, and regulations covering e-waste management.
Copyright Environment News Service (ENS) 2012. All rights reserved.