COPENHAGEN, Denmark, December 18, 2009 (ENS) – In an atmosphere of urgency to reach a global agreement that will limit climate change, UN Secretary-General Ban Ki-moon has asked world leaders to stay overnight in Copenhagen to break a deadlock in negotiations.
"The secretary-general of the United Nations has asked people not to leave tonight," European Union Environment Commissioner Stavros Dimas told journalists at the summit.
Dimas said he is confident that leaders will forge an agreement. "I cannot imagine 120 leaders going back to their countries with empty hands. Everyone expressed commitment to fight climate change. OK, do it," he said.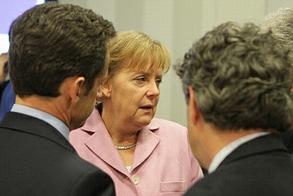 European leaders confer. From left: French President Nicholas Sarkozy, German Chancellor Angela Merkel, British Prime Minister Gordon Brown.
(Photo by Gunnar Seijbold courtesy Swedish Presidency)
Swedish Prime Minister Fredrik Reinfeldt has gathered the European heads of state and government for an extra coordination meeting, which opened at 15:30 this afternoon. The purpose of the meeting is to inform the Member States about the progress of negotiations at the climate change conference and to coordinate continued work.
British Prime Minister Gordon Brown said the conditions that would make a climate financing agreement possible are now in place, following a long day of discussions in Copenhagen Thursday.
Negotiations continued early into this morning as Brown and other leaders worked to secure a deal that would limit global temperature rises to two degrees Celsius.
"We have now got to the position where it is possible that we will get agreement tomorrow on the $10 billion plan to 2012 and the $100 billion, public and private, including the carbon market and international finance. We have also made progress in other areas and I believe that the conditions for an agreement are now there," Brown said.
U.S. President Barack Obama joined the discussions today. Addressing fellow heads of state and government, he said, "I have to be honest. As the world watches us today I think our ability to take collective action is in doubt right now and it hangs in the balance."
Obama said, to applause, that he came to Copenhagen, "not to talk but to act." He expressed optimism that all "can act boldly, and decisively, in the face of this common threat" to reach an accord.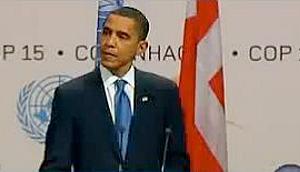 President Barack Obama addresses fellow heads of state and government at Copenhagen. (Photo courtesy Repower America)
"After months of talk, and two weeks of negotiations, I believe that the pieces of that accord are now clear," Obama said.
"First, all major economies must put forward decisive national actions that will reduce their emissions, and begin to turn the corner on climate change. I'm pleased that many of us have already done so, and I'm confident that America will fulfill the commitments that we have made – cutting our emissions in the range of 17 percent by 2020, and by more than 80 percent by 2050 in line with final legislation."
"Second," President Obama said, "we must have a mechanism to review whether we are keeping our commitments, and to exchange this information in a transparent manner. These measures need not be intrusive, or infringe upon sovereignty. They must, however, ensure that an accord is credible, and that we are living up to our obligations. For without such accountability, any agreement would be empty words on a page."
The third element is financing that helps developing countries adapt, particularly the least-developed and most vulnerable to climate change, he said.
"America will be a part of fast-start funding that will ramp up to $10 billion in 2012. And, yesterday, Secretary Clinton made it clear that we will engage in a global effort to mobilize $100 billion in financing by 2020, if – and only if – it is part of the broader accord that I have just described."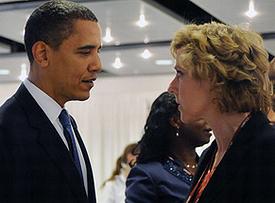 President Barack Obama confers with Danish Energy and Climate Minister and COP15 President Connie Hedegaard (Photo courtesy Earth Negotiations Bulletin)
"Mitigation. Transparency. And financing. It is a clear formula – one that embraces the principle of common but differentiated responses and respective capabilities. And it adds up to a significant accord – one that takes us farther than we have ever gone before as an international community," said Obama.
"We are running short on time," Obama said. "At this point the question is whether we will move forward together, or split apart."
And that is the question that world leaders are attempting to answer tonight.
Several draft agreements have been leaked to the media. The deadline of December 31, 2010 to reach a legally-binding treaty is in – then it's out – then it's in again. Other crucial elements follow the same pattern.
In a wide-ranging speech, Chinese Premier Wen Jiabao said that China has made a positive contribution to the global fight against climate change through energy conservation and pollution reduction. Between 1990 and 2005, China's carbon dioxide emissions per unit of GDP were reduced by 46 percent, he said.
"Building on that, we have set the new target of cutting carbon dioxide emissions per unit of GDP by 40-45 percent by 2020 from the 2005 level," Wen told world leaders.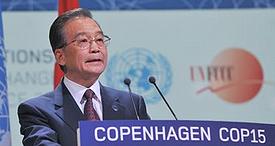 Chinese Premier Wen Jiabao addresses world leaders.
(Photo courtesy Xinhua)
"To reduce carbon dioxide emissions on such a large scale and over such an extended period of time will require tremendous efforts on our part. Our target will be incorporated into China's mid- and long-term plan for national economic and social development as a mandatory one to ensure that its implementation is subject to supervision by the law and public opinion," Wen said.
Answering persistent questions about China's willingness to be transparent in reporting its greenhouse gas emissions, Wen said in his speech, "We will further enhance the domestic statistical, monitoring and evaluation methods, improve the way emissions reduction information is released, increase transparency and actively engage in international exchange, dialogue and cooperation."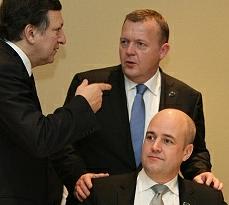 EU leaders confer. From left: EU Commission President Jose Barroso, Danish Prime Minister Lars Lokke Rasmussen, Swedish Prime Minister Fredrik Reinfeldt.
(Photo by Gunnar Seijbold courtesy Swedish Presidency)
After a bi-lateral U.S.-China meeting at the climate summit, Premier Wen reiterated that China is willing to carry out international dialogue and cooperation on transparency of its mitigation measures. President Obama said he appreciates China's willingness to have transparency on its voluntary emission reduction measures.
The Indian Environment Minister Jairam Ramesh expressed optimism about the outcome of the Copenhagen summit. "We are close to seeing a legally non-binding Copenhagen outcome after 36 hours of gruelling, intensive negotiations," he told Reuters late today.
Swedish Prime Minister Reinfeldt repeated that the European Union is willing to cut emissions of greenhouse gases 30 percent compared to 1990 levels if other countries will make comparable commitments.
He particularly called on the United States and China to make steep emissions cuts.
"The U.S. and China account for almost half of the world's emission," Reinfeldt told fellow world leaders. "They simply must do their part. If they don't, we will not be able to meet the two degree target."
"Now," he said, "I look at the time and I realize that we have only hours left to take responsibility. Let's get back to work."
Around the negotiating table, Reinfeldt and EU Commission President Jose Barroso are joined by political leaders and representatives from the African Union, Australia, Bangladesh, Brazil, China, Denmark, the European Commission, France, the Group of 77 developing countries, Germany, India, Japan, Mexico, Norway, Poland, Russia, South Africa, United Kingdom, the UN and the United States, among others.
The meeting looks set to continue into the early hours of the morning.
Copyright Environment News Service (ENS) 2009. All rights reserved.