CHICAGO, Illinois, December 17, 2009 (ENS) – The two U.S. producers of the toxic flame retardant decabromodiphenyl ether (decaBDE), Albemarle Corporation and Chemtura Corporation, and the largest U.S. importer of this chemical, ICL Industrial Products, Inc., today announced commitments to phase out the chemical in the United States.
DecaBDE is a flame retardant which has been used in electronics, wire and cable insulation, textiles, automobiles and airplanes, and other applications. Tests have found it to be accumulating in mothers' breast milk.
As a result of negotiations with the U.S. Environmental Protection Agency, the companies have committed to end production, importation, and sales of decaBDE for most uses in the United States by December 31, 2012, and to end all uses by the end of 2013.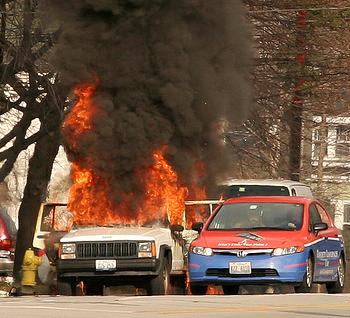 A car on fire in Lombard, Illinois. (Photo by Daveblog)
Steve Owens, EPA assistant administrator for the Office of Prevention, Pesticides and Toxic Substances, said, "Though DecaBDE has been used as a flame retardant for years, U.S. Environmental Protection Agency has long been concerned about its impact on human health and the environment."
"Studies have shown that decaBDE persists in the environment, potentially causes cancer and may impact brain function. DecaBDE also can degrade to more toxic chemicals that are frequently found in the environment and are hazardous to wildlife."
"Today's announcement by these companies to phase out decaBDE is an appropriate and responsible step to protect human health and the environment," Owens said.
Albemarle said in its letter of commitment that the transportation and military uses of decaBDE will take the longest to phase out and will remain in some products, such as automobiles. airplanes, certain warehousing and shipping equipment, until the end of 2013.
"This is primarily because of the complexity of these uses (cars and planes have a very large number of parts that rely on flame retardant chemistry) and lead times for qualifying new materials. We are committing to phase out of these uses on or before December 31, 2013," wrote David Clary, Albemarle's vice president and chief sustainability officer.
The company has developed alternative materials but Clary says "qualifying new materials is a complicated exercise that takes time."
"At the same time," Clary said, "we wish to reaffirm our belief in the safety of decaBDE. DecaBDE has been used as an effective flame retardant for more than 30 years, and we believe its use has saved many hundreds of lives."
EPA intends to encourage the other minor importers of decaBDE to join this initiative.
DecaBDE is one form of a family of flame retardant chemicals called polybrominated diphenyl ethers. In 2004, manufacturers ended U.S. production of penta and octaBDE, which were commonly used in furniture foams, textiles, kitchen appliances, and electronics, after high levels were found in human breast milk.
But decaBDE is still being produced and used primarily in plastic electronics, such as television and computer casings, furniture, and mattresses.
"This is a victory for people, the environment, and Lake Michigan," said Max Muller, program director at Environment Illinois.
"People trust that products manufactured and sold in the United States are safe, but chemicals like decaBDE indicate otherwise," Muller said. "Scientific studies demonstrate decaBDE's neurological and reproductive health effects may already be impacting human health and wildlife. Alternatives are available. We applaud its phase-out."
"I've worked for years to eliminate these chemicals because their use in products exposes Illinoisans to toxics," said State Representative Elaine Nekritz, who has sponsored legislation to ban decaBDE in the Illinois Legislature.
"State legislators across the country raised the alarm before the federal government was acting, and now it's paying off," she said. "I'm heartened that U.S. EPA and the chemical companies are moving to protect public health from this chemical."
At least four states have passed legislation banning decaBDE since Washington state passed the first state law banning the chemical in April 2007.
Copyright Environment News Service (ENS) 2009. All rights reserved.