World Future Energy Summit Highlights Renewables, Sustainability
ABU DHABI, United Arab Emirates, January 16, 2012 (ENS) – The annual World Future Energy Summit opened today in Abu Dhabi with a call from UN Secretary-General Ban Ki-moon for support of his Sustainable Energy for All Initiative.
Ban used the conference as the global launching pad for 2012 as the International Year of Sustainable Energy for All, a designation mandated by the UN General Assembly. Globally, one person in five lacks access to modern electricity and three billion people rely on wood, coal, charcoal or animal waste for cooking and heating.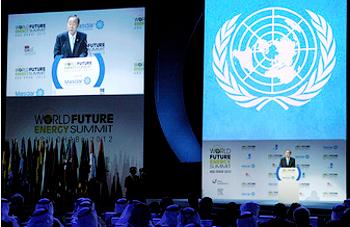 UN Secretary-General Ban Ki-moon speaks at the opening ceremony of the World Future Energy Summit 2012 in Abu Dhabi, January 16, 2012 (Photo by Evan Schneider courtesy UN)
"This is the right time for this initiative," said the secretary-general. "Across the world we see momentum building for concrete action that reduces energy poverty, catalyzes sustainable economic growth, and mitigates the risks of climate change. Achieving sustainable energy for all is both feasible and necessary. My initiative will help us meet these objectives simultaneously. It can be a triple win for all."
Ban said he has three complementary goals to reach by 2030 – to ensure universal access to modern energy services, to double the rate of improvement of energy efficiency and to double the share of renewable energy in the global energy mix.
The secretary-general has appointed a High-level Group of global leaders from business, finance, government and civil society to mobilize action commitments that will help drive change on the ground, in corporate board rooms, and in policy portfolios.
The Group met in Abu Dhabi and produced a Framework for an Action Agenda to accomplish the secretary-general's three goals. Closer to the date of the Rio+20 UN Conference on Sustainable Development in June, the secretary-general says he will officially unveil the Action Agenda, publicizing the commitments made by stakeholders to the initiative.
Under the theme of "Powering Sustainable Innovation," WFES 2012 is welcoming more than 26,000 attendees, including 3,000 delegates and 650 exhibiting companies, to the four-day summit being held at the Abu Dhabi National Exhibition Centre.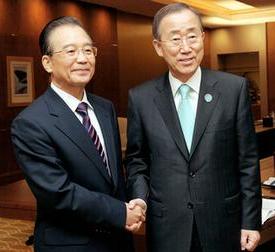 Secretary-General Ban Ki-moon, right, meets with China's Prime Minister Wen Jiabao in Abu Dhab. (Photo by Evan Schneider courtesy UN)
In his keynote address today, Chinese Premier Wen Jiabao outlined a four-stage process to address the world's future energy challenges, with the priority given to energy conservation and energy efficiency.
"To save energy does not mean simply to cut energy use, nor does it compromise people's quality of life," Premier Wen told delegates. "What is needed is to rely on science and technology to increase energy efficiency, build a circular national economy featuring low input, high output and low energy consumption and emissions, and drive sustainable economic and social development with minimum energy and resource consumption."
He called on governments to "vigorously develop renewable energy and clean energy" as alternatives to fossil fuels, promote a "revolution of science and technology in the energy sector," and finally, "effectively safeguard energy security."
Wen said China is shutting down coal-fired generators, investing in wind, solar and hydroelectric power and increasing energy efficiencies in traditional industries.
Recognizing the importance of the Middle East to the global energy equation, the Premier told delegates that China respects the independent choices made by the countries in the region, and supports their efforts in developing their economies based on their resources and strengths.
South Korea's Prime Minister Kim Hwan-sik, in his keynote address, stressed the need for active co-operation between developing and developed countries in expanding renewable energy resources.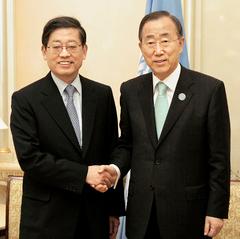 Secretary-General Ban Ki-moon, right, meets with South Korea's Prime Minister Kim Hwang-sik in Abu Dhabi (Photo by Evan Schneider courtesy UN)
"To distribute renewable energy to the world, active financial support and technology transfers from developed countries to their developing counterparts are required," said Prime Minister Kim.
Kim also stressed the importance of "the peaceful usage of nuclear energy" under guarantees of "safety and non-proliferation" until alternative energy resources can fully replace fossil fuels.
He pledged that South Korea would continue its efforts to become a leader in the field or renewable energy. Kim said, "We will maintain close cooperation with the UAE to expand the spread of renewable energy as well as measures for green growth in the future."
Also at World Future Energy Summit, the Abu Dhabi-based Masdar Institute of Science and Technology signed an agreement with Toyota Motor Corporation to establish the Masdar Institute-Toyota Scholarship Program for research on low-carbon emission vehicle technologies.
Toyota, winner of the Zayed Future Energy Prize in 2010, will use the US$1.5 million prize fund to establish a scholarship program for 10 students. One student will be selected for each academic year. The scholarship includes a two-week trip to Japan.
The annual scholarships will be offered to graduate students from around the world to work on projects in the area of technologies for sustainable development.
The agreement was signed in the presence of Dr. Sultan Ahmed Al Jaber, who serves as CEO of Masdar Institute and also chairman of the Executive Committee of the Board of Trustees of Masdar Institute, an independent, research-driven graduate-level university for advanced energy and sustainable technologies.
Dr. Al Jaber also serves as director-general of the Zayed Future Energy Prize, an annual US$2.2 million award that celebrates achievements in renewable energy and sustainability.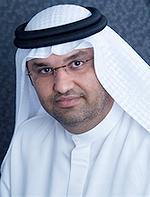 Sultan Ahmed Al Jaber, CEO Masdar Institute (Photo courtesy Masdar)
"This substantive partnership between Toyota Motor Corporation and the Masdar Institute sits at the heart of what the Zayed Future Energy Prize has set to achieve," Dr. Al Jaber said. "In merely two years, the prize has taken its rightful place as a catalyst for expediting innovation around the world."
"The scholarships funded by Toyota will serve to ensure that these scholars will benefit from a rich, academic, research-driven environment where they will be able to pursue the development of cutting-edge technologies," he said.
Students selected to receive Masdar Institute-Toyota Scholarship will write their master's degree thesis on a sustainable mobility topic such as product development or technology strategy.
In addition, each student will spend two weeks at Toyota and other sites in Japan, learning about the company's efforts to develop cutting-edge low emission vehicle technologies and also Japanese industries' efforts in realizing simultaneously economic growth and environmental preservation.
Nobuyuki Negishi, Toyota's chief representative for the Middle East and North Africa Office, said, "Toyota recognizes the importance of global sustainability and implements several programs across various platforms to engage with the community."
"We are honored to establish this scholarship program at Masdar Institute that will create the right environment for students to conduct their research and achieve breakthrough in bringing new energy technologies for everyday use," said Negishi.
Masdar Institute President Dr. Fred Moavenzadeh said, "Signing the deal with a global automobile leader such as Toyota further strengthens our status as a world-class institution that aims to nurture students and develop them into capable energy leaders of tomorrow. We are delighted to enter into this arrangement that will contribute to the advancement of low-carbon emission vehicle technologies."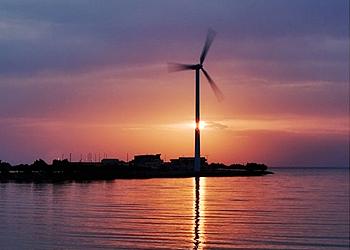 This wind turbine on Sir Bani Yas Island off the coast of Abu Dhabi is the first in the Gulf Region. The island is being developed as a nature tourism destination. (Photo courtesy Desert Islands, Abu Dhabi)
The Zayed Future Energy Prize represents the vision of the founding father and former President of the United Arab Emirates, the late Sheikh Zayed bin Sultan al Nahyan, who championed environmental stewardship.
In his welcoming address, Dr. Al Jaber outlined for delegates the huge advances the renewable energy sector has made in the past 10 years.
"Over the last decade, the renewable energy sector has grown immensely," he said. "The production capacity for wind has increased by a factor of 10 to reach 200 gigawatts, while solar has increased by a factor of 30, to reach almost 35 gigawatts. Production and technology advances have led to a sharp decrease in the cost of production, and the market value of the renewable sector has increased from one billion dollars to 211 billion dollars."
Hosted by Masdar, Abu Dhabi's state-owned clean energy firm, the World Future Energy Summit also features the annual Project Village, roundtable discussions and the Young Future Energy Leaders program.
Masdar announced Friday that Sultan bin Rashed Al Dhaheri has donated US$1 million towards the Young Future Energy Leaders program.
Al Dhaheri is a member of the Federal National Council and a founding member of the boards of both the National Bank of Abu Dhabi and the Abu Dhabi National Insurance Company.
The YFEL program offers young professionals and students from the United Arab Emirates and abroad a path toward achieving energy efficiency and tackling climate change. It aims to bring young professionals closer to government representatives, business leaders and other organizations active in the areas of renewable energy and sustainability.
Oil-rich Abu Dhabi sees renewable energy as the energy to power its future. Masdar plans to invest $15 billion in renewable energy projects such as the world's flagship carbon-free city in Abu Dhabi, the capital of the United Arab Emirates.
Copyright Environment News Service (ENS) 2012. All rights reserved.