It's Never Too Early for Earth Day
WASHINGTON, DC, January 16, 2012 (ENS) – Earth Day Network kicked off the new year by announcing its partnership with five U.S. cities to work toward reducing their carbon emissions.
Selected due to their existing efforts to reduce energy consumption as well as cost-saving, budget-balancing measures are: Fayetteville, Arkansas; Grand Rapids, Michigan; Bozeman, Montana; Babylon, New York and Santa Fe County, New Mexico.
The City of Fayetteville, for instance, used $220,000 of American Recovery and Reinvestment Act grant funds to develop a revolving loan fund targeting energy efficiency benefits to non-profit organizations in the Fayetteville community.
The Botanical Garden of the Ozarks, Fayetteville Chamber of Commerce, and Mount Sequoyah Retreat Center applied and were awarded loans to fund energy efficiency improvements on five buildings. Heating and air conditioning were upgraded, energy efficient lighting, insulation, windows, doors and an Energy Star roof were installed. The work was performed by local contractors and all products were made in America. The utility savings from each project will help to repay the loan made by the City of Fayetteville.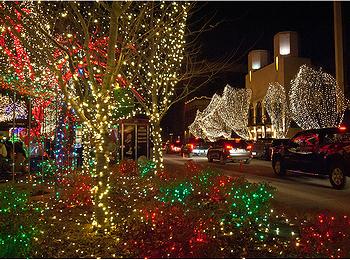 Scene from the Lights of the Ozarks display on the downtown Fayetteville Square in Fayetteville, Arkansas, December 18, 2011 (Photo by MRHSfan)
The Earth Day Network campaign aims to work with Fayetteville and the other four cities to reduce emissions of the greenhouse gas carbon dioxide by more than one million pounds before June 22, 2012. That's when Rio+20, the UN Conference on Sustainable Development, opens in Rio De Janeiro, Brazil.
The campaign fulfills in part the Billion Acts of Green commitment that Earth Day Network announced at the 2011 Clinton Global Initiative Annual Meeting in New York last September.
President Bill Clinton and the Clinton Global Initiative recognized Earth Day Network's "A Billion Acts of Green® – Renewable Energy for All" campaign to address global environmental challenges.
"In the absence of national and international leadership on climate change policy, " declared Kathleen Rogers, president of Earth Day Network, "local governments, businesses and individuals must take on the cause of renewable energy."
"We are honored to receive such recognition from the Clinton Global Initiative to work with these cities to achieve critical steps in dealing with the climate crisis that set an example for the rest of the country and the world," she said.
The campaign is launched in collaboration with Applied Solutions, ICLEI-Local Governments for Sustainability USA, and NativeEnergy. Supplying buying new technology, energy credits and carbon offsets are among the campaign's goals.
The new initiative is intended to build on Earth Day Network's Global Days of Conversation campaign. Innovative solutions to green the economy might emerge from conversations on environmental sustainability among constituents and political leaders, the campaigners hope.
Copyright Environment News Service (ENS) 2012. All rights reserved.