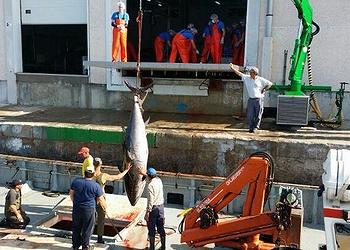 NEW YORK, New York, June 5, 2016 (ENS) – The first international accord to end illegal fishing went into effect today in celebration of World Environment Day. The pact is now legally binding for the 29 countries and the European Union that have signed on to it, says the UN Food and Agriculture Organization, FAO.
The Agreement on Port State Measures to Prevent, Deter and Eliminate Illegal, Unreported and Unregulated Fishing, adopted as an FAO Agreement in 2009 after years of diplomatic effort, reached its activation threshold of 25 countries last month, triggering a 30-day countdown to today's entry-into-force.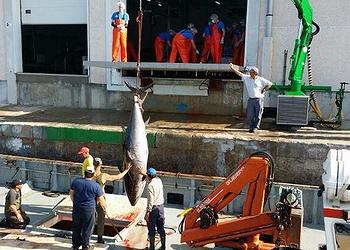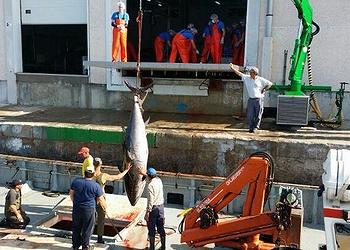 From now on, foreign fishing vessels wishing to enter ports in Port State signatory countries must request permission in advance, transmitting detailed information on their identities, activities, and the fish they have onboard. Landings can only happen at designated ports equipped for effective inspections.
If inspections turn up evidence of illicit fishing activity, vessels will be shut out of those ports and reported as violators.
"This is a great day in the continuing effort to build sustainable fisheries that can help feed the world," said FAO Director-General Graziano da Silva. "We hail those countries that have already signed on to the agreement and who will begin implementing it as of today. We invite governments who have yet to do so, to join the collective push to stamp out illegal fishing and safeguard the future of our ocean resources."
World Environment Day this year focuses on ending the illegal trade of all wildlife, not just fish.
The UN Office on Drugs and Crime, UNODC, released its inaugural World Wildlife Crime Report on May 24. This first report shows that 7,000 species were found illegally traded in more than 164,000 seizures affecting 120 countries.
UNODC Executive Director Yury Fedotov said, "The global nature of this crime compels us to stand united and to promote global solutions to halt the catastrophic poaching and trafficking of wildlife."
"Our Wildlife Report is helping by providing a global assessment that will allow the international community to design effective and efficient solutions," Fedotov said, stressing that wildlife crime deprives people of a sustainable livelihood. "These crimes are also closely connected to fraud, money laundering, human trafficking, corruption and brutal violence, among other crimes."
John Scanlon, who heads the Convention on International Trade in Endangered Species, CITES, said, "This comprehensive global report is rooted in the best data and case studies available, is backed by in-depth analysis, and demonstrates a heightened sense of rigor in the way in which we report on wildlife crime.
"Future reports will benefit from more and better data, with CITES Parties to submit annual illegal trade reports starting in 2017," said Scanlon. "Hundreds of additional species of animals and plants, including 250 tree species, are being considered for global protection under CITES at its 17th meeting of the Conference of the Parties to be held in Johannesburg later this year."
On World Environment Day, the UN Environment Programme, UNEP, is encouraging everyone to "go wild for life" and take action to help safeguard species at risk for future generations.
"We have chosen this theme because damage from this trade has become so serious and so far reaching that urgent action is needed to reverse it," said UNEP Executive Director Achim Steiner in a video message.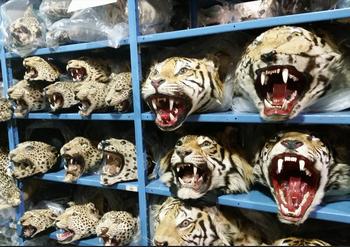 The effects of illegal wildlife trade include the destruction of natural capital from which many nations could build healthy tourism industries, said Steiner. It fosters the spread of corruption and the undermining of the rule of law throughout the world and the "fattening of purses" of international crime syndicates.
"This must stop and the time to take action is long overdue," Steiner said.
Greed, fashion, ignorance, indifference, investment, corruption, pseudo-medicinal use or cultural beliefs should not be allowed to endanger any species of animal or plant or tree, is the campaign's primary message.
It focuses on eight species this year: orangutans, sea turtles, pangolins, rosewood trees, helmeted hornbills, tigers, elephants and rhinos.
Angola is this year's host country for World Environment Day, and Steiner announced that the West African country is making strong commitments to combat wildlife crime by shutting down its domestic ivory trade and taking action to stop smuggling over its borders.
"We support the actions of countries like Angola to join this fight," he said. "We must be united in this cause, we must think globally, but also act locally, and we must have zero tolerance for poaching and illegal trade in wildlife."
UNEP is encouraging citizens to take action through arts and crafts exhibitions, film festivals, flash mobs and social media activities.
UN Secretary-General Ban Ki-moon urged governments and citizens everywhere to help end this illegal trade, noting that there is "great cause for alarm," as elephants are being slaughtered for their ivory, rhinos for their horns, and pangolins for their scales.
"The United Nations and its many partners have resolved to tackle this illicit trade," said Ban, "including by setting clear targets to put an end to poaching in the Sustainable Development Goals, adopted last year by all 193 Member States."
Illegal fishers beware! The now-active Port State Measures agreement gives the international community a powerful tool for achieving the 2030 Sustainable Development Agenda, with its stand-alone goal on the conservation of and sustainable use of oceans and sub-target on illegal fishing.
Copyright Environment News Service (ENS) 2016. All rights reserved.
© 2016, News Editor. All rights reserved.