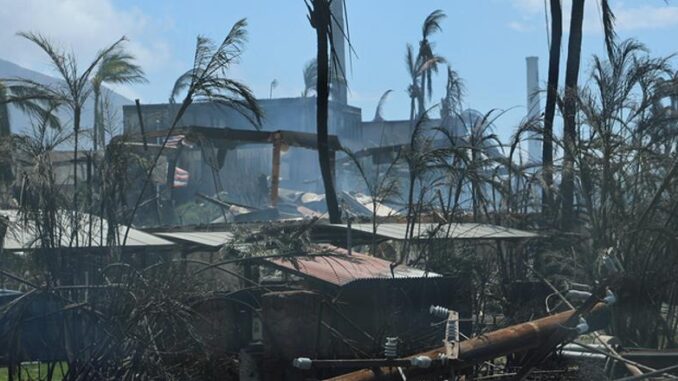 LAHAINA, Maui, Hawaii, August 13, 2023 (ENS) – Hawaii Governor Josh Green and Maui County officials said today that the fire death toll from this week's wildfires in the historic town of Lahaina has risen to 93 people; only two of them have been identified. Search and rescue work continues. Many others are injured, and at least 11,000 residents have lost their homes or businesses.
Firefighting crews are continuing to extinguish flare-ups in the Lahaina and Upcountry Maui fires. In the Upcountry Maui fire, three structures in Olinda and 16 structures in Kula were destroyed. The Pulehu/Kīhei fire was declared 100 percent contained Saturday.
Thousands were evacuated when the blazes broke out without warning Tuesday on Maui and the Big Island as Hurricane Dora, a Category 4 storm, passed the Hawaiian Islands hundreds of miles to the south.
The County of Maui Department of Water Supply's unsafe water alert for areas of Upper Kula and Lahaina affected by the wildfires is still in effect. People in those areas are advised not to drink and not to boil their water. Instead of tap water, they are advised to use only bottled water for drinking, brushing teeth, making ice and preparing food.
The advisory is in effect until further notice.
Failure to follow this advisory could result in illness, according to the department and state Department of Health. Due to the wildfires, structures were destroyed and some areas of the water system lost pressure. "Those conditions may have caused harmful contaminants, including benzene and other volatile organic chemicals, to enter the water system," Maui officials warned.
Lahaina Gateway Center will be open from 10 a.m. to 4 p.m. Sunday for distribution of food, water and other supplies. A potable water tanker is at the location.
Napili Plaza is also distributing food, water and other supplies.
Two donated Wi-Fi trucks are stationed at Napili Park and Honokowai Park to provide Wi-Fi service and the ability to charge cellphones. The service is free to the public.
About 180 people staying in emergency evacuation centers obtained reissued drivers licenses and state identification cards Saturday morning at the county Division of Motor Vehicles and Licensing. Fees were waived. County employees volunteered to open the division, and Department of Transportation buses took evacuees to the center.
With power being restored in some areas of West Maui, Ohana Fuels/ Minit Stop on Keawe Street in Lahaina and Kahana Gateway Shell are open for gasoline.
On Thursday morning, the White House approved the disaster relief declaration requested by Governor Green. It provides for federal funding for temporary housing, home repairs, debris removal and emergency protective measures.
"Lahaina, with a few rare exceptions, has been burned down," Green said after walking the ruins of the historic town Thursday morning with Maui County Mayor Richard Bissen. "Without a doubt, it feels like a bomb was dropped on Lahaina."
More than 1,000 Lahaina buildings have been destroyed. Still, Governor Green says Lahaina residents should be able to return to their homes today following the evacuations.
Firefighters are still working to contain fires in Lahaina, Pulehu/Kihei and Upcountry Maui, officials said in an early morning report.
Nearly 15,000 tourists have left Maui, officials confirmed today as more visitors desperately tried to book flights off the stricken island.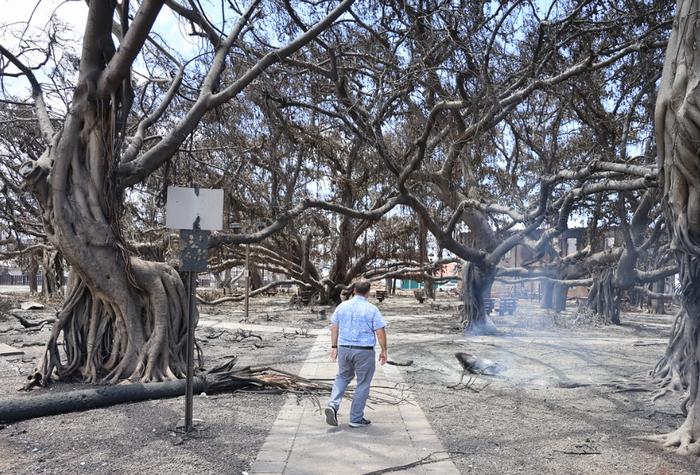 Rescue will be slow in coming to Lahaina, which has lost its entire downtown to the flames, including a cherished 150-year-old banyan tree that was scorched. The century-old Pioneer Inn in the heart of Lahaina across the square from the banyan tree, was "obliterated" said Mufi Hannemann, a former Honolulu mayor now serving as president and CEO of the Hawaii Lodging & Tourism Association.
"We have suffered a terrible disaster in the form of a wildfire that has spread widely as a result of hurricane-force winds in the region and underlying drought conditions. Maui and the Big Island both experienced significant fires. Much of Lahaina on Maui has been destroyed and hundreds of local families have been displaced," said Governor Green.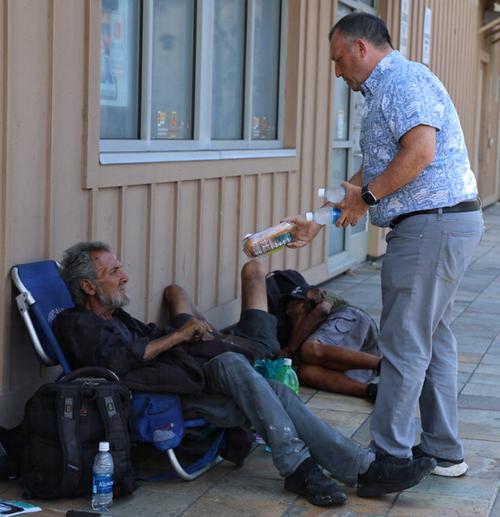 "Heroic efforts by first responders have prevented many casualties from occurring, but some loss of life is expected. Our entire emergency response team, including the Hawaii National Guard has mobilized and is being supported by the Federal Emergency Management Agency, FEMA. We have named Adjutant General Ken Hara as our state incident commander. He was my partner in Hawaii's successful COVID response," said the governor.
The American Red Cross of Hawaii is providing shelter and comfort to those affected by the massive fires. People trying to locate loved ones who may be impacted by the fires also can call the American Red Cross hotline at 1-800-733-2767.
A Family Assistance Center is open today at Kahului Community Center for family members who are looking for information about loved ones who are unaccounted for and may be affected by the wildfires on Maui. The center at 275 Uhu St. is open from 10 a.m. to 8 p.m. today and Friday. Hours after Friday have not been set.
Celebrity Relief Donations Amount to More Than $100 Million
Amazon.com Inc. founder Jeff Bezos and his fiancee Lauren Sanchez say they will give $100 million toward restoration efforts on Maui.
Sanchez said in an Instagram post they are "heartbroken" by the destructive fires and are creating a fund to "help Maui get back on its feet now and over the coming years." Bezos, who has a net worth of $163 billion according to the Bloomberg Billionaires Index, owns an estate on La Perouse Bay on Maui's southeast shore.
"The immediate needs are important, and so is the longer term rebuilding that will have to happen – even after much of the attention has subsided," said Sanchez, a helicopter pilot and founder of Black Ops Aviation, also an Emmy-award winning journalist, and vice chair @BezosEarthFund·
Oprah Winfrey, a part-time Maui resident, was seen at an evacuation center, the War Memorial Stadium in Wailuku, handing out supplies.
She told the BBC that she had visited earlier to see what people needed, and then went shopping to fill those needs. "Because often you make donations of clothes or whatever, and it's not really what people need," Oprah said. "So I actually went to Walmart and Costco and got pillows, shampoo, diapers, sheets, pillowcases."
Honolulu-born actor Jason Momoa is using his social media accounts to assemble resources for donation. "My heart goes out to all those affected by the devastating fires across the Island of Maui. In times like these, we come together as an 'Ohana, a family, to kāko'o and kōkua one another," he said in a statement. "The destruction caused by these fires is heartbreaking, but our community's resilience and strength will shine through."
Governor Green says the whole state is grateful for the generous flow of relief donations. "The White House has been incredibly supportive. Our state appreciates the incredible outpouring of concern and prayers from the mainland. We won't forget the aloha you have already begun to share with us."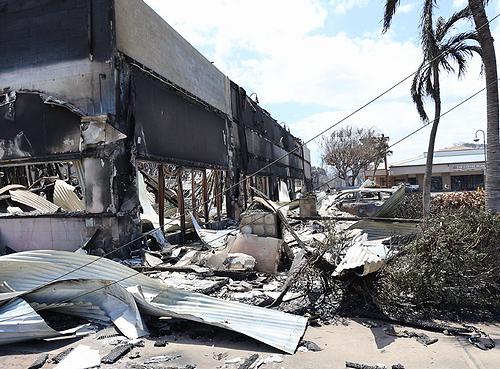 "This is an unprecedented disaster as an indirect result of Hurricane Dora passing just south of our islands," said Lieutenant Governor Sylvia Luke. "It is truly devastating and my heart goes out to the residents of Maui and all those impacted."
Crews from Hawaiian Electric now are repairing damaged poles and lines in West Maui and parts of Upcountry before safely restoring power to customers. The company has activated its Incident Management Team and is working closely with County of Maui Emergency Management Agency and other emergency responders. Additional crews are arriving from Oahu to help with the restoration efforts.
In West Maui, where approximately 12,400 customers lost power, crews are making repairs to downed poles and multiple spans of power lines.
Hawaiian Electric advises residents to stay at least 30 feet or more away from downed power lines, which may be energized. Downed power lines can be reported to 911 or Hawaiian Electricʻs trouble line at 808-871-7777.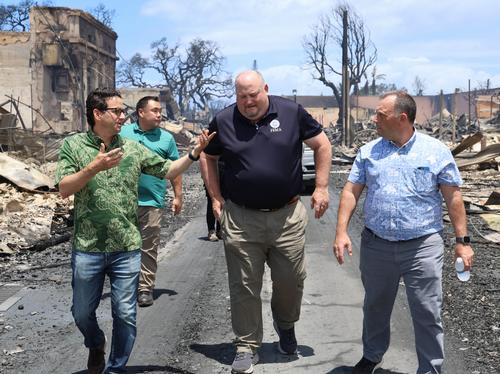 FEMA Region IX Administrator Robert J. Fenton Jr. determined that the Maui fires threatened such destruction as would constitute a major disaster.
The Hawaii Emergency Management Agency coordinated the request for assistance and will work with FEMA to identify and track eligible costs.
"Thank you to our federal partners for their quick review and decision, which will help Maui County meet this challenge," said Hawaii Emergency Management Administrator James Barros.
As the wildfires continue, visitors with current and planned lodging at West Maui hotels may not have accommodations. The proclamation encourages visitors in West Maui to depart the island as soon as safe and practical.
"This proclamation is to discourage travel to the affected areas so we can prioritize our scarce resources for Maui residents who desperately need assistance," Luke said.
This follows the first emergency proclamation signed by Acting Governor Luke Tuesday authorizing activation of the National Guard, action by the director of the Hawaii Emergency Management Agency and the administrator of Emergency Management, as well as the expenditure of state general revenue funds for relief of conditions created by Hurricane Dora.
Featured image: Devastation in Lahaina, Maui after fire blazed through the historic town Tuesday, Wednesday and Thursday this week. August 10, 2023 (Photo by Hawaii Governor Josh Green)
© 2023, News Editor. All rights reserved.