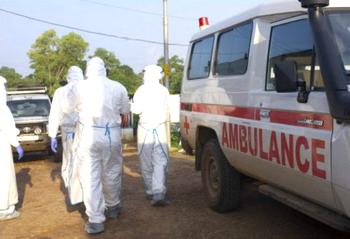 WASHINGTON, DC, September 5, 2014 (ENS) – The United Nations' senior leadership on the Ebola virus disease say they can stop the Ebola outbreak in West Africa within six to nine months, but only if a "massive" US$600 million global response is implemented.
In a Washington, DC, news conference Wednesday, Dr. Margaret Chan, director-general of the World Health Organization (WHO), said the deadly Ebola outbreak is "the largest, most complex and most severe we've ever seen." She said the disease is "racing ahead of control efforts."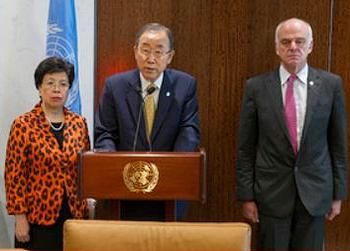 Dr. Chan confirmed at least 3,500 cases in the three most affected countries – Guinea, Liberia and Sierra Leone – where more than 1,900 deaths have been reported.
In Nigeria the outbreak is much smaller. Dr. Chan said the disease in Nigeria is linked to one air traveller from Liberia who landed in the capital city, Lagos. One of that person's contacts evaded monitoring and went to Port Harcourt, a city in the River State. "We are watching the Nigerian government's efforts to control and care for these cases," said the WHO chief said.
A fifth country, Senegal, reported its first case on August 29 after a young person drove from Guinea into Senegal, said Dr. Chan. The government of Senegal is still reporting only one case, and officials are mounting what Dr. chan called "a strong response with contact tracing."
A separate, smaller outbreak is occurring in the Democratic Republic of Congo in Central Africa. "We have epidemiological evidence and virus sequencing to demonstrate this is an independent outbreak," Dr. Chan told reporters. "It is NOT a spread from West Africa to Central Africa," she emphasized.
Dr. David Nabarro, UN coordinator for the Ebola response, and Dr. Keiji Fukuda, assistant director-general for health security, World Health Organization, have just returned from a needs assessment in the affected countries to shape the new UN surge plan for the region.
Describing the situation as "complicated," they said implementing the new WHO "roadmap" to coordinate and scale up international response will help the affected countries stop ongoing transmission.
The urgent needs include communications and messaging, care for the infected and proper burials, diagnosis and contact tracing, health services for other medical conditions, transport and supplies, cash to pay health workers, medical services for responders, air and sea access, and strong coordination to avert economic downturns.
Another urgent need is to open up airline routes that have been closed to affected countries. These closures "have a huge impact," Fukuda said, impeding the flow of experts and supplies into Africa, and the outbreak itself is having a negative impact on the economies of Guinea, Liberia and Sierra Leone.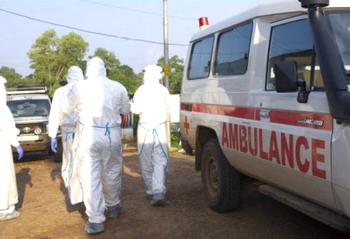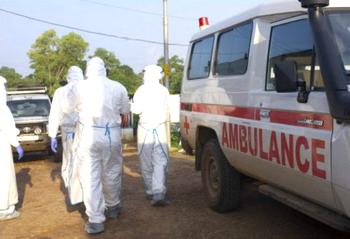 The World Food Programme, UNICEF, UNHCR, the World Bank and about 30 other UN and nongovernmental agencies are working with countries, especially with the UN peacekeeping force in Liberia, the international Red Cross movement and the international medical corps, said Nabarro.
"The situation needs a massive global response quite quickly. We are not in a position where we can afford to lose a day," Dr. Nabarro said. This outbreak is moving ahead of the response; in these countries the need is great."
Dr. Nabarro told reporters the cost of response to this "complicated situation" would be at least US$600 million "and maybe a lot more."
He said it would require "several thousand people to scale up our response by three to four times." The funds are needed to pay salaries and provide personal protective equipment for doctors, nurses and other health workers, such as corpse collection workers, and Dr. Nabarro said he hopes to do this within the next four weeks.
He is tasked with keeping track of the donations pouring in from around the world "so that everybody knows what funding is coming in and how it is spent."
"Coordination is absolutely critical," he said. "Countries are coming together for intergovernmental coordination, using UN pathways and nongovernmental organizations."
Drs. Chan and Nabarro both stressed that all activities undertaken by UN agencies, including WHO, are taking place under the direction of the presidents of the affected countries. They emphasized that the United Nations and its agencies are working in a supportive role, rather than taking over authority from governments.
WHO's Assistant-Director General for Global Health Security, Keiji Fukuda, who just returned from West Africa, said, "We don't have enough health workers, doctors, nurses, drivers, and contact tracers" to handle the increasing number of cases. "Most of the infections are happening in the community, and many people are unwilling to identify themselves as ill. And if they do, we don't have enough ambulances to transport them or beds to treat them yet," he said.
Fukuda said that insufficient health personnel and facilities to care for the growing number of cases was fueling the spread of the epidemic, as families are forced to care for patients at home, putting them and their contacts at risk of contagion. Mobilizing international financial support and additional health personnel is a top priority for scaling up the international response, Fukuda said.
"People need medical supplies, food, fuel, charcoal, and other provisions. We have to get it to them."
Dr. Fukuda explained that, "WHO does not recommend any travel or trade restrictions be applied except in cases where individuals have been confirmed or are suspected of being infected with Ebola virus disease or where individuals have had contact with cases of Ebola."
Copyright Environment News Service (ENS) 2014. All rights reserved.
© 2014, News Editor. All rights reserved.