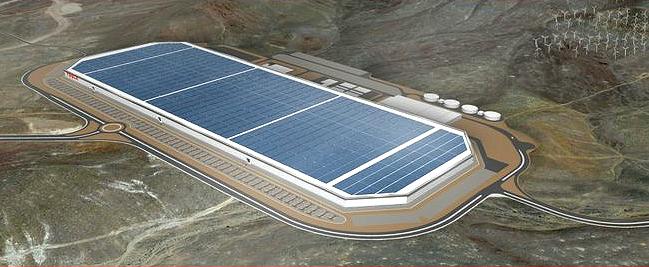 CARSON CITY, Nevada, September 5, 2014 (ENS) – Elon Musk, chairman and CEO of electric automaker Tesla Motors, and Nevada Governor Brian Sandoval  announced Thursday that Nevada has been officially selected as the site for the Tesla-Panasonic Gigafactory, a US$5 billion lithium-ion battery manufacturing plant.
"This is great news for Nevada," said Governor Sandoval. "Tesla will build the world's largest and most advanced battery factory in Nevada which means nearly US$100 billion in economic impact to the Silver State over the next 20 years."
In a letter to shareholders July 31, Tesla announced it had broken ground in Reno, Nevada, on a site that could "potentially be" the location for the massive battery factory.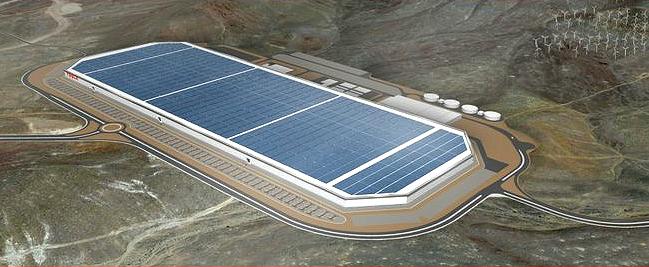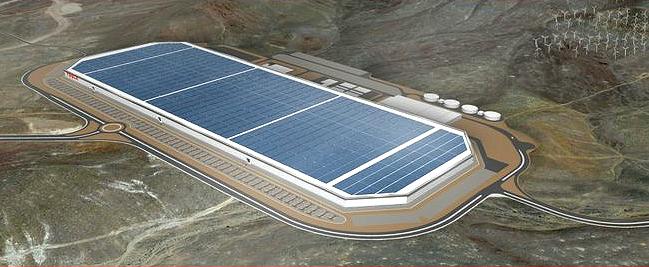 But Tesla said it was continuing to evaluate locations in four other states, raising hopes in California, Arizona, New Mexico and Texas.
Announcing the selection of Nevada, Governor Sandoval said, "I am grateful that Elon Musk and Tesla saw the promise in Nevada. These 21st century pioneers, fueled with innovation and desire, are emboldened by the promise of Nevada to change the world. Nevada is ready to lead."
"I would like to recognize the leadership of Governor Sandoval and the Nevada Legislature for partnering with Tesla to bring the Gigafactory to the state," said Musk.
"The Gigafactory is an important step in advancing the cause of sustainable transportation and will enable the mass production of compelling electric vehicles for decades to come," said the Tesla chief. "Together with Panasonic and other partners, we look forward to realizing the full potential of this project."
The actual siting of the Gigafactory will await a special legislative session to fulfill conditions of the company's move.
"On behalf of the State of Nevada, I would like to acknowledge this monumental day and provide my initial support," said Marilyn Kirkpatrick, Speaker of the Nevada State Assembly.
"This is a significant opportunity to make a major stride to improve our statewide economy," Kirkpatrick said. "I look forward to receiving the necessary information so the Legislature can meet and take necessary action to support this major industry coming to Nevada."
If the Nevada Legislature approves the deal, Tesla will receive a total package worth about $865 million to $1.3 billion, according to Steve Hill, executive director of the Governor's Office of Economic Development.
Tesla will enjoy:
– 100 percent abatement of sales and use taxes for 20 years
– 100 percent abatement of real property tax, personal property tax and payroll taxes for 10 years
– Tax credits worth about $195 million over 20 years
– Nevada will purchase the right of way to USA Parkway to connect Interstate 80 south to U.S. Highway 50 east of Carson City and improve access to the site, approximately 10 miles east of Reno.
Minor revisions in state law will ensure Tesla can sell its cars through company-owned dealerships.
Tesla has promised make it a priority to hire Nevada residents, especially military veterans.
Tesla will contribute an estimated $1.9 billion in tax revenue for all levels of government, state, local and school districts over 20 years.
Tesla also will make a $37 million contribution to K-12 education, approximately $7.5 million a year for five years.
And finally, Tesla will contribute $1 million to battery research at the University of Nevada, Las Vegas.
The Gigafactory will produce cells, modules and packs for Tesla's electric vehicles and for the stationary storage market. Tesla projects that the 10 million square foot Gigafactory will employ about 6,500 people by 2020.
Tesla says the plant will turn out 50 gigawatt hours in annual battery production by 2020, enough to power 500,000 Tesla cars.
The Gigafactory will be powered by wind and solar energy. It is designed as a net-zero energy building, meaning that the total amount of energy used by the building on an annual basis is roughly equal to the amount of renewable energy created on the site.
Tesla will prepare, provide and manage the Gigafactory's land, buildings and utilities.
Panasonic will manufacture and supply cylindrical lithium-ion cells and buy the associated equipment, machinery, and other manufacturing tools.
Tesla will use the Panasonic lithium-ion battery cells to power the Model S as well as the new Model X, a performance utility vehicle that is scheduled to go into production by the end of 2014.
The Gigafactory is expected to bring down the cost of automotive lithium-ion batteries. Cost reductions will be achieved through optimized manufacturing processes driven by economies of scale that have in the past been unachievable in battery cell and pack production.
Copyright Environment News Service (ENS) 2014. All rights reserved.