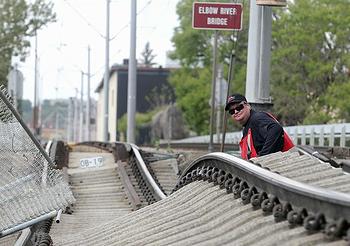 CALGARY, Alberta, Canada, June 23, 2013 (ENS) – Three days after record-breaking floodwaters from the Bow and Elbow rivers displaced more than 100,000 people in Calgary, the mayor on Sunday lifted mandatory evacuation notices for a large part of the city.
Mayor Naheed Nenshi issued clearance to return home to 65,000 residents in this southern Alberta city of one million people, as waters began to recede.
Police reported one fatality; an 88 year old woman was found dead in her Calgary residence.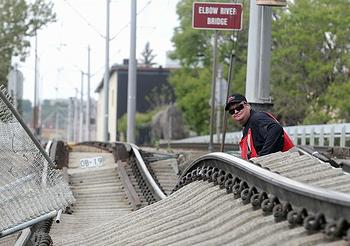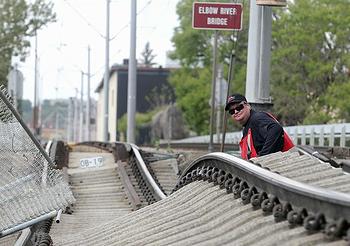 Across southern Alberta, 25 confirmed states of local emergency have been reported as floodwaters threaten communities large and small.
The flooding across southern Alberta has been confirmed as the worst in the province's history. The floods closed some rail lines and the east-west TransCanada Highway in three places, and have also forced the closure of many local roads and bridges.
In Calgary, transit service, traffic signals and the Calgary power supply have been affected. The Calgary-owned utility Enmax continues to restore power, with about 24,000 customers still in the dark.
Bruce Burrell, director of the Calgary Emergency Management Agency, told reporters it could take days, weeks or even months to restore all power to the downtown core, where many Canadian oil companies are headquartered.
"Right now, best case scenario will be days. Worst case scenario will be weeks. It could be weeks going into months," said Burrell.
Mayor Nenshi told a news conference, "We have turned a corner. We are still in a state of emergency, but our hearts and thoughts and prayers are now with our colleagues downstream."
As he spoke, 10,000 people were evacuated from their homes in the small city of Medicine Hat, Alberta about 300 kilometers (200 miles) to the southeast, where the South Saskatchewan River is predicted to overflow its banks. The peak flow is forecast to occur very early Monday morning.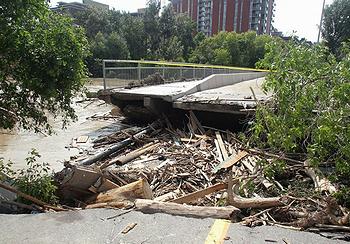 In Calgary, a Flood Warning remains in effect for the Bow River. The water levels on the Bow and Elbow Rivers were high but consistent throughout the day on Sunday.
The Elbow River downstream of the Glenmore dam crested early Friday. Water levels in both rivers are expected to remain "extremely high" for several days, forecasters warned.
Calgary remains in a state of local emergency. Sections of the downtown remain closed and parts of some neighborhoods are still marked as "red zones" where residents should not try to return home.
The city is no longer doing door-to-door assessments, instead allowing residents to do "self-assessments," Mayor Nenshi said. The city has set up "reentry information centers," and residents are advised to visit these facilities before attempting to return home, he said.
The mayor instructed residents to post a sheet of paper in their front windows, asking "in big, bold letters" for electricity, gas or water pumps if these services are needed.
"Calgary's water quality remains good and tap water remains safe to drink," said the mayor. "There is no need to boil water and treatment plants are fully operational, however we must all continue to conserve water."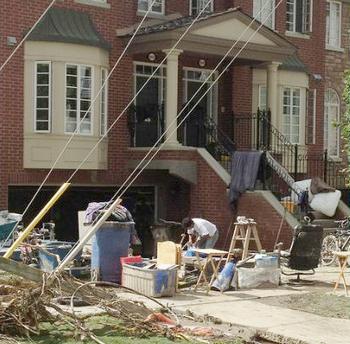 Due to anticipated heavy rains and flows on the Elbow and Bow Rivers, city officials declared a State of Local Emergency in Calgary on Thursday. The Municipal Emergency Plan was activated and the Emergency Operations Centre opened. The city began to deploy sandbags and temporary dams at key locations to protect property and infrastructure.
Mandatory evacuation orders were issued to citizens in low-lying areas, and police, fire and emergency officials began going door to door to notify residents that they would have to leave. Gas and power were shut off to evacuated areas once they were cleared, and the city set up three evacuation centers for residents who could find shelter elsewhere.
On Thursday afternoon, City of Calgary crews built a berm eight feet high and 100 feet long across Elbow Drive in an effort to control floodwaters.
By early Friday morning, many downtown buildings were closed along with many of the city's roads and river bridges. All schools were closed and remain closed through Monday.
Far to the north, in the tar sands oil town of Fort McMurray, heavy rainfall was blamed for a spill of 750 barrels of synthetic oil from a pipeline 70 kilometers (44 miles) south of the town, early on Saturday.
Enbridge Inc, Canada's largest pipeline company, said a portion of the oil entered a small creek and an unnamed lake near the pipeline right of way.
Containment booms and absorbent mats have been deployed to contain the oil and clean-up operations continued Sunday with 60 personnel at the site.
The cause of the spill is under investigation but the company said unusually heavy rain may have resulted in ground movements that affected the pipeline.
Copyright Environment News Service (ENS) 2013. All rights reserved.