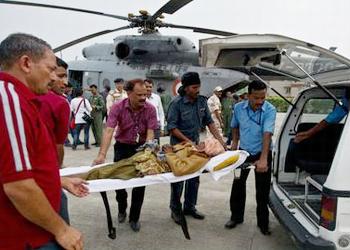 DEHRADUN, India, June 21, 2013 (ENS) – "On a war footing" India has mobilized military and civilian emergency personnel to rescue tens of thousands of people stranded outdoors in mountainous forests due to unseasonably early monsoon rains, flash floods and landslides.
More than 550 people have died as four times the usual amount of rainfall swept across 40,000 square kilometers (15,440 square miles) of northern India this week.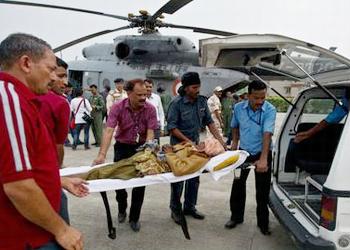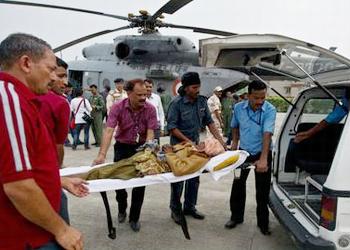 At least 50,000 people are still stranded in Uttarakhand, where Hindu shrines and temples high in the mountains attract pilgrims from across India and around the world.
The Uttarakhand State Disaster Mitigation and Management Centre said in a report to the Union Home Ministry that casualties in the affected areas could run into the thousands as about 90 rest houses for pilgrims have been swept away in the torrential rains and flash floods.
After a fly-over of affected areas in Uttarakhand, Prime Minister Manmohan Singh late Thursday described the situation as "most distressing."
The Prime Minister announced a US$170 million aid package and an online appeal for funds, asking "all citizens of India to stand with our distressed fellow countrymen" and "donate generously."
The India Meteorological Department said in a statement today that the monsoon rains have come about a month early and are 400 percent heavier than average for the area's annual monsoon rains.
The floods have swept away houses and other buildings, while bridges and narrow roads leading to pilgrimage towns have been destroyed, the national government said.
Railways Minister Mallikarjun Kharge has directed the Railway Board to arrange special trains to evacuate stranded persons from the calamity-hit areas of Uttarakhand.
Civil Aviation Minister Ajit Singh has expressed "deep anguish and sorrow at the huge loss of precious lives" in the flash floods in the states of Uttarakhand and Himachal Pradesh.
Singh has directed Air India and Pawan Hans Helicopters to render all assistance to the Uttarakhand government in the search and rescue operation. He has  directed Air India to operate additional flights from Dehradun to bring stranded pilgrims and to offer concessional fares to the affected people.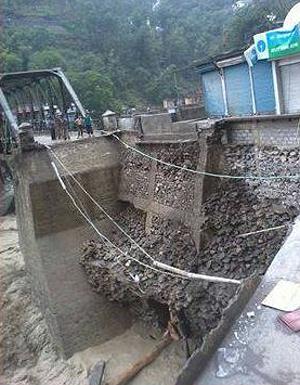 Some 16,000 persons have been rescued so far by road and aircraft. The Indian Air Force has a total of 43 rotary and fixed-wing aircraft conducting rescue and relief sorties.
Today, a total of about 185 sorties have been flown since morning, evacuating 1,357 persons,  including one pilot of a civil aircraft that crashed at Junglejatti near Kedarnath.
Fuel and food are being dropped to the affected areas. Trees are being cleared and helipads constructed to evacuate and supply the survivors.
The Indo-Tibetan Border Police, ITBP, today cleared a foot track from Gaurikund to Sonprayag and evacuated 500 victims on foot.
The Indian Army opened the road up to Uttarkashi after clearing 16 landslides and the road has been opened up to Sonprayag on the Kedarnath axis after a bridge across Vasuki Ganga was built.
The Army said in a statement that nearly 2,500 stranded persons have been evacuated from Sonprayag on the newly opened road.
A major breakthrough came today on the Badrinath axis where more than 10,000 people are stranded. ITBP was able to build a rope bridge where the Lambagad bridge over the river Alaknanda was destroyed.
One rescue party of the ITBP evacuated about 400 survivors from Badrinath on foot. A staging camp has been established at Pandukeshwar where these people will stay overnight to receive food and medical assistance before further resettlement.
Live National Disaster Response Force Inspector General Sandeep Rai Rathore told reporters in Delhi that June 22 and 23 are "key dates" and all agencies are maximizing their efforts to carry out the majority of relief and rescue work during this time.
Floods and landslides from monsoon rains have also struck across the border in Nepal, leaving at least 39 people dead, the government said.
While no official analysis has connected the heavy rains to climate change, Nagraj Adve, an activist based in Delhi who works on issues connected with global warming, blames the warming climate for the devastation.
In an opinion piece for "The Hindu" newspaper today Adve wrote, "There's no doubt in my mind that this increasing variability and intense downpours are a consequence of global warming, due to the capacity of warmer air to hold more water vapour. It happened last year in Uttarkashi, it's occurred this year again. It's going to continue to happen, frequently."
Copyright Environment News Service (ENS) 2013. All rights reserved.
© 2013, News Editor. All rights reserved.