Wangari Maathai, Kenyan Eco-Heroine and Nobel Peace Laureate, Dies
NAIROBI, Kenya, September 26, 2011 (ENS) – Wangari Maathai, founder of the Green Belt Movement and Nobel Peace Prize Laureate, passed away at the Nairobi Hospital Sunday, while undergoing treatment for cancer. She was 71.
Wangari Muta Maathai was born on April 1, 1940. In 1971, after graduate studies at the University of Pittsburgh, she became the first Eastern African woman to receive a Ph.D., when she was granted a Doctorate of Anatomy from the University of Nairobi, where she then served as a professor.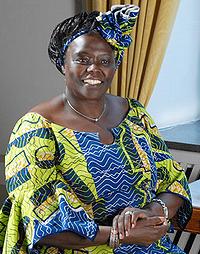 2004 Nobel Peace Prize Laureate Wangari Maathai in Stockholm, April 2009. (Photo by Annalisa B. Andersson © Nobel Media AB 2009)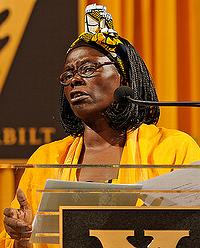 Wangari Maathai receives Vanderbilt University's Nichols-Chancellor's Medal, May 12, 2011 (Photo courtesy Vanderbilt U.)
Maathai started the Green Belt Movement in 1977, planting trees and encouraging Kenyan women to plant native tree nurseries throughout the country. Since then, the movement has planted an estimated 45 million trees in Africa and assisted nearly 900,000 women to establish tree nurseries and plant trees to reverse the effects of deforestation.
She became an advocate for better management of natural resources and for sustainability, equity, and justice, work that put her at risk during the authoritarian rule of President Daniel Arap Moi. In the late 1980s and early 1990s, the Kenyan government came down on Maathai and the Green Belt Movement and she was jailed several times.
In 1984, she received the Right Livelihood Award "for converting the Kenyan ecological debate into mass action for reforestation."
Maathai was an elected member of Parliament and served as Assistant Minister for Environment and Natural Resources in the government of President Mwai Kibaki between January 2003 and November 2005.
She founded the Mazingira Green Party of Kenya in 2003 to allow candidates to run on a platform of conservation as embodied by the Green Belt Movement. It is a member of the Federation of Green Parties of Africa and the Global Greens.
In 2004, she received the Nobel Peace Prize for her contribution to sustainable development, democracy and peace, becoming the first African woman, and the first environmentalist, to win the prize.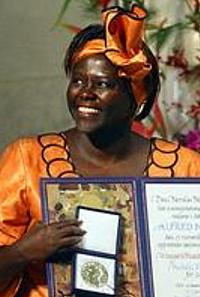 Wangari Maathai with her Nobel Medal and Diploma at the Nobel Peace Prize Award Ceremony (Photo by John McConnico © Pressens Bild AB 2004)
The Norwegian Nobel Committee said then, "Maathai stood up courageously against the former oppressive regime in Kenya. Her unique forms of action have contributed to drawing attention to political oppression – nationally and internationally. She has served as inspiration for many in the fight for democratic rights and has especially encouraged women to better their situation."
Today, world leaders mourned her passing and praised her legacy of renewed forests and environmental justice.
Kenyan President Kibaki called her a global icon and a great human rights crusader.
"In politics, she will be remembered for the role she played in agitating for political reforms that paved the way for the country's second liberation," Kibaki said.
Kenyan Prime Minister Raila Odinga said, "We all knew her as a voice of reason, a lady who stood above our artificial divisions of race, tribe and region and championed the cause of humanity."
Speaker of the National Assembly Kenneth Marende said, "I had an opWangari Maathai with her Nobel Medal and Diploma at the Nobel Peace Prize Award Ceremony,portunity to serve with her in the 9th Parliament. She was kindhearted, helpful and committed to serving her country the best way she could. We have lost a true hero."
UN Environment Programme Executive Director Achim Steiner said, "Wangari Maathai was a force of nature. While others deployed their power and life force to damage, degrade and extract short term profit from the environment, she used hers to stand in their way, mobilize communities and to argue for conservation and sustainable development over destruction."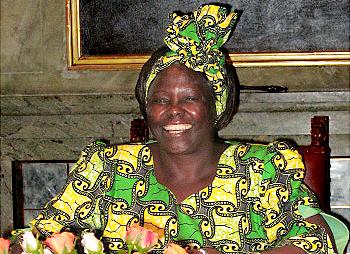 Wangari Maathai pays the traditional visit to the Nobel Foundation days after her Nobel Peace Prize award ceremony, December 2004. (Photo by Jonas Rosen © Nobel Media AB 2004)
"She was, like the acacias and the Prunus Africana trees Wangari fought so nobly and assiduously to conserve, strong in character and able to survive sometimes the harshest of conditions. She was also immovable in the face of ignorance, political gamesmanship and wanton environmental destruction," Steiner said.
Steiner said she was the inspiration behind UNEP's Billion Tree Campaign, which was launched in 2006.
"Indeed she risked her life and limb on several occasions to campaign and coordinate women and young people through her work in the Green Belt Movement taking her messages, her charm, her unflagging humour and optimism, conviction, honesty and intellect from her native Kenya to the highest international debates on climate change to biodiversity loss," said Steiner.
United Nations Secretary-General Ban Ki-moon paid tribute today, saying, "Her passing is a loss for the people of Kenya and the world," adding that Maathai was known throughout the development and human rights community not just for her "inspirational eloquence, but for her human warmth."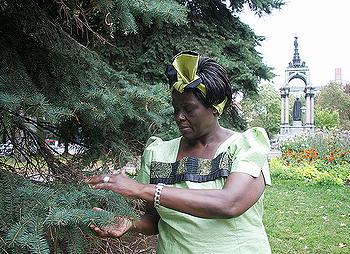 Wangari Maathai enjoys a Canadian tree, 2009 (Photo by Devin Lund courtesy Green Heroes TV)
The Nelson Mandela Foundation, responsible for carrying on the work of South Africa's first black president and Nobel laureate, said in a statement today, "It was with great sadness that we learned today of the passing of this exceptional environmental activist."
Right Livelihood Award Executive Director Ole von Uexkull said, "The Right Livelihood Award Family has lost one of its most prominent members. Wangari Maathai was an inspiration to the whole world as well as to her co-Laureates. She always used the power of her commitment and her longstanding experience to strengthen others. Our thoughts are with her family. Wangari will live on in the memories of her colleagues … and in the millions of trees she helped plant in Kenya."
"She understood and acted on the inextricable links between poverty, rights and environmental sustainability. One can but marvel at her foresight and the scope of her success. She was a true African heroine," Archbishop Desmond Tutu's office said in a statement.
Wangari Maathai's organization, the Green Belt Movement, wrote, "Professor Maathai's departure is untimely and a very great loss to all who knew her – as a mother, relative, co-worker, colleague, role model, and heroine; or who admired her determination to make the world a more peaceful, healthier, and better place."
Former UN Secretary-General Kofi Annan said, "Wangari Maathai will be remembered as a committed champion of the environment, sustainable development, women's rights, and democracy. Her energy and life-long dedication to improve the lives and livelihoods of people will continue to inspire generations of young people around the world."
Copyright Environment News Service (ENS) 2011. All rights reserved.