U.S. Military Sets Its Sights on Advanced Vehicles, Biofuels
WASHINGTON, DC, September 26, 2011 (ENS) – Vehicle efficiency and advanced biofuels have become top priorities for the U.S. military, finds a new report finds from The Pew Charitable Trusts.
The new focus is partly to save money as liquid petroleum fuels account for three-quarters of the $15 billion energy bill that the Department of Defense pays annually.
"From Barracks to the Battlefield: Clean Energy Innovation and America's Armed Forces" finds that Department of Defense clean energy investments increased 300 percent between 2006 and 2009 – from $400 million to $1.2 billion – and are projected at $10 billion annually by 2030.
"As one of the largest energy consumers in the world, the Department of Defense has the ability to help shape America's energy future," said Phyllis Cuttino, director of the Pew Clean Energy Program, part of the Pew Environment Group.
The report projects that by 2015, the Defense Department will be spending $2.25 billion to harness clean energy technologies for air, land and sea vehicles.
The Navy is using hybrid electric technologies, improving hull coatings and using more efficient materials to achieve its goal of increasing efficiency and reducing fuel consumption on ships by 15 percent between 2010 and 2020.
A hybrid electric drive system will be tested on the U.S.S. Truxtun, a missile guided destroyer, and is expected to save 8,500 barrels of fuel annually.
Recent operational improvements to enhance efficiency will save the department $500 million this fiscal year alone, the Pew report states. Advanced biofuels also are of great interest to the Department of Defense.
The Air Force intends to use biofuels for 50 percent of its domestic aviation needs by 2016.
The Navy is planning to demonstrate a carrier strike group powered solely by alternative fuels in 2012. Dubbed the "Great Green Fleet," the ships and planes are expected to conduct an extended mission in 2016, and all energy provided to operational platforms is to be 50 percent alternative by 2020.
In order to reach these goals, DoD has accelerated research on advanced biofuels, successfully testing and certifying them for use in existing fighter jets and ships.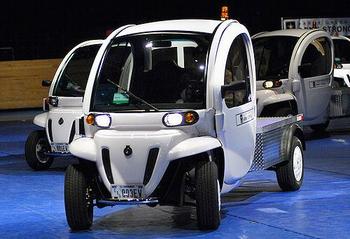 The U.S. Army takes delivery of electric cars (Photo courtesy U.S. Army)
The DoD is also advancing electric vehicle technologies. By focusing on improvements in advanced combustion engines and transmissions, lightweight materials, thermal management and hybrid propulsion systems, DoD hopes to meet the requirements of Executive Order 13423, which mandates a 30 percent reduction in non-tactical fleet fossil fuel use by 2020.
In June 2011, the department issued a request for information from electric vehicle manufacturers, battery manufacturers, suppliers, financing corporations and other stakeholders on equipment costs, availability of technologies, financing options and other innovative proposals that would allow DoD to deploy electric vehicles at a cost that is competitive with internal combustion engine vehicles.
With more than 190,000 non-tactical vehicles, the deployment of medium and heavy duty electric vehicles in military fleets could be significant in just a few years, assuming that procurement can be achieved at competitive prices.
The military is also utilizing fuel cells as an additional source of portable power for troops. The benefit of fuel cell technology from a war fighting standpoint is that the cells outperform traditional batteries by up to seven-fold.
"Fuel cells are applicable to a wide range of military uses, from small amounts of power for individual soldiers to large amounts for facilities, bases and tactical vehicles," the report states.
John Warner, a five-term U.S. senator from Virginia and senior policy adviser to the Pew Project on National Security, Energy and Climate, said, "The Department of Defense fostered the Internet, GPS, computer software and other economically important innovations. Today, our uniformed men and women and their civilian counterparts are committed to transforming the way the department uses energy through efficiency and technology development. Their accomplishments and innovations are enhancing our national, economic and environmental security."
Copyright Environment News Service (ENS) 2011. All rights reserved.