Volkswagen Passat Sets World Distance Record for One Tank of Fuel
LONDON, UK, October 4, 2010 (ENS) – Shattering the world fuel efficiency record for a production passenger car, a standard Volkswagen Passat BlueMotion driven by a British journalist has made it farther on a single tank of fuel than any other such car in history.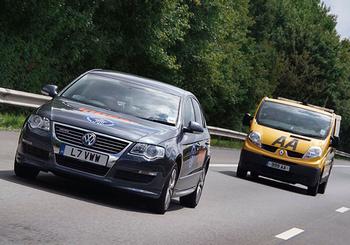 Gavin Conway in the record-breaking Volkswagen Passat (Photo courtesy Volkswagen)
Gavin Conway, a writer for the Sunday Times of London, drove the Passat during the three-day trip from Maidstone in Kent to the South of France and back, accompanied by a navigator and video crew.
The car finally ran out of diesel close to Calais, France after completing a distance of 1,526.63 miles (2,456.87 kilometers) – roughly the distance from New York City to Dallas, Texas.
The distance calculation is not exact – Conway wrote in the Times that he drove 1,527 miles, but Volkswagen put the official figure at 1,531 miles.
In any case, two patrolmen from the British Automobile Association followed the entire attempt in their van to witness the journey independently for the Guinness World Records organization, which accredited the new world record.
Conway mainly followed French autoroutes, but his route included some town driving, resulting in an average speed of just over 45 mph.
Powered by a Volkswagen 1.6-liter common rail TDI engine, the Passat BlueMotion has a 77.25-liter (20.4 gallon) fuel tank.
The tank was drained before the trip began and filled with 77.25 litres of standard diesel, resulting in an overall fuel consumption of 89.83 miles per UK gallon, or 74.79 miles per U.S. gallon.
Volkswagen says the Passat is fitted with aerodynamic modifications to the bodywork, a lower ride height, Stop/Start, programmed battery charging, longer gearing and low rolling resistance tires.
"The result is a vehicle that is completely conventional to drive, service and maintain yet among the most efficient vehicles on the road today," Volkswagen said in a statement announcing the record-breaking trip.
Copyright Environment News Service (ENS) 2010. All rights reserved.