Red Aluminum Sludge Flood Kills Four in Hungary
BUDAPEST, Hungary, October 5, 2010 (ENS) – Four people have died, including a three-month baby, after the waste reservoir of an aluminum plant burst Monday afternoon in western Hungary, flooding the village of Kolontar with red chemical sludge.
Kolontar Mayor Karoly Tily told the state newswire MTI that all four victims were Kolontar residents and rescue workers are still searching for another four people who are reported missing.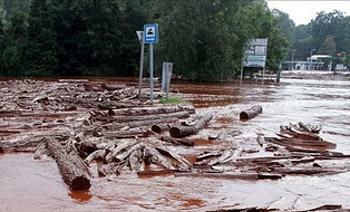 Red aluminum waste sludge flooded towns in western Hungary. (Photo courtesy Hungarian National Disaster Management Directorate)
Between 80 and 90 people have been taken to hospital with chemical burns to skin and eyes, including six who were seriously injured. The Hungarian National Disaster Management Directorate said the caustic sludge, a waste product in aluminum production, contains heavy metals and is toxic if ingested.
The incident occurred at the Ajkai Timfoldgyar plant owned by MAL Magyar Aluminium in the town of Ajka, 160 kilometers (100 miles) southwest of the capital, Budapest.
At least 600,000 cubic meters (yards) of the aluminum sludge spilled out when the waste impoundment broke. The cause of the incident is still unknown.
Army vehicles, two helicopters and 40 soldiers were deployed for search and rescue efforts, according to the defense ministry.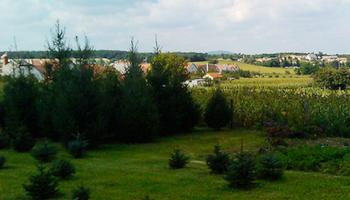 The town of Devecser before the sludge flood (Photo by Adam Maracz)
The national disaster directorate said 390 residents have been relocated and 110 were rescued from the flooded villages.
The red sludge still stands around two meters high in several areas of the nearby town of Devecser, where 230 houses were flooded, a local MTI correspondent reported this morning.
Devecser Mayor Tamas Toldi told MTI that police are keeping guard at evacuated buildings and temporary shelters have been set up in schools for about 40 local residents and rescue workers.
Gas, electricity and water supplies have been cut off in most of Devecser but the mayor said he expects the services to be reconnected today.
A disaster management authority spokesperson said acidic liquid has been poured into the River Marcal at three different locations in order to neutralize the alkaline chemical sludge that has flooded the area.
Copyright Environment News Service (ENS) 2010. All rights reserved.