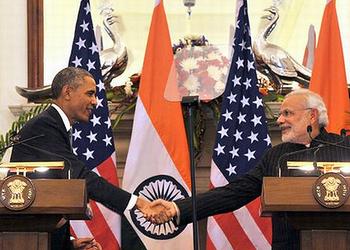 NEW DELHI, India, January 26, 2015 (ENS) – Amid the pomp and ceremony of India's Republic Day, with President Barack Obama the first sitting American President to be honored as "chief guest," Indian and U.S. leaders have agreed to collaborate on curbing climate change, clean energy and smart cities.
President Obama and First Lady Michelle Obama Monday attended the Republic Day parade on a cold and rainy day in New Delhi. The festivities are being held to mark the anniversary of India becoming a sovereign democratic republic in 1950,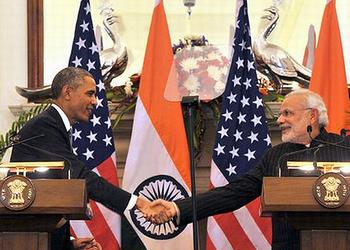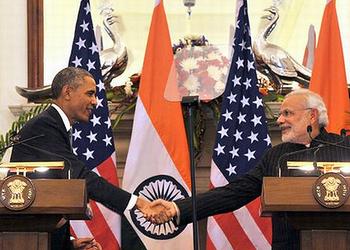 On Sunday, President Obama and India's Prime Minister Narendra Modi pledged to enhance their cooperation on ambitious climate and clean energy goals.
Stressing the importance of working together and with other countries on climate change, the two leaders said they plan to cooperate closely this year to achieve a successful and ambitious legally-binding global climate agreement in Paris in December.
Prime Minister Modi said, "For President Obama and me, clean and renewable energy is a personal and national priority. We discussed our ambitious national efforts and goals to increase the use of clean and renewable energy. We also agreed to further enhance our excellent and innovative partnership in this area. I asked him to lead international efforts in making renewable energy more accessible and affordable to the world. President and I expressed hope for a successful Paris Conference on climate change this year."
President Obama said he is pleased that with their agreement on several "important steps to promote clean energy and to confront climate change."
"We very much support India's ambitious goal for solar energy, and stand ready to speed this expansion with additional financing. We're also launching new joint projects to improve air quality in Indian cities. The United States will share more data and develop tools to help India assess and adapt to the impact of climate change and to help vulnerable communities become more resilient."
"And going forward," said Obama, "we've agreed to work together to make concrete progress this year towards phasing out hydrofluorocarbons, under the Montreal Protocol, and the Prime Minister and I made a personal commitment to work together to pursue a strong global climate agreement in Paris.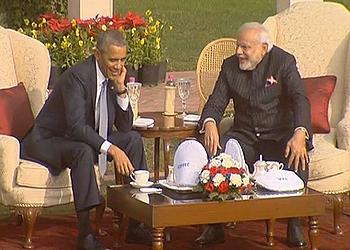 "As I indicated to him, I think India's voice is very important on this issue," said Obama. "Perhaps no country could potentially be more affected by the impacts of climate change, and no country is going to be more important in moving forward a strong agreement than India."
The White House said in a statement Sunday that the United States "welcomes India's intention to increase the share of renewable energy in electricity generation consistent with its intended goal to increase India's solar capacity to 100 GW by 2022, and intends to support India's goal by enhancing cooperation in clean energy and climate change."
The two countries already have a robust program of cooperation, including the successful U.S.-India Partnership to Advance Clean Energy (PACE) umbrella program.
They will now expand policy dialogues and technical work on clean energy and lower greenhouse gas emissions technologies.
The two leaders agreed to begin technical cooperation on heavy-duty vehicles and transportation fuels.
Officials of both countries will discuss how to reduce the environmental and emissions impact of heavy-duty vehicles and transportation fuels by working to adopt cleaner fuels, emissions, and efficiency standards in India.
Both sides renewed their commitment to the U.S.-India Joint Clean Energy Research and Development Center (PACE-R), a $125 million program jointly funded by the U.S. and Indian governments and private sector.
The renewal includes extending funding for three existing research tracks of advanced biofuels, solar energy and building energy efficiency, for five years as well as launching a new track on smart grid and grid storage technology.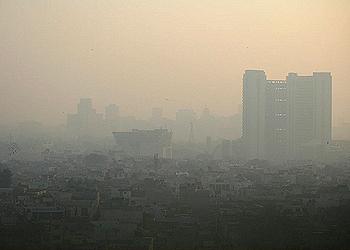 Obama and Modi agreed to launch cooperation between their two countries on improving air quality.
The United States will implement EPA's AIRNow-International program and megacities partnerships, focused on disseminating information to help urban residents reduce their exposure to harmful levels of air pollution.
This will enable urban policy planners to implement corrective strategies for improving air quality in cities, allowing for estimates of health and climate change co-benefits of these strategies.
The top official of the United States Trade and Development Agency (USTDA) Sunday signed three Memorandums of Understanding on cooperation to support the development of smart cities in Allahabad, Uttar Pradesh; Ajmer, Rajasthan; and Visakhapatnam, Andhra Pradesh with officials of those states. The MoUs were signed in the presence of India's Minister of Urban Development Venkaiah Naidu.
Under the agreements, the USTDA will contribute funding for feasibility studies and pilots, study tours, workshops and trainings. The USTDA will invite a Smart Solutions for Smart Cities Reverse Trade Mission delegation to the United States, with delegates from the three Indian states and fund advisory services to support the development of smart cities.
USTDA will collaborate with the Department of Commerce, the U.S. Export Import Bank and other trade and economic agencies to promote greater U.S.-India infrastructure development cooperation and to support development of smart cities.
In negotiations with President Obama, Prime Minister Modi emphasized India's ongoing efforts to create a market environment that will promote trade and investment in the clean energy finance sector.
To help mobilize private capital for the clean energy sector, USAID will install a field investment officer in India this summer, backed by a transactions team.
In February, The United States will host the Clean Energy Finance Forum and government-to-government Clean Energy Finance Task Force to help overcome strategic barriers to accelerating institutional and private financing.
The U.S. Department of Commerce will launch a trade mission on clean energy. The Export-Import Bank is exploring potential projects for its Memorandum of Understanding with the Indian Renewable Energy Development Agency for up to $1 billion in clean energy financing.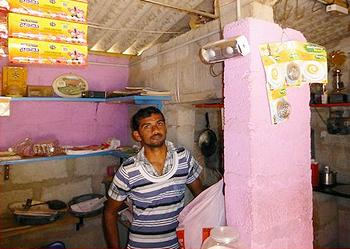 The U.S. Overseas Private Investment Corporation, a government agency, will build on its existing $227 million portfolio in renewable energy and identify projects to support utility-scale growth and off-grid energy access. OPIC financing is helping Simpa Networks introduce home solar kits that are affordable and easy to use. OPIC supports projects in India providing clean drinking water, electricity, modern technology and small business loans.
U.S. and Indian officials agreed for the first time to undertake a partnership on climate resilience that will work to apply international climate models to the Indian sub-continent, assess climate risks at the sub-national level, work with local technical institutes on capacity building, and engage local decision-makers to address information and planning needs for climate resilient sustainable development, including for India's State Action Plans.
The two leaders agreed to strengthen their joint commitment to promote super-efficient off-grid appliances that can extend the range of energy services available to those lacking electricity.
Efficient and climate-friendly cooling is a priority in India's hot climates. U.S. officials agreed to develop an Advanced Cooling Challenge to catalyze the development of super-efficient, climate-friendly, and cost-effective cooling solutions for India.
The United States will work with India on additional pilot programs and other collaborative projects, including developing an innovative renewable energy storage project and hosting a smart grid workshop.
Finally, the two countries concluded negotiations on a five-year Memorandum of Understanding on Energy Security, Clean Energy and Climate Change to carry this work forward, to be signed as early as possible.
Prime Minister Modi last week called for "a paradigm shift in global attitudes towards climate change, from "carbon credit" to "green credit."
Chairing a meeting of the Prime Minister's Council on Climate Change, Modi said that instead of focusing on emissions and cuts alone, focus should shift on what we have done for clean energy generation, energy conservation and energy efficiency, and what more can be done in these areas.
Modi said India has taken initiatives in solar energy, wind energy, biomass energy, and transportation projects that have reduced distances or travel times.
The Prime Minister called for a consortium of all nations who have the greatest solar energy potential to join with India in innovation and cutting-edge research that would reduce the cost of solar energy, making it more accessible to people.
Modi said India looks at the global concern and awareness on climate change as a great opportunity for working towards improving the quality of life of India's citizens, and making a positive contribution for humankind.
Copyright Environment News Service (ENS) 2015. All rights reserved.