UN: Only Green Technology Can Avert 'Planetary Catastrophe'
NEW YORK, New York, July 5, 2011 (ENS) – Humanity is near to breaching the sustainability of Earth, and needs a technological revolution greater and faster than the industrial revolution to avoid "a major planetary catastrophe," warns a new United Nations report.
"The World Economic and Social Survey 2011: The Great Green Technological Transformation," published today by the UN Department of Economic and Social Affairs calls for investments of at least $1.9 trillion per year to avert this catastrophe.
"It is rapidly expanding energy use, mainly driven by fossil fuels, that explains why humanity is on the verge of breaching planetary sustainability boundaries through global warming, biodiversity loss, and disturbance of the nitrogen-cycle balance and other measures of the sustainability of the Earth"s ecosystem," the report says.
"A comprehensive global energy transition is urgently needed in order to avert a major planetary catastrophe," the report warns.
In his preface to the report, Secretary-General Ban Ki-moon writes that "rather than viewing growth and sustainability as competing goals on a collision course, we must see them as complementary and mutually supportive imperatives. This becomes possible when we embrace a low-carbon, resource-efficient, pro-poor economic model."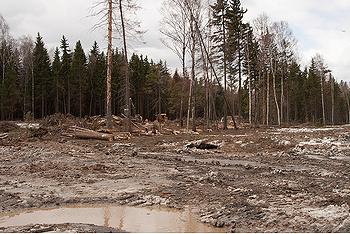 Russia's Khimki Forest was logged to make way for a Moscow-St. Petersburg highway, April 2011 (Photo by Daniel Beilinson)
About half of the forests that once covered the Earth are gone, groundwater resources are being depleted and contaminated, enormous reductions in biodiversity have already taken place," according to the report, and, "through increased burning of fossil fuels, the stability of the planet's climate is being threatened by global warming."
"In order for populations in developing countries to achieve a decent living standard, especially the billions who currently still live in conditions of abject poverty, and the additional 2 billion people who will have been added to the world's population by mid-century – much greater economic progress will be needed," the survey advises.
"Business as usual is not an option," said Rob Vos, the survey's lead author. "Even if we stop the global engines of growth now, resource depletion and pollution of our natural environment would continue because of existing production methods and consumption habits. Without drastic improvements in and diffusion of green technologies, we will not reverse the ongoing ecological destruction and secure a decent livelihood for all of humankind, now and in the future."
To meet both the objectives of conquering poverty and protecting the environment, the World Economic and Social Survey 2011 calls for a complete transformation of technology on which human economic activity is based.
Major investments will be needed worldwide in the developing and scaling up clean energy technologies, sustainable farming and forestry techniques, climate-proofing of infrastructure, and in waste-reduction technologies, the report advises.
This "great green technological transformation" will have to be completed in the next 30 to 40 years – twice as fast as it took to accomplish previous major technological transitions.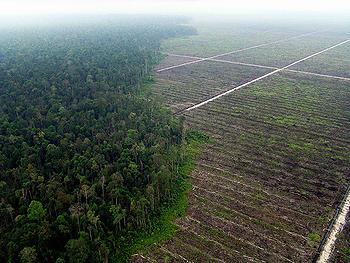 Forest and peatland destruction for oil palm plantations, Riau Province, Sumatra, Indonesia, October 2007. (Photo courtesy Greenpeace Southeast Asia)
Because of the limited time frame, governments will need to play a much more active and stimulating role to accelerate the green energy transformation, the report advises.
The survey says $1.9 trillion per year will be needed over the next 40 years for incremental investments in green technologies. At least $1.1 trillion of that will need to be made in developing countries to meet increasing food and energy demands.
The report finds the commitment set out in the Copenhagen Accord to mobilize $30 billion between 2010 and 2012 and $100 billion per year by 2020 in transfers to help developing countries cope with climate change as a step in the right direction. But delivery on these commitments will need to be accelerated and resources scaled up to ensure developing countries meet the challenge.
The report proposes to build a global public technology-sharing regime and networks of international technology research and application centers.
To rapidly spread green technology, the report says, more multilateral intellectual property rights modalities must be used than presently allowed under the World Trade Organization.
"The need for a technological revolution is both a development and existential imperative for civilization," Vos said. "This is why sustainable development is so important now, because it is not only about making improvements for life today, but also for future generations."
"Technological transformation, greater in scale and achievable within a much shorter time frame than the first industrial revolution, is required," the report states. "The necessary set of new technologies must enable today's poor to attain decent living standards, while reducing emissions and waste and ending the unrestrained drawdown of the Earth's non-renewable resources."
"Staging a new technological revolution at a faster pace and on a global scale will call for proactive government intervention and greater international cooperation," the report urges, adding, "Sweeping technological change will require sweeping societal transformation, with changed settlement and consumption patterns and better social values."
Click here to read the report, "The World Economic and Social Survey 2011: The Great Green Technological Transformation."
The World Economic and Social Survey comes out annually. Last year's survey called for a major overhaul of the machinery for international finance, aid and trade.
Copyright Environment News Service,ENS, 2011. All rights reserved.