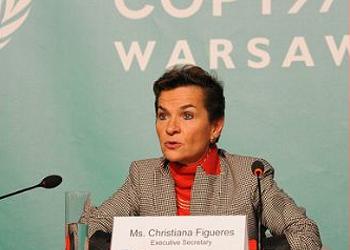 WARSAW, Poland, November 19, 2013 (ENS) – "The coal industry can and must radically transform and diversify to avoid the worst impacts of climate change," the United Nations' top climate official told the CEOs of major coal companies Monday in Warsaw.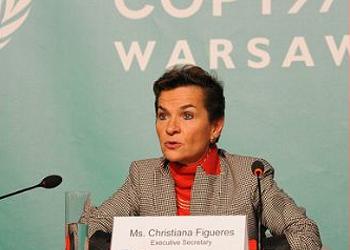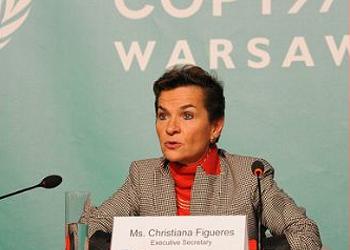 Christiana Figueres told executives of world's largest coal producing companies, senior policy makers, business leaders and academics, "Let me be clear from the outset that my joining you today is neither a tacit approval of coal use, nor is it a call for the immediate disappearance of coal. But I am here to say that coal must change rapidly and dramatically for everyone's sake."
Figueres serves as executive secretary of the UN Framework Convention on Climate Change, which is holding its annual climate change negotiations in Warsaw. There are now 195 States Parties to the Convention and 192 Parties to its Kyoto Protocol, which limits the greenhouse gas emissions of several dozen industrialized countries and expires in 2020.
The question of what happens beyond 2020 was answered by Parties at climate talks in Durban, South Africa in 2011.
There governments agreed to deliver a new and universal "greenhouse gas reduction protocol, legal instrument or other outcome with legal force" by 2015 for the period beyond 2020.
The negotiations in Warsaw this year and in Lima, Peru in 2014 are supposed to lay the foundation for universal adoption of a new legally-binding agreement in Paris in 2015.
Speaking at the International Coal and Climate Summit, organized by the Polish government and the World Coal Association, Figueres urged the coal industry to honestly assess the financial risks of business as usual, to anticipate increasing regulation, growing finance restrictions and diminishing public acceptance and to leverage technology to reduce emissions immediately across the entire chain of coal output.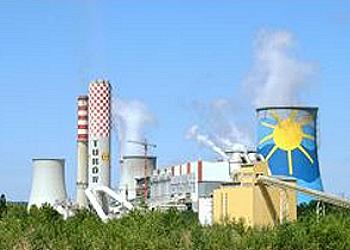 "The coal industry has the opportunity to be part of the worldwide climate solution by responding proactively to the current paradigm shift," said Figueres.
She called on the coal industry to begin this transition by closing all existing subcritical plants.
These are the least efficient coal-fired power plants, which emit more than 900 grams of the greenhouse gas carbon dioxide per kilowatt hour. Some experts say that would mean closing about three quarters of operational coal-fired power plants around the world, some 1.3 million subcritical plants.
The vast majority of installed plants still use subcritical steam conditions, and cannot reach performance levels of state of the art technology. In fact, the total capacity of installed subcritical coal‐fired power plants reached a record high over the last five years, according to a 2012 report from the International Energy Agency.
Figueres urged the coal industry to implement safe carbon capture, use and storage systems on all new plants, even the most efficient, and to "leave most existing reserves in the ground."
"These are not marginal or trivial changes, these are transformations that go to the core of the coal industry, and many will say it simply cannot be done," said Figueres. "But the phrase 'where there's a will, there's a way' is tantamount to human history because will precedes innovation, and innovation precedes transformation," she said.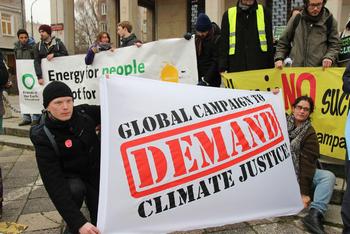 Demonstrators from Friends of the Earth Europe and Youth Friends of the Earth Europe gathered outside the building to make the point that there is no such thing as clean coal. They and many other environmental groups have signed the "People's Declaration on Coal," demanding an end to all new coal projects and for the United Nations to get coal out of the climate talks.
Godfrey Gomwe, chair of the World Coal Association's Energy and Climate Committee and chief executive of Anglo American Thermal Coal, responded, saying that the Warsaw Conference of Parties, known as COP19, "is an important step towards what we all hope will be a comprehensive climate agreement in Paris in 2015."
"The urgency of acting on climate change was highlighted by the release of the Intergovernmental Panel on Climate Change report on climate science this September," saidd Gomwe. "That report highlighted the urgent need to limit emissions of carbon dioxide if we are to limit global temperature rises below 2 degrees. It highlights the need to ensure that we do reach a new agreement in Paris in 2015."
Referring to the 2009 Copenhagen Accord, which aims to balance the objectives of addressing climate change and eradicating poverty in the developing world, Gomwe said, "These issues are inextricably linked. The world's least developed countries need access to low cost energy, but they are also the most vulnerable to the impacts of policies aimed at reducing anthropogenic greenhouse gas emissions."
Gomwe called on the international community to recognize that much of the developing world is turning to coal to fuel development.
"We need to help them do that in the cleanest way possible," he said. "We must, and we can, reduce emissions from burning coal for electricity."
"The technology exists to significantly reduce CO2 emissions from coal. Modern, high efficiency, low emission coal fired power plants emit significantly less carbon dioxide than older, less efficient plants," said Gomwe. "A one percent improvement in efficiency results in a two to three percent reduction in CO2 emissions."
"If we were to raise the global average efficiency of coal plants from its current average of 33 percent up to 40 percent we could reduce global carbon emissions by more than two gigatonnes – that's the equivalent of running the Kyoto Protocol three times over," he exclaimed.
"Modern highly efficient plants are also a key step towards near zero emissions from coal because they can be built ready for the deployment of carbon capture and storage technology," Gomwe said.
Figueres also called on the industry to diversity its portfolio beyond coal, noting that the bottom line for the atmosphere is that "most existing coal reserves will have to stay in the ground."
"Some major oil, gas and energy technology companies are already investing in renewables, and I urge those of you who have not yet started to do this to join them," she said. "By diversifying your portfolio beyond coal, you too can produce clean energy that reduces pollution, enhances public health, increases energy security, and creates new jobs."
Copyright Environment News Service (ENS) 2013. All rights reserved.