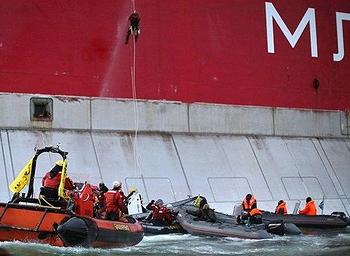 AMSTERDAM, The Netherlands, November 20, 2013 (ENS) – Fourteen of the 30 Greenpeacers who demonstrated against Russian plans to drill for oil in the Arctic now have been granted bail – three on Monday, nine on Tuesday, and two more were granted bail today.
Greenpeace International activist Ana Paula Alminhana Maciel, a biologist from Brazil, today was released from detention, the first of the Arctic 30 to leave prison following the granting of bail by a St. Petersburg court.
She has now left the detention center, but the conditions of her bail are not yet fully known.
The detainees granted bail will be released from jail upon payment of two million rubles (US$61,000 or 45,000 Euros) each.
Russia has held the 30 men and women in custody since September 19 when they were arrested and their ship, the Arctic Sunrise, was seized during a protest action in the Pechora Sea off Russia's northern coast.
Three of the activists attempted to scale the Prirazlomnaya drilling platform owned by the state-controlled energy company Gazprom in a demonstration against the first commercial offshore oil development in the Arctic.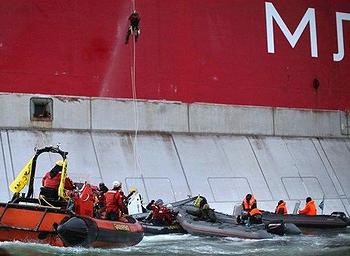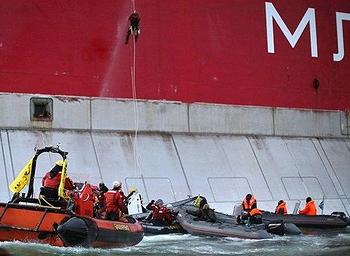 Greenpeace warns that an oil spill in the area could not be cleaned up adequately. The group also fears the effect of burning more oil on the Arctic, which is warming at nearly twice the rate of the rest of the world. "The ice is retreating and oil companies are moving north to drill for the same stuff that's driving that melting in the first place," says Greenpeace. "It's madness."
All of the 28 Greenpeacers and two journalists from 18 different countries, now known as the Arctic 30, have been charged with piracy, which carries a maximum sentence of 15 years in prison. Charges of hooliganism have been added to those of piracy and some of the 30 detainees may also face charges of resisting law enforcement officers, which carries a maximum five-year sentence.
The activists granted bail Tuesday are Sini Saarela from Finland, one of the climbers; David Haussmann from New Zealand; Miguel Hernan Perez Orzi from Argentina; Paul Ruzycki from Canada; Camila Speziale from Argentina; Tomasz Dziemianczuk from Poland; Francesco Pisanu from France; Christian D'Alessandro from Italy and Ana Paula Alminhana Maciel from Brazil.
Mads Christensen of Greenpeace said, "We cannot be at all confident that the Arctic 30 are going home any time soon. None of them have passports, so as things stand at the very least they could be restricted to Russian territory."
"And they are still charged with at least one very serious offense which could see them jailed for many years," said Christensen. "Nobody at Greenpeace is celebrating yet."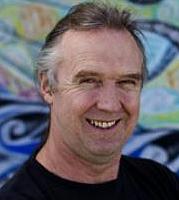 One Greenpeace activist was refused bail on Monday. A judge at St Petersburg's Primorskiy courthouse ruled that Australian Colin Russell, 59, must remain in jail until February 24 while the investigation into his part in the protest continues. A request for bail or house arrest was denied.
Before being told he must remain in prison, Russell told the judge, "I haven't done anything wrong. I don't understand the reasons why I've been detained. I've done two months hard time for nothing. I've done nothing wrong."
Greenpeace says it will challenge the order to keep Russell in jail.
Prosecutors are not seeking extension of detention for piracy – the original charge brought against the Arctic 30. Yet, formal withdrawal of the piracy charges requires a written statement. Lawyers for the detainees have petitioned for such a statement but it has not been forthcoming.
Ana Paula Maciel's mother Rosangela Maciel said today, "This is the most lovely news I've got in the last two months, but justice will only be done when all the absurd charges are dropped. A person who only does good for the planet, like my daughter, must be recognized by their actions, not unjustly accused. This is the only way we can keep the faith in the future."
The Prirazlomnoye field contains 72 million tons of oil reserves enabling an annual production level of 6.6 million tons, according to Gazprom. Production operations in the Prirazlomnoye field are scheduled to start in 2014.
Gazprom says the Prirazlomnaya offshore ice-resistant oil-producing platform is a key pre-development facility.  The platform can operate year-round conducting well drilling, oil production, storage and offloading operations. Plans are to drill 40 slanted wells from the platform.
Copyright Environment News Service (ENS) 2013. All rights reserved.