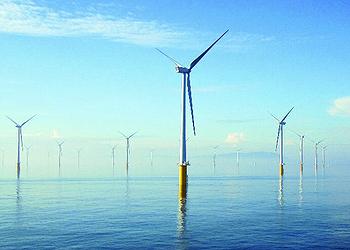 LONDON, UK, July 5, 2013 (ENS) – The world's largest offshore wind farm, the London Array, was inaugurated Thursday at a ceremony in Margate, Kent, attended by British Prime Minister David Cameron and 350 other dignitaries.
The 630 megawatt wind farm covers an area of 90 square kilometers in the Outer Thames Estuary, 20 kilometers (12 miles) off the Kent and Essex coast.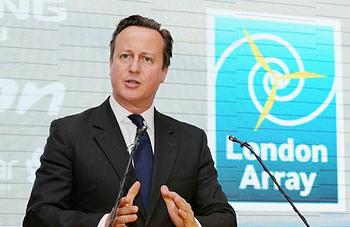 Following a helicopter tour of the facility, Prime Minister David Cameron said at the launch ceremony, "This is a great day for Kent and a great day for Britain. London Array has been built by some of the bravest seamen, the most talented engineers and hardest workers. It will bring benefits to Kent for years to come."
"London Array shows you can build large-scale renewable energy projects right here in Britain," said the prime minister. "This is because when it comes to clean energy, the UK has one of the clearest investment climates globally."
It first started generating power in October 2012. The 175th turbine was bought online in March 2013 and London Array is now celebrating the completion and full operation of the site.
With all turbines now exporting power to the national grid, London Array is expected to produce enough green electricity to power nearly half a million homes a year.
Secretary of State Edward Davey said at the inauguration, "The Government is reforming the market, and last week announced long term support for offshore wind, to make sure that more projects like this come to fruition."
"London Array is a big deal for offshore wind, a big deal for UK electricity supply and a big deal for inward investment into the UK," said Davey. "It's the biggest offshore wind farm in the world."
"Half a million homes will be London Array powered," said Davey. "This is good news for keeping our lights on and reducing carbon emissions."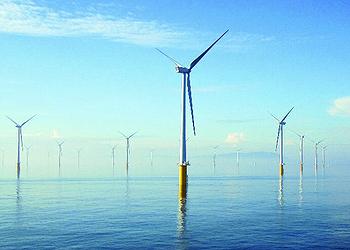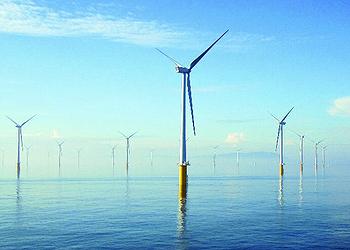 The London Array is projected to reduce the amount of carbon dioxide emitted by 925,000 tonnes per year.
Jenny Banks, energy and climate change specialist at the nonprofit WWF-UK, said, "It's great that world-leading offshore wind projects like this are being built here in Britain. The UK has Europe's largest offshore wind resource in the North Sea and currently has more offshore wind capacity than any other country in the world. The UK is ideally suited to becoming a world leader in this technology."
The London Array project has been more than 12 years in the making. In 2001,  a series of environmental studies in the Outer Thames Estuary confirmed the area is a suitable wind farm site. In 2003, the Crown Estate gave London Array Ltd a 50 year lease for the site and cable route to shore. Construction began in July 2009 when work started to build a new onshore substation on the north Kent coast to flow the energy generated by London Array into the national grid.
Offshore, the first turbine foundation was installed in March 2011; and the 175th and final turbine was installed on time in December 2012.
Siemens supplied and installed the 175 wind turbines, each with a rotor diameter of 120 meters and a rating of 3.6 megawatts. The company supplied the grid connection with one onshore and two offshore substations in the North Sea.
The electricity generated by the London Array turbines is bundled at sea and transported via high-voltage submarine cables to the coast. The wind farm will be operated and maintained from a purpose-built base at Ramsgate Port.
"Projects of this magnitude contribute to further industrialization of complex production and logistics processes for offshore wind power plants," said Siemens chief Peter Löscher. "During the execution of the London Array project, Siemens was able to further standardize offshore installation processes covering manufacturing, transport and logistics as well as installation of wind turbines offshore."
Over 75 organizations have helped to build London Array with more than 6,700 individuals involved.
A possible second phase could add enough capacity to bring the total to 870 megawatts.
The London Array is a joint venture worth 1.5 billion pounds owned by a consortium of partners: Danish energy company, DONG Energy, owns 50 percent of the London Array; the world's largest investor-owned electric utility, Germany's E.ON, has 30 percent; and Masdar, Abu Dhabi's renewable energy company, has a 20 percent stake.
Masdar chief executive Dr. Sultan Ahmed Al Jaber said, "Masdar is pleased to be contributing to the UK's renewable energy portfolio through the London Array, and we are actively engaged in exploring new investment opportunities in the UK offshore wind and clean technology sectors."
On May 1, Masdar and the UK Green Investment Bank signed a Memorandum of Understanding to explore project investment opportunities in the UK's clean energy sector.
Copyright Environment News Service (ENS) 2013. All rights reserved.