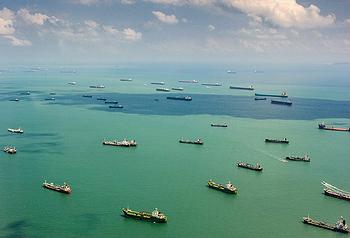 SINGAPORE, July 5, 2013 (ENS) – Crews are cleaning up after a collision between two bulk carriers Tuesday that spilled approximately 100 metric tonnes (957 barrels) of fuel oil into the Singapore Strait between Singapore and Indonesia.
At about 0530hrs on July 2, local time, the Maritime and Port Authority of Singapore, MPA, received a report that a South Korean-registered bulk carrier, Oriental Pioneer, and a Bahamas-registered bulk carrier, Atlantic Hero, had collided at about 6.6 kilometers southwest of Tanah Merah Ferry Terminal.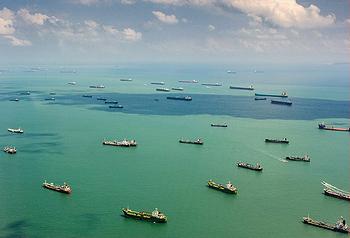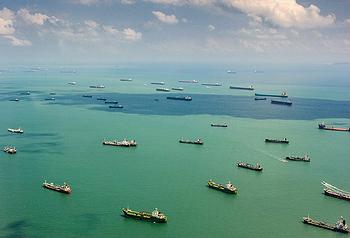 Just before the collision, MPA's Port Operations Control Centre records show the center had provided information and issued warnings to the vessels when they were about 1.5 nautical miles (about 2.8 kilometers) apart. The ships also were in communication with each other.
In the collision between the two vessels, one of the Oriental Pioneer's bunker tanks was damaged, spilling oil into the Strait.
The Maritime and Port Authority of Singapore dispatched its patrol craft to deal with the oil spill, and  oil spill response companies were activated to augment the patrol craft.
As a precautionary measure, an oil boom and an oil spill response craft were deployed around the 225 meter-long (738 foot-long) Oriental Pioneer. Bio-degradable oil dispersants were used to break up the oil slick in the waters.
A total of 11 patrol and anti-pollution vessels and more than 100 personnel were deployed to clean up the spilled oil. Work is currently continuing and MPA is co-ordinating the cleanup with other government agencies and the ship owners.
The latest surveillance report found no significant patches of oil remaining in the affected waters, but oil stains were found along the rock bunds and sandy shoreline near Tanah Merah Ferry Terminal.
The National Environment Agency is coordinating cleaning efforts along these affected areas.
MPA says the two vessels involved in the collision now are safely anchored in the Eastern Bunkering Anchorages. MPA has issued navigational broadcasts to ships to navigate with caution when in the vicinity of the incident site. There is no report of injury and port operations remain unaffected.
Traffic in the port and the Strait of Singapore is unaffected.
The Maritime and Port Authority is investigating the cause of the collision.
Members of the public can contact MPA's 24-hour Marine Safety Control Centre at 6325-2488/9 to report any sighting of oil slick in Singaporean waters or along the coastlines.
Copyright Environment News Service (ENS) 2013. All rights reserved.