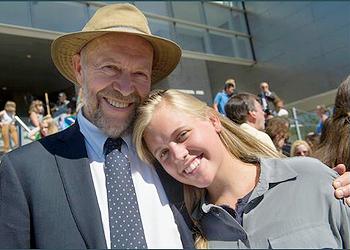 SAN FRANCISCO, California, March 9, 2018 (ENS) – Youth plaintiffs from across the country have won the right to have their landmark climate lawsuit against the federal government heard by a U.S. District Court.
Writing for a unanimous three-judge panel of the Ninth Circuit Court of Appeals, Chief Judge Sidney Thomas Wednesday rejected the Trump administration's "drastic and extraordinary" petition for writ of mandamus in the climate case, Juliana v. United States, brought by 21 young people supported by the Eugene, Oregon-based nonprofit Our Children's Trust.
The plaintiffs claim that the federal government's fossil fuel policies over the years, which have produced an atmosphere with dangerous levels of greenhouse gases, violated the federal public trust doctrine and their federal constitutional rights to due process and equal protection.
A decision in favor of the young plaintiffs could transform global efforts to switch to an energy policy that does not threaten young people and future generations.
Julia Olson​, executive director and chief legal counsel of Our Children's Trust​ and co-counsel for youth plaintiffs, said, "The Ninth Circuit just gave us the green light for trial. We will ask the District Court for a trial date in 2018 where we will put the federal government's dangerous energy system and climate policies on trial for infringing the constitutional rights of young people."
The Trump administration's mandamus petition sought early review of U.S. District Court Judge Ann Aiken's 2016 denial of motions to dismiss the youth's lawsuit, which seeks a constitutionally compliant national energy system and science-based climate recovery action by the federal government.
The Court concluded, "There is enduring value in the orderly administration of litigation by the trial courts, free of needless appellate interference. In turn, appellate review is aided by a developed record and full consideration of issues by the trial courts."
"If appellate review could be invoked whenever a district court denied a motion to dismiss, we would be quickly overwhelmed with such requests, and the resolution of cases would be unnecessarily delayed," the Nine Circuit Court of Appeals ruled.
Like any other defendant who loses a motion to dismiss, the U.S. government defendants now must participate in discovery and defend themselves at trial.
"The courts must step in to help us," said Sophie Kivlehan, 19 of Allentown, Pennsylvania, one of the youth plaintiffs. She is a granddaughter of James Hansen, former NASA scientist and currently adjunct professor at Columbia University's Earth Institute.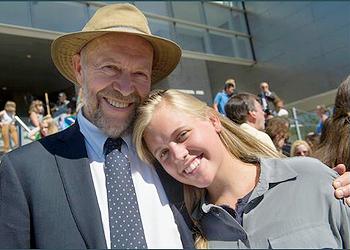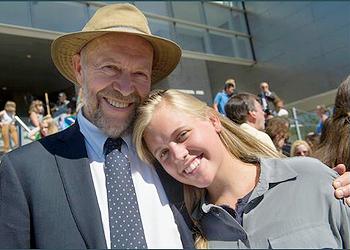 Kivlehan has said that human-caused climate change "violates the rights of young people and future generations to life, liberty, and the pursuit of happiness and property, without due process of law."
"I know climate change is going to have the biggest impact on my generation and generations to come. Our government isn't taking action and we have a very small window to turn this around," said Kivlehan. "I feel a sense of responsibility to take action."
Victoria Barrett​, 18-year-old plaintiff from White Plains, New York, said, "Today, the Ninth Circuit sided with progress. I'm grateful that my fellow plaintiffs and I can have our voices heard, and that climate science can have its day in court. The Trump administration tried to avoid trial, but they can't ignore us. Our future is our choice and I believe the courts will stand with our constitutional rights."
Kiran Oommen​, 21-year-old plaintiff from Seattle, Washington, said, "The question of the last few years has not been 'do we have a case' but rather 'how far will the federal government go to prevent justice.' We have seen that they are willing to go to many lengths to cover up their crimes and maintain the status quo, but not even the Trump administration can go far enough to escape the inevitable tide of social progress."
"The Ninth Circuit's decision affirms that we are on the side of justice, and for justice we are moving forward," said Oommen. "We'll see you in court."
Philip Gregory ​of Gregory Law Group, co-lead counsel for the youth plaintiffs commented, "The Ninth Circuit clearly recognized the importance of a complete record at trial particularly as to the climate science. We will promptly ask the District Court for a trial date in 2018 so that the urgency of the climate crisis can be addressed through appropriate remedies."
Juliana v. United States is not about the government's failure to act on climate. Instead, the 21 young plaintiffs assert that the U.S. government, through its affirmative actions in creating a national energy system that cause climate change, has violated their constitutional rights to life, liberty, and property, and has failed to protect essential public trust resources.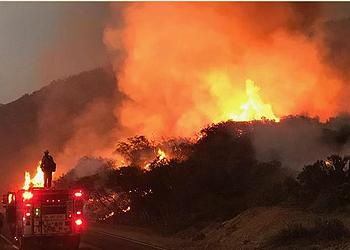 Tia Hatton​, a 20-year-old plaintiff from Bend, Oregon, said, "This favorable decision allows us 21 youth to share expert testimonies of climate dangers in the face of existing fossil fuel energy policies."
"My greatest hope in addressing climate change lies in a successful trial, where the only acceptable outcome is a court-ordered science-based climate recovery plan," Hatton said.
Sahara Valentine​, 13-year-old plaintiff from Eugene, Oregon, said, "To our supporters: be ready for the new trial date and plan on being with us at the court house here, in Eugene, where our voices will be heard."
The case is one of many related legal actions brought by youth in several states and countries, all supported by Our Children's Trust, and all seeking science-based action by governments to stabilize the climate system.
It's a new approach that has yet to be tried in the U.S. federal courts.
Copyright Environment News Service (ENS) 2018. All rights reserved.