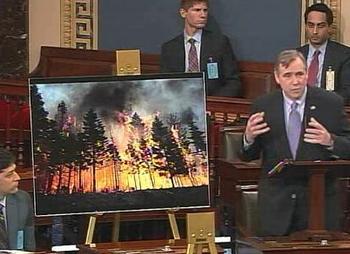 WASHINGTON, DC, March 10, 2014 (ENS) – From Monday evening, all night long until 9 am Tuesday morning, senators from the newly formed Senate Climate Action Task Force are holding the Senate floor to urge action on climate change.
Nearly one third of the entire Senate, 28 senators, are expected to participate, by talking throughout the night. Two Independents and 26 Democrats are on the speakers list.
"Climate change is real, it is caused by humans, and it is solvable," said Senator Brian Schatz of Hawaii. "Congress must act. On Monday night we're going to show the growing number of senators who are committed to working together to confront climate change."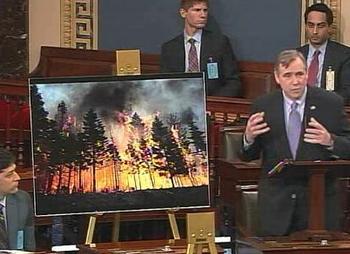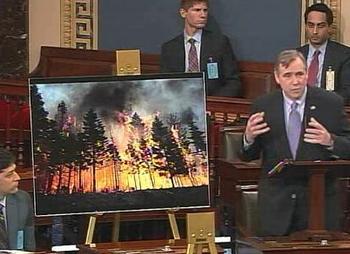 Said Senator Barbara Boxer of California, who chairs the Senate Environment and Public Works Committee, "So many senators coming together for an all-night session shows our commitment to wake up Congress to the dangers of climate change. All you have to do is look at China to see what happens to your country when you throw the environment under the bus."
"The cost of Congress' inaction on climate change is too high for our communities, our kids and grandkids, and our economy," said Senator Sheldon Whitehouse of Rhode Island. "On Monday we'll be sending a clear message: it's time for Congress to wake up and get serious about addressing this issue."
On January 14, Senators Boxer and Whitehouse announced the members of the newly formed Senate Climate Action Task Force and discussed their plans to take action on climate change.
Senators will be actively participating on social media as well throughout the night, using the hashtag #Up4Climate.
On the Senate floor, Majority Leader Harry Reid of Nevada spoke about the threat of climate change to Nevada and the entire planet.
"Last week, one of the world's most well-known spiritual leaders, His Holiness the 14th Dalai Lama of Tibet, visited the Capitol," said Reid, who is a Mormon. "He talked about the moral imperative to protect the planet we call home. The Dalai Lama spoke with passion and longing of his native Tibet, where mountain snows melt in spring to feed rivers that provide Bangladesh, China, India, Nepal and Pakistan with water."
"The Himalayas are sometimes called the Third Pole, because they contain nearly a third of the world's non-polar ice," Reid said. "But in recent years, man-made climate change has caused milder winters with less snow and less water for 1.3 billion people living downstream from Tibet."
"In the Western United States, we face a similar problem," the majority leader said. "For more than a decade, drought has plagued the Colorado River – the lifeblood of a number of western states, including Nevada. Milder winters have meant less Rocky Mountain snow and less spring runoff to feed the river. Combined with more extreme summer heat, the shrinking western snowpack threatens the water source for more than 30 million people."
"The seriousness of this problem is not lost on your average American," said Reid. "A large majority of Americans believe climate change is real."
"Addressing our climate crisis is not just a question of morality or ethics; it is a question of our own survival," said Reid.
Senators spoke of the drought in West, the effect of climate change on the streams in Minnesota, and sea levels rising so high the oceans will flood coastal areas inhabited by millions of Americans.
Senator Angus King, a Maine Independent, said a study from the University of Maine convinced him that climate change could be abrupt. "We are facing abrupt climate change; this is not the next generation's problem, it's our problem and we need to take action," said King.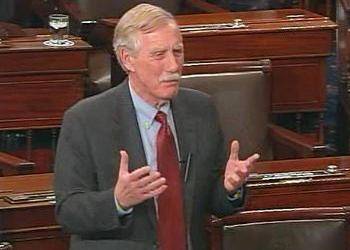 King called climate change a "major national security risk." He said, "Water, I predict will be one of the most valuable commodities of the 21st century it will be something people fight about, something people get into wars about. This valuable commodity is threatened by climate change."
"Maybe I'm wrong," said King, "I hope I'm wrong. but what if the science is right, Do you want to take that risk?"
Environmental groups are supportive of the senators' action.
Fred Krupp, president of Environmental Defense Fund, said, "We often say that our environmental champions show tireless commitment to their work. Tonight's marathon gives that phrase a whole new meaning. Our Senators are sacrificing sleep and time with their families to help draw attention to the critically important issue of climate change. Their dedication is inspiring."
From Hawaii, Robert Harris, director of the Sierra Club of Hawaii, said, "The people of Hawai'i know we need to combat climate disruption to protect our communities, our economy, and our families. That's why the Sierra Club is proud to applaud Senator Brian Schatz for his leadership tonight and throughout his time in the Senate to demand action on climate."
"As climate disruption has continued to drastically affect Hawaii's weather and environment, we have seen diminished rainfall, depleted freshwater resources, increased severe weather events, and the loss of countless endangered species and habitats," said Harris.
"By 2030, 40 percent of Hawaii's electricity will be generated by renewable resources that don't pollute our climate. Senator Schatz has championed these climate solutions that will create thousands of jobs for the people of Hawaii, boost the economy, and protect our environment for generations to come."
Senators expected to participate include:
Democrats:
Senator Barbara Boxer of California
Senator Dianne Feinstein of California
Senator Mark Udall of Colorado
Senator Richard Blumenthal of Connecticut
Senator Chris Murphy of Connecticut
Senator Bill Nelson of Florida
Senator Brian Schatz of Hawaii
Senator Dick Durbin of Illinois
Senator Cory Booker of New Jersey
Majority Leader Harry Reid of Nevada
Senator Charles Schumer of New York
Senator Kirsten Gillibrand of New York
Senator Jeff Merkley of Oregon
Senator Ron Wyden of Oregon
Senator Benjamin Cardin of Maryland
Senator Elizabeth Warren of Massachusetts
Senator Edward Markey of Massachusetts
Senator Amy Klobuchar of Minnesota
Senator Jeanne Shaheen of New Hampshire
Senator Tom Udall of New Mexico
Senator Martin Heinrich of New Mexico
Senator Al Franken of Minnesota
Senator Sheldon Whitehouse of Rhode Island
Senator Tim Kaine of Virginia
Senator Patty Murray of Washington
Senator Maria Cantwell of Washington
Independents:
Senator Angus King of Maine
Senator Bernard Sanders of Vermont
Copyright Environment News Service (ENS) 2014. All rights reserved.