TOYOTA CITY, Japan, March 11, 2014 (ENS) – Toyota's new three-wheeled i-Road electric vehicle is lightweight, super-narrow and leans way over when it zips around curves. Residents of Toyota's hometown of Toyota City got a closer look this week as the Japanese automaker started testing them on city streets.
The little one-seater i-Road weighs about 300 kilograms (660 pounds), is less than one meter (39 inches) wide and has a top speed of 45 km per hour (28 miles per hour).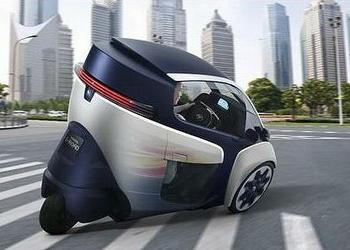 Toyota debuted the i-Road concept at the 2013 Geneva Motor Show as a vehicle that delivers safe, helmet-free driving for a distance of up to 50 kilometers (30 miles) on a single battery charge.
After the Geneva Motor Show, the i-Road was the star of a video that showed four of them cruising and leaning through the streets of a French village.
Several hundred i-Roads are being trialed now in Toyota City. They are part of a wider system of short-distance urban transport called "Ha:mo Ride" through which people can link shared i-Road vehicles with public transportation systems to get around with minimal environmental impact.
Vehicle stations where users of the fee-based system can rent and return vehicles are located near main train stations, major public facilities, commercial facilities and Toyota Motor Company offices in Toyota City.
One-way use between vehicle stations is a key feature of Ha:mo Ride that meets the needs of many users.
Would-be drivers can make reservations to use Ha:mo Ride by accessing the Ha:mo Ride smart phone app from a linked icon on the route.
The Ha:mo Ride system will be linked to a Hitachi, Ltd.-developed integrated bus operations management system to enable riders to easily access a list of the schedules and routes of multiple bus companies.
Multi-modal routing information on real-time optimal transportation routes is provided via smartphone.
The service is intended to act as a regional traffic information portal. Plans call for the addition of notifications of predicted traffic congestion along registered user routes as well as a route recommendation function and weekly traffic congestion forecasts that encourage the use of different roads and transportation methods.
Toyota says the system takes into consideration both total carbon dioxide emissions and convenience based on current road conditions and the operating status of public transportation.
Later this year the residents of Grenoble, France, will get to have some three-wheeled fun with i-Road EVs, under a vehicle-sharing project that will last until 2017.
Copyright Environment News Service (ENS) 2014. All rights reserved.