U.S. Seeks Trade Talks to Protest China's Wind Power 'Subsidies'
WASHINGTON, DC, December 22, 2010 (ENS) – The United States government says China is illegally subsidizing the production of wind power equipment and has requested talks under the dispute settlement provisions of the World Trade Organization.
U.S. Trade Representative Ron Kirk said today that the United States has requested the consultations concerning China's program known as the Special Fund for Wind Power Manufacturing.
Under this program, China appears to provide subsidies that are prohibited under WTO rules because the grants awarded under the program seem to be contingent on Chinese wind power equipment manufacturers using parts and components made in China rather than foreign-made parts and components.
"Import substitution subsidies are particularly harmful and inherently trade distorting, which is why they are expressly prohibited under WTO rules," said Kirk. "These subsidies effectively operate as a barrier to U.S. exports to China."
The size of individual grants available under the Special Fund for Wind Power Manufacturing ranges between $6.7 million and $22.5 million. Grant recipients – Chinese manufacturers of wind turbines, parts and components – can receive multiple grants as the size of the wind turbine models increases.
The U.S. Trade Representative, USTR, estimates that grants under this program since 2008 could total several hundred million dollars.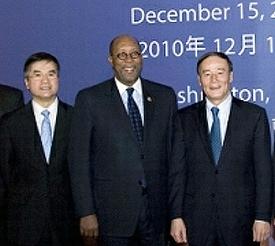 At the U.S.-China Joint Commission on Commerce and Trade meeting, from left: U.S. Commerce Secretary Gary Locke, U.S. Trade Representative Ron Kirk, China's Vice Premier Wang Qishan (Photo courtesy Commerce Dept.)
Today's action arises out of an investigation USTR initiated in October in response to a petition filed by the United Steelworkers alleging that U.S. firms faced discrimination when seeking to supply equipment to large-scale wind power projects in China.
The union alleged that a variety of Chinese practices affect trade and investment in the green technology sector, causing "serious prejudice to U.S. interests."
The allegations cover prohibited subsides, export restraints, discrimination against foreign companies and imported goods, as well as technology transfer requirements.
During its investigation, the USTR obtained China's clarification that two additional subsidy programs identified by the United Steelworkers in its petition – the Export Research and Development Fund program and the Ride the Wind program – have been terminated.
"We will continue to work closely with the USW and other stakeholders in the months ahead on the remaining allegations," said Kirk.
"If we are able to develop sufficient evidence to support those allegations and they can be effectively addressed through WTO litigation, we will pursue the enforcement of our rights at the WTO."
Some U.S.-China talks on the wind power manufacturing trade issues have already taken place.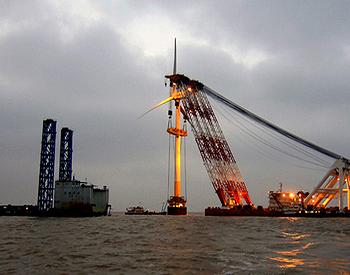 Wind turbine goes up at Donghai Bridge in Shanghai, China's first full-size offshore wind plant, commissioned on July 6, 2010. (Photo courtesy Sinovel Wind (Group) Co., Ltd.)
At the December 14-15 meetings of the U.S.-China Joint Commission on Commerce and Trade, China agreed to modify its criteria for approval of new wind power projects by no longer requiring foreign enterprises to have prior experience supplying equipment to large-scale wind power projects in China and instead will recognize their prior experience outside China.
Consultations are the first step in the WTO dispute settlement process. If a mutually agreed solution cannot be resolved through consultations, the United States may request the establishment of a WTO dispute settlement panel.
China Longyuan Power Group, the country's largest wind power producer and the largest in Asia, says its installed wind power capacity hit 5.51 million kilowatts in November, after an annual rise of 76.2 percent over the past five years.
With its current capacity, the company was expecting to produce 10 billion kilowatt-hours of electricity from wind this year,the company said in a statement December 14.
The company forecast its total wind power generating capacity to reach 11 million kilowatts by 2012 and 30 million kilowatts by 2020.
China is seeking to use more clean energy to reduce carbon emissions and protect the environment. Total wind power generation is expected to soar to 281 billion kilowatt-hours by 2020, up more than ten-fold from 2009 levels.
Copyright Environment News Service (ENS) 2010. All rights reserved.
© 2010 – 2012, Jim Crabtree. All rights reserved.