Giant Wind, Solar Projects Guaranteed with Recovery Act Funding
WASHINGTON, DC, December 22, 2010 (ENS) – This week, the Obama administration has finalized loan guarantees worth nearly $3 billion for two of the largest renewable energy construction projects in the world.
Energy Secretary Steven Chu announced Monday a $1.45 billion loan guarantee for the world's largest parabolic trough concentrating solar plant, sited in Arizona.
On Saturday, Secretary Chu announced that a partial loan guarantee for a $1.3 billion loan had been finalized to support the world's largest wind farm, located in eastern Oregon.
Located 70 miles southwest of Phoenix, near Gila Bend, Arizona, 250-megawatt Solana project is the first large-scale solar plant in the United States capable of storing energy it generates with a thermal storage system using salt.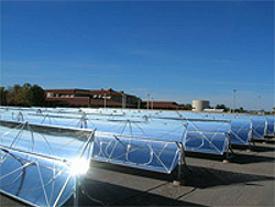 Solar power troughs like these will generate power in the Arizona desert. (Photo courtesy Abengoa Solar)
It will be built by Abengoa Solar Inc., a Spanish company. U.S. providers and manufacturers will supply 70 percent of Solana's components, such as mirrors, receiver tubes, and the heat transfer fluid. To accommodate the project's need for over 900,000 mirrors, a mirror manufacturing facility will be built outside of Phoenix.
"As the world's largest solar plant of its kind, the Abengoa's Solana project is playing an important role in creating jobs and clean energy for Arizona as well as fostering innovation in the U.S.," said Secretary Chu.
Electricity from the project will be sold through a long-term power purchase agreement with Arizona Public Service Company. Solana will produce enough energy to serve 70,000 households and will avoid the emissions of 475,000 tons of the greenhouse gas carbon dioxide per year compared to a natural gas power plant.
Abengoa Solar CEO Santiago Seage said, "Solana is the first large scale concentrating solar power plant for Abengoa Solar in the U.S. and will be a key milestone for our development in this country as it allows us to strengthen our relationships with the local community as well as with the state and federal public authorities that have contributed notably to this project."
Abengoa Solar signed a power purchase agreement with Arizona Public Service Co., Arizona's largest electric utility, to buy the energy produced by Solana for a period of 30 years.
Abengoa estimates that the Solana project will create between 1,600 to 1,700 new construction jobs and over 60 permanent jobs
The other federal loan guarantee supports the Caithness Shepherds Flat project, an 845-megawatt wind generation facility in eastern Oregon sponsored by Caithness Energy, LLC and GE Energy Financial Services.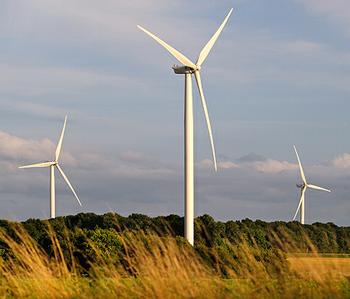 GE 2.5xl wind turbines (Photo courtesy GE)
The 338-turbine project is being developed on 30 square miles near Arlington, Oregon using GE 2.5xl wind turbines, which are designed to provide high efficiency, increased reliability, and grid integration. The 2.5xl turbine has a rotor diameter of 100 meters – or about the length of a football field. The wind farm is the first in North America to deploy these turbines, which are used in Europe and Asia.
Once completed, Caithness Shepherds Flat will sell 100 percent of its power and the renewable energy credits generated to Southern California Edison under 20-year fixed price power purchase agreements. The company projects that operation of the wind farm will avoid more than 1.2 million tons of carbon dioxide a year – equivalent to more than 200,000 cars.
The wind farm will directly employ 400 workers during construction and 35 workers during operation, according to company estimates.
Both loan guarantees are financed by the Obama administration's economic stimulus bill, the American Recovery and Reinvestment Act of 2009, which was enacted soon after President Obama took office.
"Renewable energy investments like these are creating jobs while helping to maintain America's global competitiveness in the clean energy economy," said Secretary Chu. "By leveraging our nation's vast natural resources, we can help provide alternative sources of energy and stimulate economic growth and job creation."
The loan guarantees brought smiles to the faces of the elected officials representing the areas where the renewable energy projects will be built.
"I congratulate Abengoa Solar and the administration for developing public-private opportunities that will create well paying, highly valued jobs for Arizona," said Congressman Raul Grijalva. "This is yet another example of stimulus funds helping to lead our nation's and Arizona's economy back to recovery, while transitioning our energy policies to allow us to become a national and world leader in alternative energy generation."
"This is a great holiday gift for Eastern Oregon and it couldn't come at a better time," said U.S. Senator Jeff Merkley. "This financing from the U.S. Department of Energy will help put people back to work and continue Oregon's reputation as a clean energy leader."
"This loan guarantee helps insure that this project will be built, that jobs will be created, that the Oregon economy will benefit and that the United States will be another step closer to energy independence," U.S. Senator Ron Wyden said. "When it is completed, Shepherds Flat will be one of the largest windmill farms in the world and will put Oregon on the map as a leader in green energy."
The Energy Department has issued loan guarantees or offered conditional commitments for loan guarantees to support 16 clean energy projects totaling nearly $16.5 billion.
Together, the 16 projects total over 37 million megawatt-hours of capacity, which will produce enough clean energy to power over 3.3 million homes.
Copyright Environment News Service (ENS) 2010. All rights reserved.