U.S., Russia Collaborate on Bering Strait Protection, Smart Grids
DEAUVILLE, France, May 26, 2011 (ENS) – President Barack Obama and Russian President Dmitry Medvedev today declared their intention to deepen cooperation between their two countries to protect nature and natural resources in the cross-boundary Bering Strait region.
Meeting at the Hotel Royal Barriere in Deauville, France on the margins of the G8 Summit opening day, the two leaders said they would expand interaction between the national agencies that are responsible for the specially protected natural territories and areas of both countries in the State of Alaska and across the border in Russia's Chukotka Autonomous District.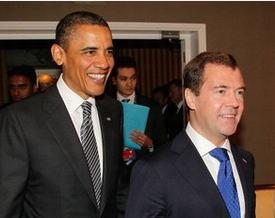 President Barack Obama, left, and President Dmitry Medvedev meeting at the G8 Summit, May 26, 2011 (Photo courtesy The Kremlin)
"Understanding the significance of unique Arctic ecosystems of Alaska and Chukotka in the Bering Strait region; and conscious of the effects of climate change and other pressures on the common natural and cultural heritage of the Bering Strait region," the two leaders confirmed their mutual interest "in deepening cooperation and strengthening ties."
Their statement gave special attention to the "need to protect the rights of native peoples residing in Alaska and Chukotka, and to ensure that residents and native peoples engaged in cultural and traditional activities aimed at providing for their personal needs have continued access to natural resources in accordance with each nation's laws."
Chukotka has large reserves of oil, natural gas, coal, gold, and tungsten, which are slowly being exploited, but much of the rural population survives on subsistence reindeer herding, whale hunting, and fishing.
On the shore of the Bering Strait, a Chukchi community carves up a whale. (Photo by Irina Klestova)
On the U.S. side of the border, commercial and subsistence fishing is important as is gold mining and tourism.
Presidents Obama and Medvedev expressed their intention to increase interaction and facilitate travel among the native peoples living in these two regions.
On a different environmental issue, the Presidents hailed a ground-breaking agreement finalized earlier this month that deepens collaboration on energy efficiency, smart grid technology and clean energy. "The collaboration will help grow our economies while enhancing their sustainability," they said.
Under the Energy Working Group of the Presidential Bi-national Commission, USAID has developed and begun implementation of a smart grid partnership program in cooperation with the U.S. Department of Energy and the U.S. Energy Association, USEA, an association of public and private energy-related organizations, corporations, and government agencies.
USAID's Deputy Assistant Administrator for Europe and Eurasia Jonathan Hale explained, "This new U.S. – Russia cooperation will enable utilities to reduce harmful emissions, including greenhouse gases, by enhancing their ability to help consumers use energy more efficiently; integrate and deliver renewable energy; and more efficiently transmit and deliver electricity to consumers."
"It is a win-win effort for the U.S., Russia, and the global environment and climate," said Hale.
A smart grid overlays an existing electrical grid with an information and net metering system that includes smart meters. When power is least expensive the user can allow the smart grid to turn on selected home appliances. At peak times, when electricity is most costly, it could turn off selected appliances to reduce demand.
Smart grids are being promoted by many governments as a way of addressing energy independence, global warming and emergency resilience issues.
During visits by a Russian delegation to Austin Energy and CenterPoint Energy in Texas and the reciprocal visit of a U.S. delegation to Russia, a work plan for a two-year cooperative effort is being developed.
Jeff Vice, director of local government relations with Austin Energy, explained how the smart grid is evolving. "As the electric system adapts, we are trying to figure out what the business model is going to be. Power is not going to be pushed centrally and one way through the grid. It's a much more fluid environment, homes are going to be built much more efficiently, and consumers are better educated."
Since March 2009, CenterPoint Energy Houston Electric has installed more than 267,000 smart meters and, with the aid of a $200 million stimulus grant, expects to complete installation of over two million smart meters, with communications infrastructure and computing systems, in 2012.
The U.S.-Russia cooperative plan will take advantage of these experiences with utility partnership exchanges, business roundtables, and a joint assessment of regulatory and other barriers to the introduction of smart grid technologies and systems in both countries.
A smart grid partnership between the cities of San Diego and Belgorod also is beginning to develop through an exchange of visits.
In addition, a business roundtable is planned for the fall in Russia and a joint study on regulatory issues and barriers in smart grid deployment is in the works.
"It's not just about adopting one of the pieces of smart grid, it's about creating new policies," said Vice.
These discussions have produced ideas for possible pilot projects that are currently under review. USEA program manager Will Polen said this exchange of "industry experience and knowledge" broadens the perspectives of the participants and can help spur new ideas and innovations in tackling these 21st century problems.
Copyright Environment News Service (ENS) 2011. All rights reserved.