New Fuel Economy Labels Empower Car Buyers
WASHINGTON, DC, May 25, 2011 (ENS) – Redesigned fuel economy labels for all new cars sold in the United States provide facts intended to save drivers money at the pump and prevent air pollution.
Starting with model year 2013, the improved fuel economy labels must be placed on the windows of all new passenger cars and trucks – both conventional gasoline powered vehicles as well as advanced cars, such as plug-in hybrids and electric vehicles.
The new labels are required by the Energy Independence and Security Act of 2007. Unveiled Wednesday by the U.S. EPA and Department of Transportation, they represent the greatest change in new car labeling in the 30 year history of the program.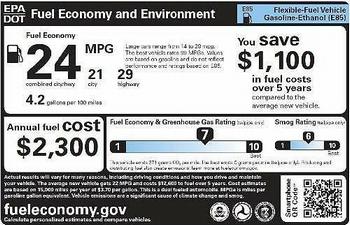 The redesigned fuel economy label will be on all new cars and light trucks starting with the 2013 model year.
"Our new fuel economy and environmental labels are a win for automobile consumers and for the nation's energy independence," said U.S. Transportation Secretary Ray LaHood. "These labels will provide consumers with up-front information about a vehicle's fuel costs and savings so that they can make informed decisions when purchasing a new car."
The new labels will for the first time provide:
New ways to compare energy use and cost between new-technology cars that use electricity and conventional cars that are gasoline-powered.
Useful estimates on how much consumers will save or spend on fuel over the next five years compared to the average new vehicle.
Easy-to-read ratings of how a model compares to all others for smog emissions and emissions of greenhouse gases that contribute to climate change.
An estimate of how much fuel or electricity it takes to drive 100 miles.
Information on the driving range and charging time of an electric vehicle.
A QR Code that will allow users of smartphones to access online information about how various models compare on fuel economy and other environmental and energy factors. Shoppers can scan the QR code with their smartphones to store that vehicle's information, compare it to other vehicles, and access www.fueleconomy.gov for even more information. On the website drivers can enter information about their typical commutes and driving behavior to calculate a more precise estimate of fuel costs and savings.
EPA Administrator Lisa Jackson said the new labels underscore the benefits of the historic, bipartisan passenger car and truck fuel economy rule adopted by the EPA and DOT in 2010.
The 2010 fuel economy rule, developed with input from major automakers, environmental groups, and the states, will increase the energy efficiency of cars and trucks built in model years 2012 through 2016 to 35.5 mpg by 2016. It is expected to save 1.8 billion barrels of oil over the life of the program and save the average driver $3,000 in fuel costs.
"President Obama's work to shape a Clean Cars program is fostering a marketplace of cutting-edge American vehicles that are more fuel efficient than ever before, said Jackson. "The EPA and DOT are creating a new generation of fuel economy labels to meet the needs of a new generation of innovative cars."
But one thing the new labels fail to do is give cars letter grades for fuel efficiency performance of new cars and light trucks. This format was considered and tested in focus groups but rejected, to the disappointment of some citizens and environmental groups.
Ann Mesnikoff, director of the Sierra Club's Green Transportation Campaign, said, "With today's announcement, the Environmental Protection Agency missed an opportunity to give consumers the clearest design possible through letter grades for new cars and light trucks. The letter grade was a winner with our members and supporters but we are deeply disappointed that EPA has given into the auto industry's push against clear and easy-to-read labels for consumers."
The Institute for Policy Integrity at New York University School of Law also criticized the lack of letter grades on the new labels, saying, "At no additional cost, the simplified labels would convey information in a way that consumers can easily understand, helping them save money over the life of their vehicle. The makers of gas-guzzlers may not like having their products graded for fuel efficiency performance, but consumers benefit from the clearer presentation."
The Union of Concerned Scientists, too, wanted letter grades supplied on the new window labels. Michelle Robinson, director of UCS Clean Vehicles Program, said, "The new labels would have been even better if the auto industry had not pressured the agency to drop plans to give each car a letter grade, which would have been the simplest, most effective way to communicate what consumers should look for in a vehicle. It's ironic: just as automakers are rolling out more clean cars, they block a labeling system that would have clearly and concisely told consumers what vehicles deliver the greatest savings, pollution reductions, and energy security benefits."
But Jackson said the letter grade idea was not popular in consumer tests.
"When we did focus groups on these, was no clear preference for letter grades, it was about 50-50," Jackson told reporters, "so instead we developed 10 point scales. "It's all about the consumer here. The letter grades didn't test so high that they were a clear winner."
"So we have cost on there, we have savings," said Jackson. "Groups said this is how to present new information in ways the American consumer hasn't seen it before."
Copyright Environment News Service (ENS) 2011. All rights reserved.