U.S. Fish and Wildlife Service: Bison Protection Not Warranted
CHEYENNE, Wyoming, February 28, 2011 (ENS) – The U.S. Fish and Wildlife Service decided Thursday that wild plains bison do not deserve protection under the Endangered Species Act.
The Service announced a 90-day finding on a 2009 petition by private citizens James Bailey and Natalie Bailey to list the wild plains bison, Bison bison bison, or each of four distinct population segments, as threatened.
"Based on our review," said the Service, "we find that the petition does not present substantial information indicating that listing may be warranted."
In its finding, the Service said, "Wild plains bison are distributed in parks, preserves, other public lands, and private lands throughout and external to their historical range. The current population of wild plains bison is estimated to be 20,500 animals in 62 conservation herds. Recent population trends appear stable to slightly increasing in conservation herds (as noted by the petitioners)."
In 2010, the nonprofit Center for Biological Diversity sued the Service for failing to respond to the petition to list the bison and other petitions to list dozens of species as threatened or endangered under the Act.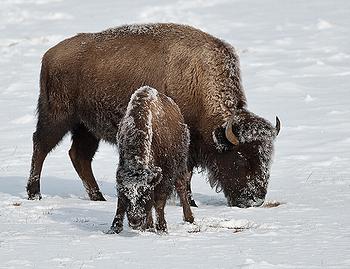 Bison cow and calf in Upper Geyser Basin, Yellowstone National Park, Wyoming, February 6, 2011 (Photo by Jim Paton)
Noah Greenwald, endangered species director at the Center, said his organization is disappointed in the decision. "North American bison herds are a dim, dim shadow of their former glory," he said. "Today's decision that bison do not merit protection under the Endangered Species Act is a complete farce."
The Service previously turned down a petition to list the bison herd at Yellowstone National Park in the northwest corner of Wyoming as a distinct population group and on August 15, 2007 decided that listing the Yellowstone bison herd was not warranted.
In determining the bison does not warrant protection, the Fish and Wildlife Service completely ignored the fact that bison are gone from nearly the entirety of their historic range, choosing to argue that the agency has only to look at the species' current range, said Greenwald.
The Center is threatening to go to court again to bring the bison under the protection of the Endangered Species Act.
"The Fish and Wildlife Service has turned a blind eye to the tremendous loss of our iconic bison from the North American landscape," Greenwald said. "This see-no-evil, hear-no-evil approach is entirely inconsistent with the broad purposes of the Endangered Species Act, and we will certainly challenge this absurd finding."
Today, more than 500 wild buffalo are being held captive inside Yellowstone's Stephens Creek bison trap to keep them from entering the state of Montana, where ranchers fear they will infect cattle with the abortive disease brucellosis.
Largely eradicated elsewhere in the country, brucellosis persists in portions of Montana, Idaho, and Wyoming surrounding Yellowstone National Park. It causes elk, cattle and bison to prematurely abort their young.
After going more than 30 years without a case of brucellosis, the state lost its brucellosis-free status when the disease was found twice within a 12-month period in 2007 and 2008. The Montana Department of Livestock responded with the Brucellosis Action Plan and later, a Designated Surveillance Area, resulting in the reinstatement of a state's brucellosis-free status.
The nonprofit Buffalo Field Campaign, BFC, which advocates on behalf of the wild bison, says many of the females in the trap are a month or less away from calving.
"Yellowstone's own bison biologist has admitted that confining buffalo during this time can exacerbate increased prevalence of brucellosis among buffalo," says the BFC on its website. "The buffalo in the trap are being fed alfalfa, a livestock food that is not natural for wild buffalo, and in large quantities can cause complications for pregnant mothers, including calf deaths. Injuries and death are also very common for buffalo that are confined."
Yellowstone Park officials have not announced what they intend to do with the buffalo in the trap, continue to hold them or release them.
Other wild buffalo are being hazed by officials in helicopters and on horseback nearly every day along the west side of the Yellowstone River, as they attempt to migrate out of deep snow into lower-elevation lands where they can find the grass they need to survive the winter, BFC says.
Yellowstone bison management is governed by the Interagency Bison Management Plan developed by the National Park Service, USDA-Forest Service, USDA-Animal & Plant Health Inspection Service, Montana Department of Livestock and Montana Fish Wildlife and Parks.
Bison conservationists are asking other members of the public to contact the new superintendent of Yellowstone National Park, Dan Wenk, who took up his position last week. They want him to pull out of the Interagency Bison Management Plan, which they say has failed to properly manage bison or brucellosis.
Copyright Environment News Service (ENS) 2011. All rights reserved.
Environment News Service (ENS) © 2011 – 2012 All Rights Reserved.