British Columbia Premier-designate Clark Embroiled in Mine Conflict
VICTORIA, British Columbia, Canada, February 28, 2011 (ENS) – British Columbia's native people are looking warily upon Premier-designate Christy Clark, who supports the revival of a gold-copper mine proposal in their territory. The 45-year-old single mother and former talk radio host was elected Liberal Party Leader on Saturday at the convention called to replace outgoing Premier Gordon Campbell.
The Tsilhqot'in National Government said earlier this month that Clark's pledge as a leadership candidate to prioritze reviving Taseko Mines Ltd.'s Prosperity gold-copper mine project would plunge British Columbia into "a costly, wasteful, divisive and destructive battle."
In a statement on the campaign trail, Clark said that if she becomes premier, she would use her first meeting with Canadian Prime Minister Stephen Harper to demand that his government reverse its November 2, 2010 decision to reject the mine near Williams Lake in central British Columbia.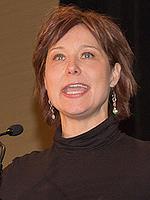 B.C. Liberal Leader and Premier-designate Christy Clark (Photo by Slate West )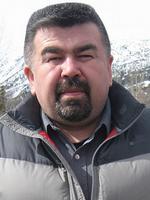 Tsilhqot'in Tribal Chair Chief Joe Alphonse (Photo by Tamara Herman)
"At the political level, they see how dumb this decision is, so I think there's an appetite to change it," said Clark on February 8.
"This pledge might have the backing of those in the well-financed mining industry in B.C. who believe they have the right to treat the province as their own personal staking grounds, but it demonstrates that Ms. Clark is living in the past and favors conflict over co-operation in B.C.," said Tsilhqot'in Tribal Chair Chief Joe Alphonse.
The Taseko Mine proposal would have converted Fish Lake into a mine waste impoundment, but First Nations consider the lake, which they call Teztan Biny, a ceremonial and spiritual place.
"Ms. Clark's comments also demonstrate that she is prepared to steamroll over First Nations rights and environmental protection to help Taseko Mines Ltd. get its way. If this is her idea of leadership, we believe it places her completely out of step with most British Columbians," Chief Alphonse said.
Xeni Gwet'in Chief Marilyn Baptiste leads the First Nation that would be most directly impacted by the destruction of Teztan Biny and the surrounding ecosystems and lands. "Ms. Clark has clearly not bothered to pay any attention to the facts – as evidenced by her statement that she will persuade Mr. Harper to reverse the decision by arguing it would mean votes in B.C." said Baptiste.
"I am sure Mr. Harper is fully aware that support for his party in B.C. was not harmed by rejecting this mine proposal, and has indeed risen since. It was the Provincial Liberals who suffered by so blatantly trying the help Taseko Mines Ltd. get its devastating project approved at any cost," Chief Baptiste said.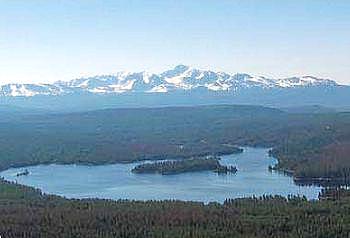 Under Taseko's original Prosperity mine proposal, Fish Lake, or Teztan Biny, would have become a mine waste impoundment. (Photo courtesy Environment Canada)
Encouraged by rising gold and copper prices, Vancouver-based Taseko Mines Ltd. has submitted a revised proposal for the Prosperity Mine that the company says would save Fish Lake and add some C$300 million to the previous estimated cost of the mine, making it a $1.1 billion plus project.
But Prime Minister Stephen Harper said at a news conference February 21 in Vancouver that his government would reject "political bargaining" to revive the Prosperity Mine project.
"The government has rendered a decision. That decision is final. That's a legal decision," Harper told reporters.
"We acted on a comprehensive federal environmental assessment that was absolutely categorical and we have invited the proponent to redesign the project if the proponent is interested in proceeding in a way that would respect the myriad and serious environmental concerns that were raised by that assessment," said Harper.
"These kinds of decisions are made on the basis of facts – not just economic facts, but also environmental facts in this case, and proponents will have to address that," he said. "This is not a matter of political bargaining."
A publicly traded company, Taseko says Prosperity is one of Canada's largest undeveloped gold-copper deposits, containing 5.3 billion pounds of copper and 13.3 million ounces of gold. At metal prices of US$1,000 an ounce for gold and US$3.15 a pound for copper, the project is assessed at a pre-tax net present value of C$3 billion, the company says on its website.
Native groups are outraged that the mining proposal might be revived.
Chief Alphonse said the Canadian Environmental Assessment Agency Review Panel heard overwhelming community opposition to the mine and legal and environmentally scientific evidence as to why it should not proceed during its 60 days of public hearings.
"The panel's report was the most damning the CEAA has ever released against a proposal," Chief Alphonse said. "It highlighted in detail the extensive violation of First Nations rights that would occur and the devastating impact that this lake- and ecosystem-killing open-pit mine would cause with its massive 35 square kilometer, footprint on a pristine wilderness area."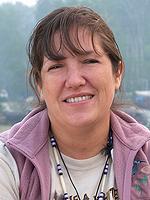 Xeni Gwet'in Chief Marilyn Baptiste (Photo by Tamara Herman)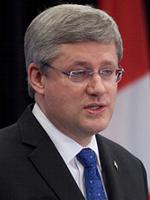 Prime Minister Stephen Harper in Vancouver, February 21, 2011 (Photo courtesy Office of the Prime Minister)
In rejecting the mine, then Environment Minister Jim Prentice, speaking on behalf of his government, called the report "scathing" and the "most condemning" he had ever read.
"If, like our Tsilhqot'in and other First Nations in B.C., Ms. Clark wants responsible mining that respects the land, water and rights, then she should show leadership and focus on ways to reform the mining process in B.C. to ensure that we can all focus on projects that can actually pass this test," said Chief Baptiste.
Chief Alphonse said, "Unfortunately, her comments this week suggest one of Ms. Clark's main reasons for wanting to become premier is to help the mining industry treat B.C. as its own domain and exploit our resources as and where it sees fit. This is a vision that British Columbians simply cannot afford."
Sierra Club B.C. is dismayed by Clark's statement that one of her top priorities is to reverse Ottawa's decision to reject the proposed Fish Lake gold and copper mine.
"British Columbians are deeply attached to our wilderness areas and understand that we cannot build an enduring and strong economy by further endangering our water and wildlife," Sierra Club B.C. Executive Director George Heyman said February 9.
"Ms. Clark was part of the B.C. Liberal government which gutted our provincial environmental assessment process a decade ago. Their jobs-at-any-cost approach led to provincial approval of a lake-destroying mine," Heyman said. "Taseko Mines' proposal was rejected for all the right reasons, and that decision must stand."
For previous ENS coverage of the Taseko Mine conflict see: Canada Rejects Gold-Copper Mine Over Environmental Concerns
Copyright Environment News Service (ENS) 2011. All rights reserved.