U.S. EPA Will Revoke Approval of Potent Greenhouse Gas to Cool Cars
WASHINGTON, DC, March 24, 2011 (ENS) – The U.S. Environmental Protection Agency has agreed to grant a petition by three nonprofit organizations to withdraw its approval for the potent greenhouse gas HFC-134a to be used in new automobile air conditioning systems.
The decision, announced Wednesday, will be followed by a formal rulemaking process to set the phase-out schedule.
The petition was filed by the three groups as part of their worldwide campaign to eliminate hydrofluorocarbons, HFCs, which are powerful greenhouse gases with long atmospheric lifetimes.
The U.S. EPA approved the use of HFCs for mobile air conditioning at a time when safer alternatives were not available, and when fast action was needed to replace an even more climate damaging chemical, CFC-12.
The Natural Resources Defense Council took the lead on the original petition, and was joined by the Institute for Governance and Sustainable Development and the Environmental Investigation Agency.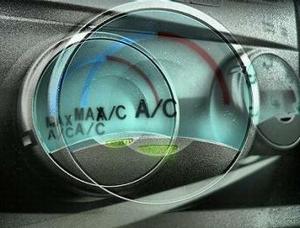 Photo art on auto air conditioning controls (Photo credit unknown)
"Now that we have climate-safe alternatives, EPA is acting prudently and consistent with its legal authority to get these dangerous HFCs off the market," said Durwood Zaelke, president of the Institute.
Based in Washington, DC, the Institute provides the secretariat to the International Network for Environmental Compliance and Enforcement, with 4,000 environmental professionals in 150 countries.
The groups suggest alternatives to HFC-134a for mobile air conditioning that include HFO-1234yf, a gas with a low global warming potential which was approved by the U.S. EPA for new passenger cars and light duty trucks on February 24.
Hydrofluoroolefins, or HFOs, supplied by Honeywell, are the fourth generation of refrigerants, with each generation being an improvement on the earlier ones.
General Motors announced the introduction of the new climate-friendly HFO refrigerant in 2013 Chevrolet, Buick, GMC and Cadillac models in the United States. The HFO system will keep vehicle interiors as cool as today while reducing heat-trapping gases in the atmosphere by more than 99 percent, GM said last July.
Approved alternatives also include HFC-152a, a fluorinated gas with lower global warming potential than its cousin, HFC-134a.
Natural refrigerants such as hydrocarbons and carbon dioxide, or CO2, that have very low global warming potential ratings, are also considered good alternatives.
EPA's decision "will encourage a rapid market transformation using the best available technology, selected by industry, just in time to allow American automakers to sell their cars everywhere in the world," said Dr. Stephen O. Andersen, who organized the Mobile Air Conditioning Climate Protection Partnership during his time at the EPA.
Andersen recently retired as director of strategic climate Projects in EPA's Climate Protection Partnership Division, where he was the EPA liaison to the U.S. Department of Defense on ozone and climate protection.
"Those outside the auto industry may think this is just more regulation," Andersen said, "but it is actually government at its best helping industry move in concert on new technology the world needs to prosper."
"EPA's decision to grant our petition to outlaw HFC-134a in mobile air conditioning is another significant step forward in the global effort to rid the world of all damaging HFCs and proof that EPA is re-emerging as a positive force for environmentally superior technology and the jobs created by technology progress," said Zaelke.
"Smart companies were already moving out of these super greenhouse gases," he said, citing the 400 companies that announced at the UN climate summit in Cancun, Mexico last year that they would start phasing out HFCs beginning in 2015.
Zaelke points to the new European fluorinated gas regulations that phase out HFCs in mobile air conditioning over seven years, starting with 2011 models.
He said U.S. automakers could do the same in three years if they "get serious about improving their cars."
Copyright Environment News Service (ENS) 2011. All rights reserved.
© 2011 – 2012, Jim Crabtree. All rights reserved.