Radioactivity Contaminates Tokyo Vegetable, Water in Six Prefectures
TOKYO, Japan, March 24, 2011 (ENS) – Radiation above the legal limit has been detected in a vegetable grown in Tokyo, Japan's health ministry said today. This is the first time that elevated levels of radioactive cesium have been found in a Tokyo vegetable since the damaged Fukushima Daiichi nuclear power plant began spewing radioactivity into Japan's air, water and soil.
The nuclear plant operated by Tokyo Electric Power was damaged during the 9.0 magnitude earthquake and tsunami on March 11. Loss of power to the plant and failure of emergency backup generators caused loss of cooling water to the nuclear fuel in four of the plant's six reactors. Several explosions of radioactive hydrogen gas and two fires in spent fuel pools released radiation over a wide area.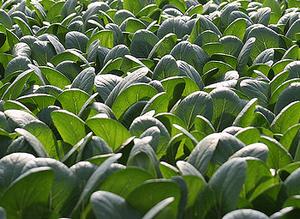 Komatsuna, or mustard spinach, is the type of vegetable found to be contaminated. (Photo by Takeshi Iwamoto)
The health ministry says radioactive cesium was detected in a leafy vegetable called komatsuna, or mustard spinach, sampled from a research field in Edogawa ward on Wednesday. The contaminated vegetable is not for sale in markets.
The health ministry says that level of radioactivity would not have an adverse effect on health, even if the vegetable was eaten.
Tokyo Metropolitan Government has lifted its advice against giving tap water to infants in Tokyo's 23 wards and 5 adjacent cities. The advisory was issued after levels of radioactive iodine-131 above the legal limit were detected at a water purification facility in northern Tokyo on Tuesday and Wednesday.
The government said the level has been falling for the past three days. On Thursday the level fell to 79 becquerels per liter, below the recommended limit of 100 for babies younger than 12 months.
On Friday, the Metro government will conduct further testing at the plant and distribute 240,000 bottles of water to households with infants, after a similar distribution on Thursday.
But the good news is limited to Tokyo. Radioactive water has been detected at water purification facilities in five other prefectures.
The level of radioactive iodine-131 at 18 purification plants exceeds Japan's safety limit for infants.
The governments of Fukushima, Ibaraki, Chiba, Saitama and Tochigi prefectures have detected more than 100 becquerels of iodine per liter of water, above the safety level for infants under 12 months.
The water is considered to be safe for adults to drink because it is lower than the adult safety limit of 300 becquerel per liter.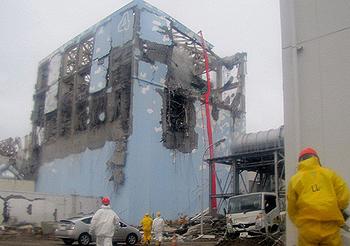 Damaged building housing reactor 4 at Tokyo Electric's Fukushima Daiichi nuclear power plant (Photo courtesy TEPCO)
Of the 11 varieties of vegetables and also milk sampled from March 16 to 22 in in the Fukushima and Ibaraki prefectures, iodine-131 and caesium-137 levels exceeded limits set for food and drink ingestion, the International Atomic Energy Agency said.
Scientists say the radioactivity was blown by the wind from the damaged Fukushima Daiichi nuclear power plant to surrounding areas, and then washed down into rivers by rain.
Hosei University professor and air-borne contamination expert Kentaro Murano told NHK TV that it is difficult to predict where the radioactive substances will spread, because the wind blows in various directions at this time of year.
Murano cautioned against overreaction to small changes in radioactive levels. If it rains several times, he said, all radioactive substances in the air and on the ground will be washed out to sea.
Professor Murano said radioactivity in the water will decrease to safer levels within two weeks. But if more radioactive substances are released from the nuclear plant, the impact of the radioactive contamination of the surrounding area will continue.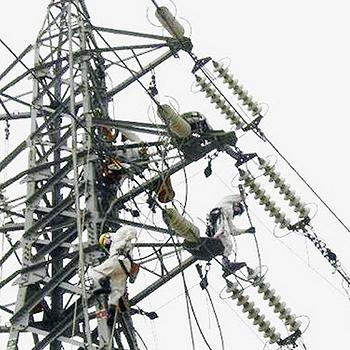 Workers attempt to repair power lines at the Fukushima Daiichi nuclear power plant, March 18, 2011. (Photo courtesy TEPCO)
Workers at Tokyo Electric Power's damaged Fukushima Daiichi nuclear power plant have made progress over the past 24 hours in providing a more conventional way of injecting water into the Unit 1 reactor core, and into the Unit 3 spent fuel pool.
The lights are back on in the Unit 3 control room, and crews are moving towards regaining control over the cooling of the three reactor cores and the spent fuel pools on Units 1, 2, 3 and 4.
Workers returned after being evacuated from Units 3 and 4 on March 23, following black smoke emissions from Unit 3.
Crews are now using normal systems to inject water to cool the reactors, whereas they have been using cement pumping trucks, fire engines and helicopters to inject water.
Reactor pressure is increasing in Unit 1, pressure readings are unreliable in Unit 2, and stable in Unit 3 as water continues to be injected through their feed-water pipes.
"At this moment, we do not consider any reactor coolant leakage inside the [Unit 4] reactor containment vessel happened," Tokyo Electric said today.
Progress also has been made in re-establishing external power to all six reactor units, although workers must still extend that power to all the components on the units that need to be repowered.
On Units 5 and 6 spent fuel pools now have the normal systems that remove water, cool the water and then return that cooled water to either the reactor core or the spent fuel pools.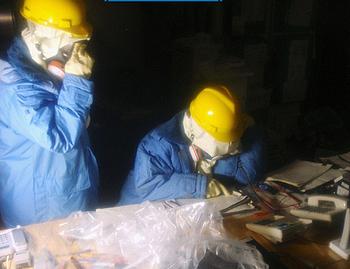 TEPCO workers record the status of instruments in a control room at the Fukushima Daiichi nuclear power plant, March 23, 2011. (Photo courtesy Japan Nuclear and Industrial Safety Agency)
The workers who are trying to bring the damaged power plant under control are showing "immense courage" said IAEA Director General Yukiya Amano.
Two workers at the site were injured this week, in addition to the 11 other workers injured since the disaster began.
At 10 pm on March 22, a worker setting up a temporary power panel in the common spent nuclear fuel pool was injured. Three hours later another worker on that same temporary power panel job was injured. Both were transported to TEPCO's Fukushima Daini Nuclear Power Station 11.7 km (seven miles) away where the industrial doctor is.
Today, three workers from other companies who were in charge of cable laying work in reactor Unit 3 were exposed to the radiation dose above the legal limit. Two of them were taken to Fukushima Medical University Hospital as it was confirmed that their legs were contaminated.
Japan's science ministry says levels of radioactive substances up to twice recommended limits were detected in ocean waters 30 kilometers (20 miles) away from the quake-damaged Fukushima nuclear plant.
The ministry Wednesday surveyed eight locations over a distance of 70 kilometers (45 miles) from north to south in the Pacific Ocean. Radioactive iodine-131 and radioactive cesium-137 were measured at all eight locations.
A consultant at the Marine Ecology Research Institute, Jun Misonoo, told NHK TV that contamination decreases further off the coast. He said radioactive iodine-131 levels have a half-life of eight days, and the impact on fish fades away.
Copyright Environment News Service (ENS) 2011. All rights reserved.