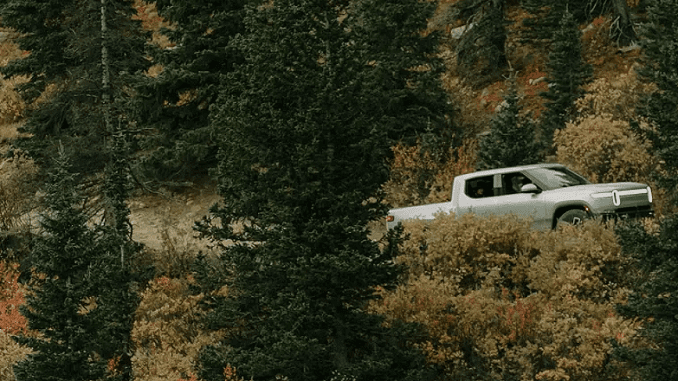 IRVINE, California, January 28, 2022 (ENS) – Rivian, the California-based startup manufacturer of electric trucks, SUVs, and delivery vans, plans to expand, locating a second U.S. factory in the state of Georgia, but expansion doesn't mean the company is forsaking its green values. A $5-billion "carbon-conscious campus" is planned east of Atlanta capable of producing up to 400,000 vehicles a year.
Backed by Amazon and Ford, Rivian achieved a market valuation of US$86 billion after one of the biggest IPOs this year, which happened in November. Amazon has ordered 100,000 Rivian vehicles to be delivered by 2030. The companies plan to have 10,000 new Rivian-Amazon delivery vehicles on the road as early as next year.
Rivian says its designers consider complete life cycles in everything the company does. Battery packs are designed to be easily removed from Rivian vehicles and either recycled or used in "second life" applications such as stationary storage. Vehicle interiors are made from 100 percent animal-free materials with mid-life repairability and end-of-life recyclability planned into the design. Dunnage containers at Rivian facilities are reusable and made from plastics harvested from the ocean.
Rivian's current lineup, the R1T electric pickup truck and R1S electric SUV, are built on a skateboard-shaped platform, which gives the company increased flexibility when it comes to creating different types of vehicles, like its electric delivery trucks.
Rivian's R1S SUV will be competing with other electric SUVs from companies like Tesla, which produces the Model X SUV and crossover Model Y vehicle. Tesla's future pickup truck, Cybertruck, will compete with the R1T pickup.
Construction on the Georgia facility is expected to begin in summer 2022, and production is scheduled to start in 2024. The plant will eventually employ more than 7,500 workers, a key step as Rivian scales toward higher-capacity production for future products.
Rivian's 2,000-acre parcel will include abundant natural space. As with its existing factory in Normal, Illinois, Rivian will develop community engagement and workforce training programs in the area. Rivian and Georgia are planning 2022 town hall events near the manufacturing site so that area residents can learn more about the company and the green site plan.
"We're happy to partner with Georgia on our new manufacturing site, which will build our next generation of products that are important for scaling our business. Our work together is driven by a compelling purpose and rooted in building a highly collaborative environment that creates a true sense of belonging. We're excited for Georgians to bring their creativity and ideas to Rivian. We're confident that, alongside Illinois, Georgia is the place for Rivian to continue to scale and thrive," said Rivian Chief People Officer Helen Russell.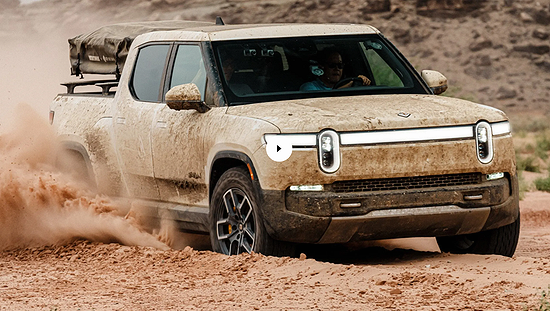 As a company, Rivian cultivates a green sensibility. Following this path, Rivian and global conservation group The Nature Conservancy have just announced their collaboration to preserve biodiversity and fight climate change.
"Our relationship with Rivian heralds a new kind of partnership, showing how smart, clean technology can work with nature to address the twin crises of climate and biodiversity loss. It's exciting to imagine the possibilities for tech-enabled conservation, and these vehicles are blazing a trail for the future," said Jennifer Morris, CEO of The Nature Conservancy.
This new partnership leverages the capabilities of both organizations, providing valuable resources and public education opportunities while creating new avenues for responsible access to natural spaces.
As part of the relationship, Rivian will provide The Nature Conservancy, TNC, with vehicles to use at its preserves in California, Wyoming, Oklahoma, and Florida. Over the coming months, the two organizations will explore opportunities to further electrify the nonprofit group's fleet of vehicles used on preserves TNC manages across the United States.
Rivian electric vehicles are much quieter than trucks with internal combustion engines, they are equipped for the most challenging off-road conditions, and produce no tailpipe emissions, providing unique benefits and research possibilities for sensitive ecological areas.
TNC will share data collected to help enhance the development of new off-the-beaten-path driver experiences.
"Rivian vehicles have been developed to enable and inspire a connection with the natural world, and our partnership with The Nature Conservancy allows us to further help protect these wild places we care about," said Rivian Founder and CEO RJ Scaringe. "We share a common, deep commitment to safeguard the planet's lands and waters, and we're excited to collaborate alongside an organization with such broad impact in land restoration and conservation."
Rivian is building a nationwide network of fast-charging stations. TNC will participate in the Rivian Waypoints charging stations rollout, supporting the deployment of EV chargers in locations across TNC's nationwide network of nature preserves.
Rivian and TNC intend to expand their relationship to include: advocacy for transportation, energy, climate, and conservation issues; conserving and restoring important natural places; and helping people learn more about nature, how they can protect it, and have fun outdoors.
Featured image: A Rivian R1T electric pickup truck navigates a woodland hill easily and quietly. 2021 (Photo courtesy Rivian)
© 2022, News Editor. All rights reserved.