U.S. DRIVE: Pre-Competition Partnership Develops Next-Generation Vehicles
WASHINGTON, DC, May 23, 2011 (ENS) – The Electric Power Research Institute and Tesla Motors have joined a U.S. government-industry R&D partnership to develop advanced cars and light trucks.
Renamed U.S. DRIVE by Energy Secretary Steven Chu on Thursday, the partnership is a forum for pre-competitive technical information exchange among experts who interact as equal partners to discuss R&D needs, develop goals and technology roadmaps and evaluate R&D progress. "Government-industry partnerships like U.S. DRIVE can quicken the pace at which affordable, fuel-efficient vehicles reach and succeed in the commercial market," said Secretary Chu.
"By bringing together the best and brightest in government and the automobile, electric utility, and fuels industries," said Chu, "we can develop promising, innovative technologies that move rapidly from the lab into cars on the road, along with the infrastructure to support them."
The advanced automotive R&D partnership has evolved over time from the Partnership for a New Generation of Vehicles in the 1990s to the FreedomCAR and Fuel Partnership in the 2000s, to U.S. DRIVE today.
The two new partners are joining the U.S. Council for Automotive Research, or USCAR, a consortium composed of Chrysler Group, Ford, and General Motors; five energy companies: BP America, Chevron, ConocoPhillips, ExxonMobil and Shell Oil US; two electric utilities: DTE Energy and Southern California Edison, and the U.S. Department of Energy.
Steve Zimmer, USCAR executive director, said, "USCAR supports the transition of the FreedomCAR and Fuel Partnership to U.S. DRIVE and looks forward to working with the U.S. Department of Energy and U.S. DRIVE partners."
"Through USCAR, Chrysler Group, Ford and General Motors will continue to provide automotive industry technical expertise to the partnership as it jointly promotes sustainable transportation options focused on increased electrification and continual improvements in overall vehicle efficiency," Zimmer said.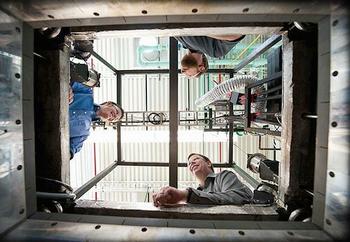 The National Renewable Energy Lab's Large-Volume Battery Calorimeter tests batteries for heat management. (Photo courtesy NREL)
U.S. DRIVE partners will work together on an extensive portfolio of advanced automotive and energy infrastructure technologies, including batteries and electric-drive components, advanced combustion engines, emission control, lightweight materials, vehicle-to-electricity grid interaction, and fuel cells as well as hydrogen production and delivery technologies.
For example, the FreedomCAR and Fuel Partnership report on research conducted in 2010 covers: a new turbocharger technology to deliver better performance and reduced fuel consumption, a new electrolyte additive for lithium-ion and lithium-air batteries, and a new class of lightweight metal hydrides that shows promise for safer hydrogen storage, among dozens of other high-tech developments.
The report details how hollow platinum nanoparticles have been developed for stable, high-activity fuel cell catalysts.
A plug-in hybrid school bus was shown to reduce fuel consumption by half, and a heavy-duty diesel research engine operated using both diesel and gas was shown to offer high-efficiency with low engine-out emissions.
A 15 percent improvement in peak brake thermal efficiency to 45 percent was demonstrated on a light-duty diesel engine through improvements in engine technology, operational parameters, lubrication and the recovery of thermal exhaust energy which is normally discarded to the environment, according to the2010 FreedomCAR and Fuel Partnership report.
And on the issue of interaction of electric charging stations with the power grid, the report shows that a universal vehicle energy-use communications technology is being developed.
A major accomplishment in 2010 was the publication of Society of Automotive Engineers Technical Information Report J2601 – Fueling Protocols for Light Duty Gaseous Hydrogen Surface Vehicles. This technical report provides guidance for common fueling across all gaseous hydrogen fuel cell vehicles within a reasonable time – three to five minutes with adequate pre-cooling – while ensuring that safety limits for pressure, bulk gas temperature and density are not exceeded. This common protocol is a key enabler for future development of commercial hydrogen fueling infrastructure.
Battery thermal management systems can be tested with a new large-volume battery calorimeter at the Department of Energy's National Renewable Energy Lab.
"NREL's large-volume battery calorimeter is the first system large enough and accurate enough to test the whole battery systems for electric vehicles," says Dr. Said Al-Hallaj, chairman and CEO of AllCell, a major battery integrator. "We strongly believe that this leading-edge instrument is critical in developing the battery management system of the next generation of electric vehicles."
Secretary Chu said that by facilitating frequent and detailed technical information exchange among the Energy Department, its national laboratories, and industry partners, U.S. DRIVE will "help the partners avoid duplicating efforts in government and industry and ensure that publicly funded research delivers high-value results that help overcome key barriers to technology commercialization."
For detailed technical information, click here to see the 2010 FreedomCAR and Fuel Partnership report.
Copyright Environment News Service (ENS) 2011. All rights reserved.