Iceland's Volcanic Ash Forces Obama's Early Flight to London
LONDON, UK, May 23, 2011 (ENS) – An eruption that began Saturday at Iceland's most frequently erupting volcano, Grimsvötn, has sent a plume of ash more than 20 kilometers (12 miles) into the air, causing flight cancellations in Scotland and a change of plans for President Barack Obama, who is in the UK on a state visit.
Continued eruptions today and a shift in the trajectory of the ash plume towards the British Isles, caused President Obama to depart Ireland earlier than planned. Instead of spending the night in Dublin, the President and First Lady Michelle Obama flew to London, England where a three-day state visit is scheduled to start on Tuesday.
The President's plane, Air Force One, landed safely Monday night outside of London at Standsted Airport in Essex. The President and First Lady are sleeping at Winfield House, the official residence of the U.S. ambassador to the United Kingdom. The Obamas will move to Buckingham Palace on Tuesday, where they will stay for the duration of their visit at the invitation of Her Majesty The Queen.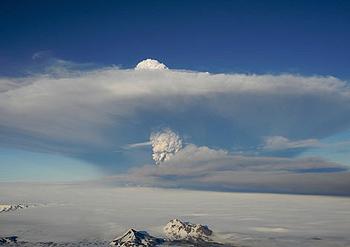 The eruption of Grimsvötn is sending an ash plume miles into the atmosphere. (Photo courtesy Icelandic Met Office)
Grimsvötn, which translates as Grim's lakes, is a central volcano in the middle of Vatnajökull, the largest icecap in Europe. The volcano lies under the Vatnajokull glacier in southeast Iceland and last erupted in November 2004.
This new volcanic activity follows the eruption of Iceland's Eyjafjallajökull volcano in March and April 2010. Then, plumes of ash caused weeks of air travel chaos across Europe.
Airports in the UK remain open although the eruption of Grimsvötn has caused cancellation of flights in Scotland. Glasgow-based Loganair has cancelled 36 flights on Tuesday, and Eastern Airways cancelled 50, as ministers said some flights over the Atlantic were delayed.
The British Geological Survey, BGS, has described the eruption of Grimsvötn that began over the weekend as a 'significant eruption' and the Icelandic Met Office, IMO, has reported ash continuing to be ejected to a height of 10 km (six miles).
As the Volcanic Ash Advisory Centre for the northwest Europe region, the UK's Met Office is receiving information about the eruption from colleagues in the IMO and BGS. The Centre uses this information to provide guidance to the UK Civil Aviation Authority on the movement of the ash plume.
Currently, the Met Office forecasts that ash is likely to reach parts of northern and western Scotland overnight tonight and into Tuesday morning.
The current weather outlook suggests that there is the possibility of ash reaching Scottish airspace from Tuesday onwards, and affecting other parts of the UK and Ireland later in the week.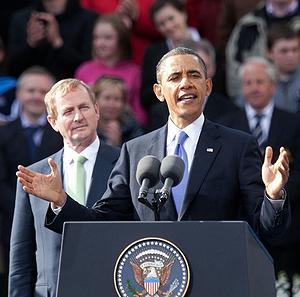 President Barack Obama addresses a crowd of thousands at College Green in Dublin, Ireland, May 23, 2011. Standing behind the President is Ireland's Taoiseach Enda Kenny. (Photo by Lawrence Jackson courtesy The White House)
How this affects flight routing decisions will be determined by the Civil Aviation Authority and NATS, the company that provides air traffic control services for aircraft flying in UK airspace and the eastern part of the North Atlantic, together with the individual airlines.
Further ahead, the Met Office says the outlook is very changeable with areas of low pressure likely to track across parts of northern Britain during the remainder of the week. The means that wind direction is likely to be quite variable, forecasters said.
On Thursday, May 26, President Obama is scheduled to travel from London to Deauville, France for two days of G8 meetings. On Friday, May 27, the President is scheduled to fly to Warsaw, Poland, where he and President Bronislaw Komorowski will host a dinner for heads of state of Central and Eastern Europe. After meetings with Polish leaders on Saturday, President Obama plans return to Washington Saturday night, May 28.
The UK Civil Aviation Authority today said that new arrangements put in place since last year's volcanic ash cloud would ensure high levels of public safety while helping to limit any disruption in the event that volcanic ash reaches UK airspace this week.
Andrew Haines, chief executive of the CAA, said, "Our number one priority is to ensure the safety of people both onboard aircraft and on the ground. We can't rule out disruption, but the new arrangements that have been put in place since last year's ash cloud mean the aviation sector is better prepared and will help to reduce any disruption in the event that volcanic ash affects UK airspace."
In the event that UK airspace is affected:
Areas of high, medium and low density ash will be identified using information provided by the Met Office's Volcanic Ash Advisory Centre. This is based on data provided from the source of the volcano, satellite, and weather balloons, as well as ground based instrumentation such as radar.
Information on the high and medium density zones will be communicated to the aviation industry by means of a Notice to Airmen (NOTAM).
Any UK airline wishing to operate in areas of medium or high density ash, will need to have a safety case accepted by the CAA. Many airlines already have such safety cases in place and agreed for medium density. None has so far submitted a safety case to operate in high density ash.
A safety case sets out the measures airlines will put in place to mitigate the risk of flying through ash. They also include input from aircraft and engine manufacturers. Safety cases have been used by airlines for many years to set out how they will safely deal with other unusual or challenging issues.
Volcano expert Professor Gillian Foulger with the Department of Earth Sciences at Durham University, said, "This eruption is bigger and more spectacular than the Eyjafjallajökull eruption. Its gigantic initial volcanic plume (20 km high) suggests that it may exhaust itself and cease quicker than the Eyjafjallajökull eruption, but only time will tell."
"The central volcanoes of Iceland typically give almost no warning they are about to erupt, and this eruption is no exception," said Foulger. "Nowadays, scientists telemeter data in real time down from Iceland's volcanoes, and we find that often volcanic tremor begins a few hours before the eruption starts. However, there is at present no way to reliably predict this sort of eruption in Iceland with more warning than this."
Copyright Environment News Service (ENS) 2011. All rights reserved.