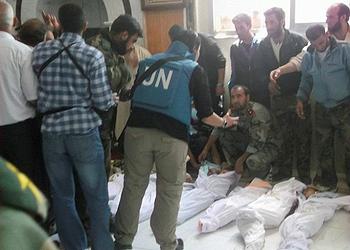 WASHINGTON, DC, June 13, 2013 (ENS) – Based on a new "high confidence assessment" by the U.S. intelligence community that the Syrian regime of Bashar al-Assad has used chemical weapons on Syrian civilians, President Barack Obama has decided to increase U.S. support to the Syrian opposition.
Ben Rhodes, White House deputy national security advisor for strategic communications, told reporters on a conference call today, "Our intelligence community assesses that the Assad regime has used chemical weapons, including the nerve agent sarin, on a small scale against the opposition multiple times in the last year. Our intelligence community has high confidence in that assessment given multiple, independent streams of information."
"The intelligence community estimates that 100 to 150 people have died from detected chemical weapons attacks in Syria to date; however, casualty data is likely incomplete," said Rhodes. "While the lethality of these attacks make up only a small portion of the catastrophic loss of life in Syria, which now stands at more than 90,000 deaths, the use of chemical weapons violates international norms and crosses clear red lines that have existed within the international community for decades."
"We believe that the Assad regime maintains control of these weapons," Rhodes said. "We have no reliable, corroborated reporting to indicate that the opposition in Syria has acquired or used chemical weapons."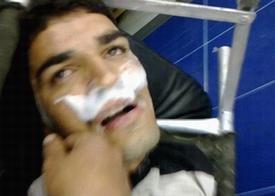 Sarin is an extremely potent nerve agent that can be fatal even at very low concentrations. The chemical was classified as a weapon of mass destruction in UN Resolution 687. The production and stockpiling of sarin was outlawed by the Chemical Weapons Convention of 1993.
The information used to make the U.S. intelligence assessment includes "reporting regarding Syrian officials planning and executing regime chemical weapons attacks; reporting that includes descriptions of the time, location, and means of attack; and descriptions of physiological symptoms that are consistent with exposure to a chemical weapons agent," Rhodes said.
"Some open source reports from social media outlets from Syrian opposition groups and other media sources are consistent with the information we have obtained regarding chemical weapons use and exposure," he said.
"The President has been clear that the use of chemical weapons – or the transfer of chemical weapons to terrorist groups – is a red line for the United States, as there has long been an established norm within the international community against the use of chemical weapons," Rhodes told reporters. "The President has said that the use of chemical weapons would change his calculus, and it has."
At a White House news conference on August 20, 2012, President Obama said, "We cannot have a situation in which chemical or biological weapons are falling into the hands of the wrong people. We have been very clear to the Assad regime but also to other players on the ground that a red line for us is, we start seeing a whole bunch of weapons moving around or being utilized. That would change my calculus," Obama said. "That would change my equation."
Rhodes said that in view of the confirmed reports of sarin use, U.S. assistance to the Syrian opposition will be "different in both scope and scale from what we've provided before."
"It will be aimed at strengthening the effectiveness of the SMC [Supreme Military Council] on the ground," said Rhodes. "These actions will be taken in cooperation with other countries in the region: Jordan, Saudi Arabia, the United Arab Emirates, Qatar and in consultation with U.S. allies such as the UK and France."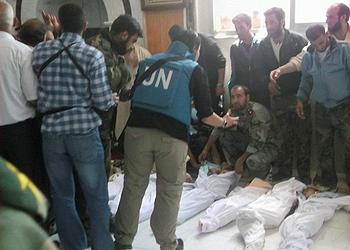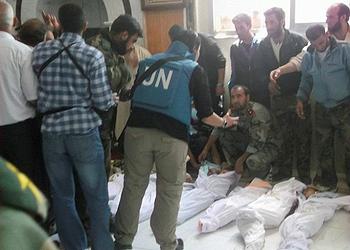 The Obama Administration will share the new information with Congress, and Senators John McCain, an Arizona Republican, and Lindsay Graham, a South Carolina  Republican, have already said they back strengthening U.S. support for the Syrian opposition.
"We appreciate the President's finding that the Assad regime has used chemical weapons on several occasions. We also agree with the President that this fact must affect U.S. policy toward Syria. The President's red line has been crossed. U.S. credibility is on the line. Now is not the time to merely take the next incremental step. Now is the time for more decisive actions," said McCain and Graham.
The two Republican senators are advocating providing "lethal assistance, especially ammunition and heavy weapons, to opposition forces in Syria" as a step that is "long overdue" and "urgently needed." They also advocate "using stand-off weapons such as cruise missiles."
Rhodes said there are no plans for "U.S. boots on the ground," nor are there plans for a no-fly zone over Syria.
"A no fly zone would carry with it an open-ended cost for the United States and the international community," said Rhodes. "Furthermore, there is no clear guarantee it would dramatically improve situation on the ground, where you have Assad's forces mingled with the civilian population – a situation that is very hard to get at from the air."
Instead, said Rhodes, the President is focused on providing "non-lethal assistance to the civilian opposition, and also authorized the expansion of our assistance to the Supreme Military Council, and we will be consulting with Congress on these matters in the coming weeks."
"The Assad regime should know that its actions have led us to increase the scope and scale of assistance that we provide to the opposition, including direct support to the SMC," said Rhodes. "These efforts will increase going forward."
"Our objective is to achieve a negotiated settlement," he said.
The United States has provided humanitarian assistance worth $515 million dollars and is urging others to provide humanitarian assistance to the opposition as well.
Rhodes said the Obama Administration will share the new chemical weapons report with UN Secretary-General Ban Ki-moon.
In a report today, the United Nations human rights chief  announced that the death toll in Syria is nearly 93,000 as the situation in the country has "deteriorated drastically" over the past year.
"The constant flow of killings continues at shockingly high levels – with more than 5,000 killings documented every month since last July, including a total of just under 27,000 new killings since 1 December," said Navi Pillay, UN High Commissioner for Human rights, in a statement.
The United States will also share the new chemical weapons information with the United Nations and with its Group of Eight counterparts at the upcoming G8 meeting June 17-18 in Lough Erne, Northern Ireland.
Russian President Vladimir Putin told the Ria Novasti News agency today in an interview that he expects to discuss Syria with his G8 counterparts.
"Discussions held within the framework of the G8 are characterised by depth and trust, which allows to constructively solve many issues, even the most acute political ones. For example, in Lough Erne we plan to talk about the situation in Syria, the Middle East and North Africa, Afghanistan and so on," said Putin. "We expect that the results of this discussion will be useful."
The United Nations Children's Fund, UNICEF, estimates 6.8 million people are now affected by the conflict. Four million Syrian children are in need of  immediate assistance, says UNICEF and at least 1.6 million Syrian refugees are living in neighboring countries such as Iraq, Jordan, Lebanon and Turkey.
Copyright Environment News Service (ENS) 2013. All rights reserved.