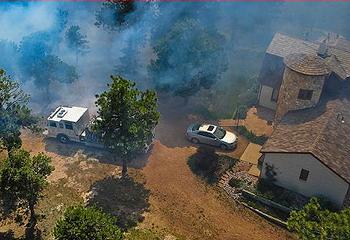 COLORADO SPRINGS, Colorado, June 14, 2013 (ENS) – A welcome rain this afternoon is helping to extinguish the most destructive wildfire in Colorado history. The Black Forest Fire within the Colorado Springs city limits killed two people Tuesday while they were trying to flee, and before the rain began it was still raging out of control.
El Paso County Sheriff Terry Maketa told reporters the bodies of two people were found about 2 pm Thursday in their garage with the car doors open. They are believed to have died Tuesday afternoon as their Black Forest neighborhood was being evacuated. Their identities have not yet been released.
Since it started on Tuesday, the wind-driven Black Forest Fire has consumed 24.5 square miles, destroyed 389 homes and forced the evacuation of 41,000 people. Since the rain began, law enforcement officials have lifted all mandatory evacuation notices, warning that they could be re-imposed if the fire spreads again.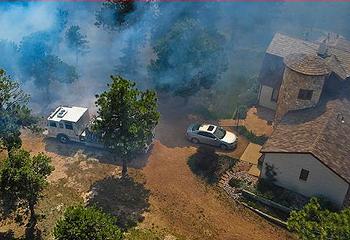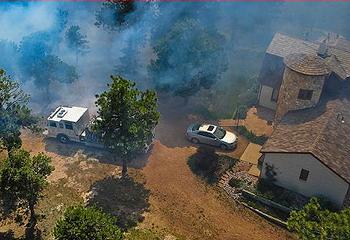 An estimated 800 responders are working to contain the the Black Forest fire, which before the rain started was just five percent contained. At least 140 personnel from the Colorado National Guard and National Guard members from as far away as North Carolina are assisting civil authorities with firefighting support.
Until Thursday, last year's Waldo Canyon fire, 10 miles west of the current blaze, had topped the list of Colorado's most destructive fires, with 346 homes destroyed. Now the Black Forest fire is considered the state's most destructive.
Governor John Hickenlooper has been signing fire disaster declarations all week.
Wednesday the governor declared disaster emergencies related to three fires burning in Colorado, authorizing a combined $10.15 million to help pay for firefighting and other costs.
One order declares a disaster emergency due to the Black Forest Fire in El Paso County and orders $5.5 million from the Disaster Emergency Fund to pay for the fire suppression, response and recovery effort related to the fire since its inception.
The second order declares a disaster emergency in Fremont County due to the Royal Gorge Fire and orders $4.5 million from the Disaster Emergency Fund to pay for the fire suppression, response and recovery effort related to the Royal Gorge Fire. This wind-driven fire quickly grew in size and intensity, prompting the evacuation of 190 homes and the evacuation of nearly 900 inmates from the Colorado Territorial Correctional Facility.
Fire officials said this afternoon that all residents displaced from their homes during the evacuation from the Royal Gorge Fire are allowed to return home this evening at 8 pm.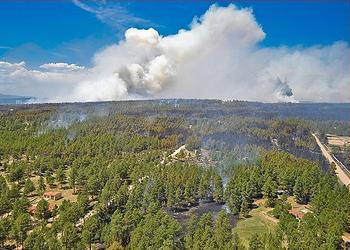 The third order declares a disaster emergency due to the Klickus Fire in Huerfano County five miles west of La Veta. It orders $150,000 from the Disaster Emergency Fund to pay for the fire suppression, response and recovery effort.
Earlier this week the governor declared a disaster emergency due to the Big Meadows Fire in Rocky Mountain National Park in Grand County. The order authorizes $15,000 from the Disaster Emergency Fund to help pay for the use of a National Guard helicopter in this fire. On Tuesday and Wednesday, extreme fire weather conditions caused the Big Meadows Fire to grow from less than 10 acres to over 400 acres. Firefighters are deployed in steep, rugged terrain with limited vehicle access.
As for funding needed to fight these wildfires and others this summer, the Colorado General Assembly transferred $58 million into the Controlled Maintenance Trust Fund. Of that amount, $10 million is available in FY13, and the balance of $48 million will be available on July 1.
By comparison, the state transferred $46.1 million into the Disaster Emergency Fund for all of last year's fires.
"We are a local control state and local authorities must request state assistance when a fire breaks out," Governor Hickenlooper said. "We are working hard with local communities to make sure they are aware of the assets available to them, because our top priority should be getting water on fires within the first hour they are discovered."
On Thursday, Governor Hickenlooper selected a Dual-Status Commander, in agreement with Secretary of Defense Chuck Hagel, to support wildfire response and relief efforts in Colorado.
Air National Guard Brig. Gen. Peter J. Byrne was appointed Dual-Status Commander and will work with fire incident commanders to direct federal active-duty and reserve forces, and state National Guard forces.
"The Dual-Status Commander will help provide unity of command and effort," Hickenlooper said. "This coordinated effort will help support our wildfire responses. We thank everyone for their extraordinary efforts to help protect lives and property."
Colorado U.S. Senator Michael Bennet today welcomed the U.S. Forest Service's mobilization of two Department of Defense C-130s equipped with Modular Airborne Firefighting Systems, MAFFS, to assist with wildfire suppression efforts in Colorado. The planes will be based in Colorado Springs and will begin flying fire suppression missions as soon as safe and effective operations can be established.
"With multiple wildfires burning across Colorado, these air tankers will help devote resources and manpower where they are needed most," Bennet said. "Hot and dry conditions are dramatically increasing the risk for aggressive wildfires in Colorado and throughout the West, and we need to be ready to mobilize our firefighters, first responders and resources at a moment's notice."
Governor Hickenlooper was notified this week by U.S. Secretary of Agriculture Tom Vilsack that 12 Colorado counties qualify for federal disaster relief because of drought conditions. The federal disaster relief includes Farm Service Agency emergency loans. Farmers in eligible counties have eight months from the date of the declaration to apply for emergency loan assistance.
Copyright Environment News Service (ENS) 2013. All rights reserved.