U.S. Carbon Emissions Fall Seven Percent in Four Years
WASHINGTON, DC, November 2, 2011 (ENS) – Carbon emissions from coal use in the United States dropped 10 percent over the four years between 2007 and 2011, and emissions from oil use dropped 11 percent during that time, according to a new report from the nonprofit Earth Policy Institute.
In contrast, carbon emissions from natural gas use increased by six percent. The net effect of these trends was that U.S. carbon emissions have fallen by seven percent in four years.
"This is only the beginning," Lester Brown, founder and president of the Earth Policy Institute, told reporters on a teleconference today. "This is an new historical trend we're seeing, this reversal in carbon trends, the bottom line in trying to stabilize the climate."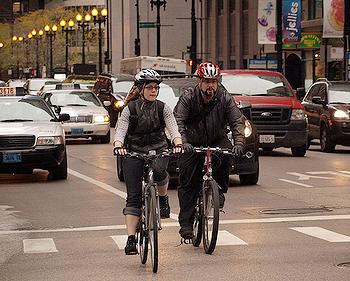 Cyclists in Chicago, October 2011 (Photo by saumacus)
Brown estimates the seven percent decline in emissions of the greenhouse gas carbon dioxide, CO2, since the peak in 2007 could expand to 20 percent by 2020 and possibly even to 30 percent. If so, he says, the United States could become a world leader in cutting carbon emissions and stabilizing the global climate.
Oil use has fallen in the United States over the last four years, says Brown, reversing another long-term trend of rising consumption. "The reasons for this include a shrinkage in the size of the national fleet, the rising fuel efficiency of new cars, and a reduction in the miles driven per vehicle," he said.
Fleet size peaked at 250 million cars in 2008 just as the number of cars being scrapped eclipsed sales of new cars, explains Brown, who says car sales also are down because many young people today are less automobile-oriented than their parents.
"The attitude of young people toward automobiles is different from previous generations," Brown, 77, told reporters. "In my generation growing up in a rural area in southern New Jersey, all young people got a car and a drivers license as a rite of passage. Now this rite is taking place with smart phones."
Today, the United States has 10 million licensed teenage drivers, he said, compared to 1979 when there were 12 million licensed teen drivers on U.S. roads.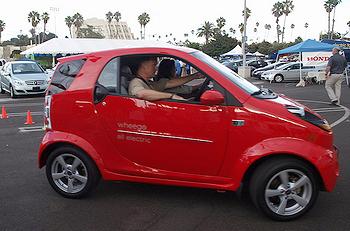 Wheego electric car in Santa Monica, California. Wheego EVs are manufactured in the United States. (Photo by Puska Panzer)
Miles driven per car are declining because of higher gasoline prices, the continuing recession, and the shift to public transit and bicycles, Brown explains.
Bicycles are replacing cars as cities create cycling infrastructure by building bike paths, creating dedicated bike lanes, and installing sidewalk parking racks. Many U.S. cities, including Washington, DC, Chicago, and New York, have bike-sharing programs.
When people retire and no longer commute, miles driven drop by a third to a half. With so many baby boomers now retiring, this too is lowering gasoline use.
As plug-in hybrid and all-electric cars enter the market, electricity will replace gasoline as a transportation fuel, said Brown. He cites an analysis by Professor Michael McElroy of Harvard which indicates that running a car on wind-generated electricity could cost the equivalent of 80-cent-a-gallon gasoline.
A consequence of the substantial decline in gasoline use is to question whether we need the much-debated TransCanada Keystone XL pipeline to bring tar sands oil to refineries in Texas, said Brown. "Do we need that pipeline? The answer is no."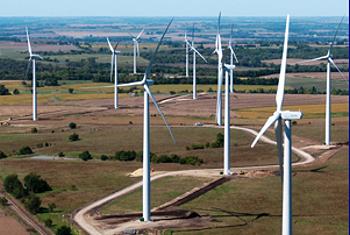 Flat Water Wind Farm's 60 turbines are sited in Nebraska and Kansas. Power from the project is sold to Omaha Public Power District. (Photo by Gestamp)
Commercial-scale wind and solar generating facilities are appearing across the United States, a boon to farmers who can double-crop their land, often earning more from hosting renewable energy generation than they do from their traditional crops.
In assessing the reasons for the fall in U.S. greenhouse gas emissions, Brown credits the Obama administration's support for the development of wind and solar industries as "a major factor in their growth."
He credits President Obama with raising the fuel efficiency requirements for new cars. "The fuel efficiency of new cars, already rising, will soon increase sharply," he said. "The most recent efficiency standards mandate that new cars sold in 2025 use only half as much fuel as those sold in 2010. Thus with each passing year, the U.S. car fleet becomes more fuel-efficient, using less gasoline."
"The Obama administration has created an environment where we think about electric cars," Brown said. "And the administration has been instrumental in developing the U.S. battery industry."
But Brown saves his most enthusiastic praise for the Beyond Coal campaign, a national effort coordinated by the Sierra Club with hundreds of local groups that oppose coal because of its adverse effects on human health.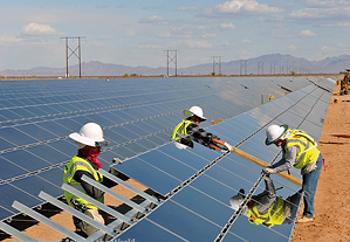 At Blythe, California, 200 miles east of Los Angeles, the largest thin-film photovoltaic power plant in the USA began generating in 2009. Electricity is sold to Southern California Edison. (Photo courtesy First Solar)
In the first phase, the Beyond Coal campaign opposed the building of new coal-fired power plants. "This hugely successful initiative, which led to a near de facto moratorium on new coal plants, was powered by Americans' dislike of coal," Brown said.
"Coal burning causes 13,200 American deaths each year, a loss of life that exceeds U.S. combat losses in 10 years of war in Afghanistan and Iraq," he said.
The second phase of the Beyond Coal campaign is focused on closing existing coal plants.
Of the U.S. total of 492 coal-fired power plants, 68 are already scheduled to close. With current and forthcoming U.S. Environmental Protection Agency air quality regulations on emissions of mercury, sulfur, and ozone precursors requiring costly power plant retrofits, many more of the older, dirtier plants will be closed, Brown predicts.
These consumer choice and market factors have a greater influence on U.S. carbon emissions than international agreements, said Brown, looking ahead to the United Nations' annual climate summit that opens November 28.
"An internationally negotiated climate agreement will not be the solution to the climate problem," said Brown. "When you think about it, the delegates are mostly diplomats and lawyers. When have they come up with a bold new idea? If countries sent their scientists and environmental leaders who would vie to see who could do the most, not who could do the least," said Brown, they might be more effective.
At the Copenhagen climate summit in 2009, the Obama administration offered to cut U.S. CO2 emissions by 17 percent by 2020. "At the time, 17 percent was seen to be meaningful," said Brown. "At this point it looks like we will achieve that 17 percent and more, and without international agreements."
"I don't think people are movtivated by international agreements," he said, "but by market forces and the health issues that coal causes."
And, of course, by the extreme weather that has hit the United States this year.
"I think concerns about climate change will be mounting," said Brown. "In March when tornado season started, through the drought and wildfires in Texas, the hottest, driest year on record, with record flooding in the Mississippi Valley, Hurricane Irene and Tropical Storm Lee, what I realized is that from March through September news channels have become weather channels. It is not unusual now for news progams to focus half their time on weather effects. This indicates a new level of concern and the understanding that this extreme weather is to some degree being driven by long-term changes in the climate."
Lester Brown is founder of the Worldwatch Institute and the Earth Policy Institute, which he now heads. Brown is the author or co-author of more than 50 books on global environmental issues. His most recent book, published this year, is "World on the Edge: How to Prevent Environmental and Economic Collapse."
Copyright Environment News Service (ENS) 2011. All rights reserved.