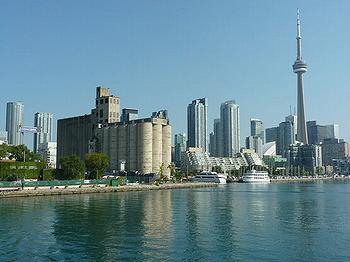 WASHINGTON, DC, September 7, 2012 (ENS) – Provisions to deal with aquatic invasive species, habitat degradation and the effects of climate change are featured in the newly amended Great Lakes Water Quality Agreement signed by U.S. and Canadian officials today in Washington.
The amended agreement supports continued work on existing threats to people's health and the environment in the Great Lakes Basin such as harmful algae, toxic chemicals, and discharges from vessels.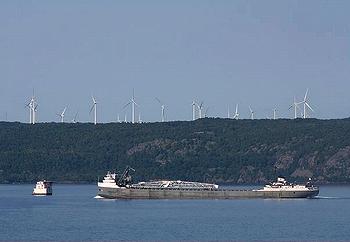 First signed in 1972 when the lakes were dying and rivers were catching on fire and last amended in 1987, the Great Lakes Water Quality Agreement has set the terms of binational cooperation to protect the world's largest surface freshwater system and the health of the surrounding communities for the past 40 years.
Concluding a three-year negotiating process, U.S. Environmental Protection Agency Administrator Lisa Jackson and Canada's Environment Minister Peter Kent today signed the updated agreement at the Canadian Embassy in Washington, pledging to create a more healthy and prosperous Great Lakes region.
"Protecting cherished water bodies like the Great Lakes is not only about environmental conservation. It's also about protecting the health of the families—and the economies—of the local communities that depend on those water bodies for so much, every day," said Jackson.
"The amended Great Lakes Water Quality Agreement we signed today outlines the strong commitment the U.S. and Canada share to safeguard the largest freshwater system in the world," she said. "Our collaborative efforts stand to benefit millions of families on both sides of the border."
"Joint stewardship of the Great Lakes – a treasured natural resource, a critical source of drinking water, essential to transportation, and the foundation for billions of dollars in trade, agriculture, recreation and other sectors – is a cornerstone of the Canada-United States relationship," said Kent.
"The Great Lakes Water Quality Agreement supports our shared responsibility to restore and protect this critical resource, and builds on 40 years of binational success," said the minister.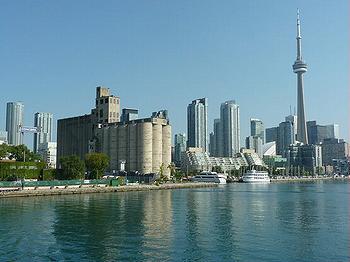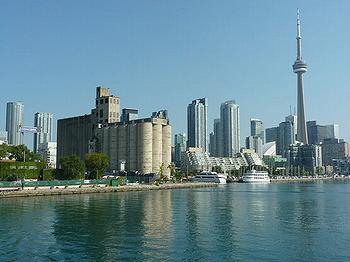 The 90 mayors of the Great Lakes and St. Lawrence Cities Initiative expressed their strong support for the updated Great Lakes Water Quality Agreement because it has what Milwaukee Mayor Tom Barrett called "a much more prominent role for cities in protection and restoration of the resource."
As chairman of the Cities Initiative, Barrett said, "We come to the table with major investments and many good ideas, and look forward to working with the federal, state, provincial, first nation, and tribal governments and all other stakeholders to make more progress in the future."
The amended agreement does provide in many places that the two national governments shall act, "in cooperation and consultation with State and Provincial Governments, Tribal Governments, First Nations, Métis, Municipal Governments, watershed management agencies, other local public agencies, downstream jurisdictions, and the Public…"
Vice-Chair Régis Labeaume, president of the Québec Metropolitan Community and mayor of Québec City, said, "Although the agreement does not formally include the St. Lawrence River in Quebec, we understand that the river and the lakes depend on one another, and we look forward to working with all of our partners to sustain this global freshwater treasure long into the future."
"We mayors representing cities and communities across the Great Lakes and the St. Lawrence favor an integrated management of the basin," said Mayor Labeaume.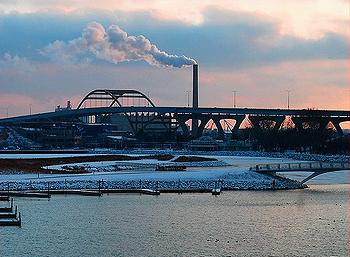 Keith Hobbs, mayor of Thunder Bay, Ontario, serves as secretary/treasurer of the Cities Initiative. "I understand the new agreement addresses the issue of climate change preparedness, and we in Thunder Bay know how critically important that is to the future of all cities in the basin," he said. "We plan to share our experiences with others and hope to learn from them, as well."
The hot, dry summer has affected the Great Lakes. The water level on Lake Ontario on August 24 was 244.78 feet, 12 inches lower than it was last year on that date, according to a Great Lakes water report by the U.S. Army Corps of Engineers. All other Great Lakes are more than 10 inches lower than last year in August, except for Lake Superior, which is only one inch lower.
This year's dry summer means no huge trash wash-ups from sewage overflows and flooding. Yet volunteers turning out this September 15 for the Alliance for the Great Lakes' annual September Adopt-a-Beach event in Illinois, Indiana, Michigan and Wisconsin will have no shortage of work cleaning up Great Lakes beaches. They are littered with trash, food waste and other items carried through storm sewers and left behind by beachgoers.
This September, volunteers will hand out petitions asking Congress to maintain funding for the Clean Water State Revolving Fund, a key federal loan program that helps communities finance sewer system improvements.
An Alliance study published in June reported that in 2011 alone, 18.7 billion gallons of combined sewage and stormwater was released into the lakes by the basin's seven largest dischargers. The bacteria, viruses and other pathogens in untreated sewage pose a health risk and contribute to Great Lakes beach closings that hurt the economy.
"Investments in wastewater infrastructure create jobs, save money and are a solid use of taxpayer dollars at a time when the nation needs to make smart choices," said Lyman Welch, Alliance Water Quality Program director and co-author of the study. "If we don't make these investments today, it will cost us more tomorrow."
"Our volunteers are on the front lines dealing with the fallout from these outdated sewer systems," says Jamie Cross, who manages the Alliance's Adopt-a-Beach event. "Working to keep this sort of pollution out of the Great Lakes to begin with means less mess to clean up later – and healthier lakes for all."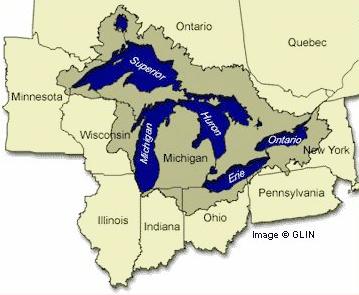 The newly amended Great Lakes Water Quality Agreement provides for:

Preventing environmental threats before they turn into actual problems.

Updating phosphorus targets for open waters and nearshore areas of each lake and taking actions to reduce phosphorus levels that contribute to harmful algae.

Preventing the introduction and spread of invasive species.

Developing plans to protect and restore nearshore areas, the primary source of drinking water for Great Lakes communities and where most commerce and recreation occurs.

Reaffirming actions necessary to restore and delist Areas of Concern.

Identifying new toxic substances, and implementing pollution prevention and control strategies.

Preventing and controlling harmful discharges from ships and other vessels.

Developing conservation strategies to protect native species and restore habitat.

Identifying and helping coastal communities understand the impacts of climate change on water quality.

Developing water quality and ecosystem health objectives.

Reviewing Great Lakes science and establishing binational priorities for future work.

Providing notification of activities that could impact the Great Lakes.

Reporting progress to the public regularly.
Copyright Environment News Service (ENS) 2012. All rights reserved.
Environment News Service (ENS) © 2012 All Rights Reserved.