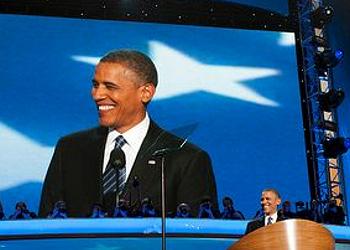 CHARLOTTE, North Carolina, September 7, 2012 (ENS) – Of all the areas of life where the two candidates now running for election to the U.S. presidency differ, the greatest gulf between them may be their policies on energy and the environment.
Accepting the nomination at the Democratic National Convention last night in Charlotte, North Carolina, President Barack Obama used his speech to remind the country of his record on these closely linked fields.
"You can choose the path where we control more of our own energy," he told a cheering crowd.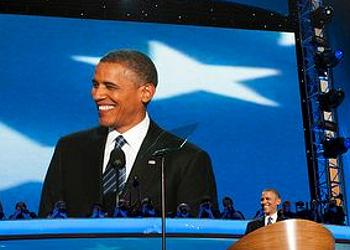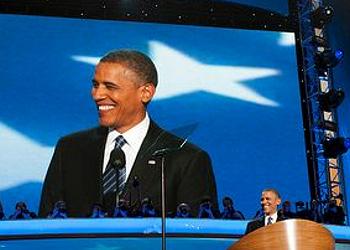 Obama reminded them that his administration had twice raised the fuel efficiency standard for all new cars and trucks sold in the United States.
First, in July 2011, he raised the average fuel efficiency standard for cars and light trucks for model years 2011-2016 to the equivalent of 35.5 mpg.
Then, in August, he set new standards covering cars and light trucks for model years 2017-2025, requiring performance equivalent to 54.5 mpg in 2025 while reducing greenhouse gas emissions to 163 grams per mile.
"After 30 years of inaction, we raised fuel standards so that by the middle of the next decade, cars and trucks will go twice as far on a gallon of gas, Obama said to applause last night.
"We have doubled our use of renewable energy, and thousands of Americans have jobs today building wind turbines and long-lasting batteries," he told the nominating convention.
"In the last year alone, we cut oil imports by one million barrels a day – more than any administration in recent history. And today, the United States of America is less dependent on foreign oil than at any time in the last two decades," Obama said to enthusiastic applause.
"So now you have a choice – between a strategy that reverses this progress, or one that builds on it," Obama said.
"We've opened millions of new acres for oil and gas exploration in the last three years, and we'll open more. But unlike my opponent, I will not let oil companies write this country's energy plan, or endanger our coastlines, or collect another $4 billion in corporate welfare from our taxpayers. We're offering a better path," said Obama.
"We're offering a better path, a future where we keep investing in wind and solar and clean coal; where farmers and scientists harness new biofuels to power our cars and trucks; where construction workers build homes and factories that waste less energy; where we develop a hundred-year supply of natural gas that's right beneath our feet," the President said.
"If you choose this path, we can cut our oil imports in half by 2020 and support more than 600,000 new jobs in natural gas alone," he told the crowd.
Obama addressed the issue of climate change that all of the world's scientific societies agree is causing a warmer planet, but has rarely been mentioned in this campaign.
"And, yes," Obama said, "my plan will continue to reduce the carbon pollution that is heating our planet – because climate change is not a hoax. More droughts and floods and wildfires are not a joke. They are a threat to our children's future. And in this election, you can do something about it," he said to applause.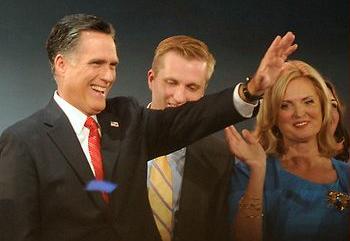 Republican presidential nominee Mitt Romney's acceptance speech at the Republican National Convention August 29 in Tampa, Florida mentioned energy only once and the environment not at all.
"I have a plan to create 12 million new jobs," said Romney. "It has five steps. First, by 2020, North America will be energy independent by taking full advantage of our oil and coal and gas and nuclear and renewables."
That's it. Romney did not mention the warming climate or the drought that has paralyzed the United States breadbasket states this year. He did not mention the hurricane that sideswiped Tampa, Florida causing the convention to be delayed more than 24 hours.
Romney's scant reference to environmental issues did not go unnoticed by the environmental community.
Sierra Club Executive Director Michael Brune said, "Mitt Romney's speech Thursday night marked an all-new low for the candidate. His comments added insult to injury for the millions of American families and businesses affected by devastating events like this summer's drought and Hurricane Isaac."
"Make no mistake," said Brune. We are witnessing the effects of the climate crisis today. Americans need bold action and solutions to mitigate the threats of climate disruption – not glib mockery and denial of the problem."
"Romney spoke of the need to keep energy jobs in America, but he failed to mention that he opposes vehicle fuel efficiency standards that have resurrected the American auto industry and put thousands of American workers back on the job," said Brune.
"Despite paying lip service to renewables, Romney opposes the wind production tax credit and seems unconcerned about losing the 75,000 American jobs supported by the wind energy sector," said the Sierra Club leader. "If there were any doubts about Mitt Romney's allegiance to fossil fuel interests, they've now been erased."
On August 24, the American Wind Energy Association, an industry group, announced that more jobs in the wind power industry were lost that week, in manufacturing facilities in Colorado and Iowa, "in the absence of a policy signal only Congress can provide: extension of the Production Tax Credit, the policy driver behind the rapid growth in U.S. jobs and manufacturing [in the wind industry] since 2005."  
The environmental communities does not love everything that President Obama has done since he took office. Many oppose his opening of the Arctic to oil and gas drilling, and wildlife conservationists oppose this month's delisting of wolves in Wyoming, but some support his actions to address climate change.
Fred Krupp, executive director of the Environmental Defense Action Fund, said, "It was great to see President Obama stand up for the truth about climate change. Like so many Americans who have been living with the impacts of global warming this summer, I was pleased that the President recognized reality."
"A strong majority of Americans agrees with the President that 'climate change is not a hoax,' as he said in last night's speech," said Krupp.
"Governor Romney also recognized reality this week, Krupp said. "He told the independent web site ScienceDebate.org that he has concluded 'that the world is getting warmer, that human activity contributes to that warming, and that policymakers should therefore consider the risk of negative consequences.'"
"This is good news. Recognizing the reality of a problem is the first step toward solving it. There are serious differences between the candidates on this issue and they should be debated and discussed. May the election of 2012 be remembered as the moment when our national leaders recommitted themselves to straight talk and sensible action on climate change."
Copyright Environment News Service (ENS) 2012. All rights reserved.
Environment News Service (ENS) © 2012 All Rights Reserved.