U.S. Air Quality Agencies Urge Lower Sulfur in Gas
WASHINGTON, DC, November 2, 2011 (ENS) – The U.S. EPA should require refiners to reduce gasoline sulfur levels from today's 30 parts per million to 10 ppm, says the association of U.S. state and local air quality agencies, releasing a new report on Monday.
Immediately, air pollution across the country would drop as if 33 million cars and light trucks had disappeared from U.S. roads – at a price of less than a penny per gallon, according to the report by the National Association of Clean Air Agencies.
NACAA represents air quality agencies and air pollution control officials in 50 states and over 165 metropolitan areas throughout the country.
California's gasoline already achieves the 10 ppm sulfur level and there is a global movement toward lower-sulfur gasoline. In fact, it is expected that the city of Beijing, China will introduce a 10 ppm sulfur limit for its gasoline next year.
"Cleaner gasoline would also enable improved technologies on cars and light trucks that could yield substantial vehicle emissions reductions at a cost of about $150 per car," the NACAA report advises.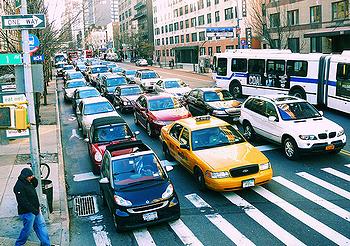 Rush hour in New York City, March 29, 2011 (Photo by Mo Westein)
Additional cost-effective emissions controls are available for passenger cars and light trucks, but deploying them will require reduced sulfur in gasoline.
"We're trying to shine a bright light on the benefits of taking these measures," said Bill Becker, executive director, National Association of Clean Air Agencies. "We're hopeful that the EPA and Congress will take a close look at this."
In December 1999, the U.S. EPA adopted landmark regulations to clean up light-duty motor vehicles and the gasoline that fuels them. This Tier 2 program, which took effect in 2004, required light duty vehicles, including sport utility vehicles, to be 90 to 95 percent cleaner.
To enable automakers to meet the new standards, EPA required oil refiners to remove about 90 percent of the sulfur in gasoline. Sulfur poisons catalysts that control vehicle exhaust and inhibits the performance of catalytic converters, increasing vehicle emissions.
Even so, "Air pollution in the U.S. remains a serious and widespread problem," the air quality associations warn. "More than 125 million people still live in areas that exceed at least one of the health-based National Ambient Air Quality Standards, with 120 million of these residing where ozone (also known as smog) levels exceed that federal standard."
The agencies are anticipating that the U.S. EPA will soon propose additional controls that will require even cleaner fuel. The good news is the cost is "very modest," they said.
The EPA is expected to introduce, later this year, a Tier 3 program of tougher light-duty vehicle emissions standards that follow closely the Low-Emission Vehicle III requirements being pursued by the California Air Resources Board. The lower sulfur requirement is expected to be part of the Tier 3 program.
Becker said, "The 10 ppm sulfur requirement is critical in our recommendations because it improves catalyst performances in existing vehicles as well as new vehicles."
Air pollution could drop "overnight" because the emissions reductions would come from vehicles already on the road, said Becker. "And it costs less than penny a gallon," he said.
The NACAA report says that in addition to reductions in sulfur dioxide, which results in acid rain, the EPA's Tier 3 program has the potential to yield reductions in emissions of nitrogen oxides, carbon monoxide and volatile organic compounds on the order of 29 percent, 38 percent and 26 percent, respectively, by 2030.
NACAA recommended to EPA Administrator Lisa P. Jackson in June 2011 that EPA should take immediate action to propose this year and promulgate next year Tier 3 vehicle standards modeled after California's LEV III program, "including improved tailpipe emissions standards for NOx and non-methane organic gases and an average gasoline sulfur concentration of 10 ppm or lower," the association said.
Paul Billings, vice president for policy and advocacy of the American Lung Association, supports NACAA's demand for Tier 3 regulations. "This is much needed," he told reporters by teleconference Monday. "The public health benefits will be evident on every street corner in America. These regulations are especially important to people who live, work or go to school beside a roadway."
The NACAA report reiterates that exposure to ozone imperils human health, has been proven to result in premature mortality and poses a threat to healthy ecosystems.
Copyright Environment News Service (ENS) 2011. All rights reserved.