Two Strong Quakes Panic Indonesians, No Tsunami Follows
JAKARTA, Indonesia, April 11, 2012 (ENS) – Two earthquakes stronger than 8.2 magnitude jolted the seabed of the Indian Ocean off the Indonesian island of Sumatra Wednesday.
Frightened residents fled to higher ground, recalling the disastrous December 2004 earthquake and giant tsunami that claimed the lives of some 230,000 people around the Indian Ocean.
Based upon the location of their epicenters and strength, the quakes had the potential to cause tsunamis, officials said. Small tsunami waves were observed, but there were no reported injuries or major damage.
The first quake, measuring 8.5 in magnitude struck at 3:28 pm Western Indonesia time, hit 346 kilometers west of Simeulu in Aceh at a depth of 33 kilometers, said Indonesia's Meteorology, Climatology and Geophysics Agency. The agency issued a tsunami warning across the Indian Ocean.
The temblor lasted nearly five minutes and was felt in across Sumatra and in countries around the Indian Ocean. People in Singapore, Thailand, Malaysia and India ran out of buildings to safer locations. In Colombo, Sri Lanka, trains were halted and beaches evacuated.
The second quake, stronger at a magnitude of 8.8 but 100 kilometers farther west, hit at 5:43 pm, prompting another tsunami warning. Although the tsunami warnings have been lifted, the Andaman and Nicobar islands 150 km north of Aceh in the Bay of Bengal still are bracing for four-meter-high waves following the second quake.
At least 13 aftershocks have been recorded, the strongest at a magnitude of 8.3.
President Susilo Bambang Yudhoyono has ordered the National Agency for Natural Disaster Mitigation to monitor the situation in Aceh.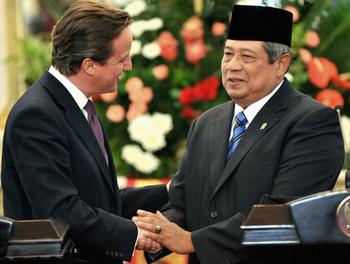 President Susilo Bambang Yudhoyono, right, at a news conference with British Prime Minister David Cameron, April 11, 2012 (Photo courtesy Office of the President)
Speaking shortly after the first quake, President Yudhoyono said, "We have communicated with the commander of Military Region, the governor can not be connected, that the situation was under control. There was a little panic, but the people of Aceh have been able to go to places that are safe, the beaches are also in good management."
"The situation in Aceh is under control," he said at a joint news conference with visiting British Prime Minister David Cameron. "Thank God what I heard, while there are no reports of casualties or significant damage, both in Aceh and in other places."
Located in the Pacific Ocean's "Ring of Fire" of volcanoes and earthquakes, Indonesia is one of the world's most disaster-prone countries. However, the type of earthquakes that occured Wednesday were not the type that cause tsunamis, experts say.
Jim Andrews, senior meteorologist for AccuWeather.com, says, "It was the style of faulting and movement within the Earth's crust that likely accounted for Wednesday's minor tsunamis versus the deadly 2004 inundations."
In the 2004 temblor, the sea floor moved vertically in what Andrews calls a "mega thrust" quake.
But Wednesday's undersea temblors were side to side, or "strike-slip," quakes, Andrews explained, that did not cause vertical disturbance of the sea floor or the water above, so tsunamis were not generated.
Copyright Environment News Service (ENS) 2012. All rights reserved.
© 2012, . Environment News Service (ENS) © 2021 All Rights Reserved.