Explosion at GM Battery Lab Sends Worker to Hospital
DETROIT, Michigan, April 11, 2012 (ENS) – Several people were injured this morning, one critically, when a prototype vehicle battery exploded during "extreme testing" at the General Motors Tech Center in Warren, Michigan.
The explosion blew out windows and started a fire that filled the laboratory building with smoke, forcing the evacuation of some 80 employees.
"Fire and emergency authorities were called to the scene. The building was evacuated. All employees have been accounted for," GM said in a statement. "We are aware of five employees being evaluated on scene by medical personal and only one employee is being further treated."
The incident is still under investigation by General Motors and Warren authorities.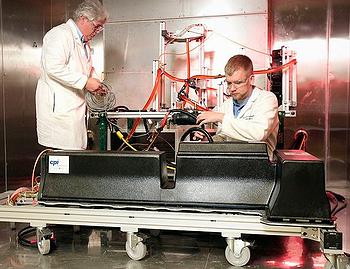 General Motors Battery Lab engineers prepare batteries for testing in the thermal chamber at the GM Tech Center in Warren, Michigan. (Photo by John Martin courtesy General Motors)
"Any information or discussion of the nature of the work in the lab or cause of the incident is entirely speculative and cannot be confirmed at this time," GM said, seeking to shield the proprietary nature of the battery being tested from competitors.
"The incident was unrelated to the Chevrolet Volt or any other production vehicle," said GM. "The incident was related to extreme testing on a prototype battery."
The Chevy Volt, an electric car with extended range, is powered by a lithium-ion battery. The Volt was investigated by the National Highway Traffic Safety Administration after a fire broke out in one car last June three weeks after it was deliberately crashed for safety testing.
Two other battery fires occurred in separate safety tests, prompting the NHTSA to open an official investigation into the Volt on November 25. Officials closed the investigation and cleared the Volt in January, when investigators determined the problem was in the testing process used by the agency itself.
Still, GM decided to upgrade the Volt's battery casing so it would retain its integrity even during a crash.
More than 16,000 GM engineers, designers, and technicians work at the GM Technical Center campus, the center of the company's engineering effort since it opened in 1956.
Copyright Environment News Service (ENS) 2012. All rights reserved.